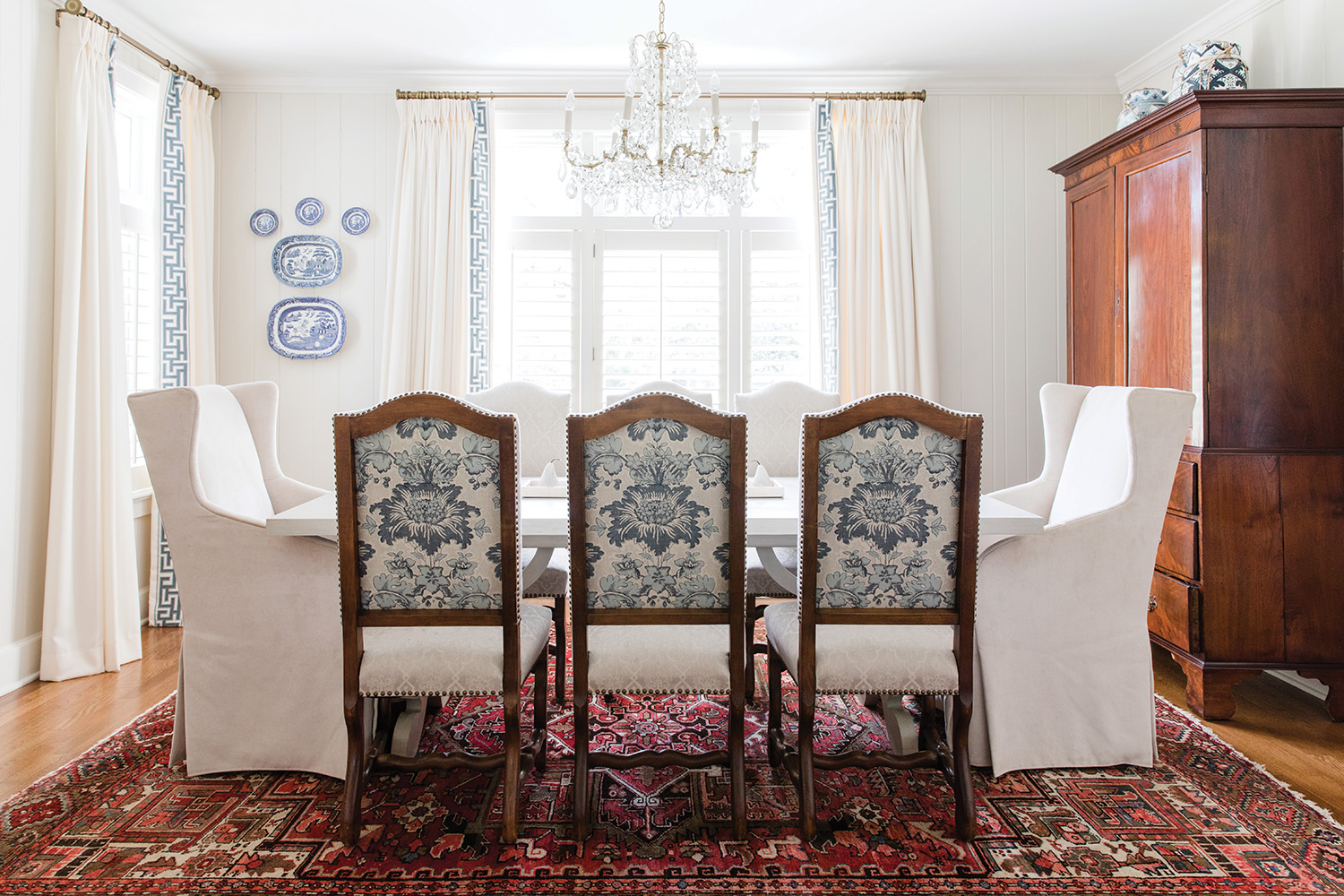 As I step over the threshold of Jessica and Scott Delaney's Spring Hill house, two little boys skirt past me into the yard, headed out for a walk in the neighborhood. It is the first day school has been cancelled because of the pandemic, and no one is quite sure what to do with themselves yet. Jessica is scrambling to do one last grocery run before the family hunkers down, hit that last orthodontics appointment before offices close and gather the children's books from their teachers. Teetering on the brink of a life-changing experience, the Delaneys graciously welcome me and our photographer into their home. As I pass through the stunning gray door with a fabulous center knob, I can't help but think this would be a wonderful place to be quarantined, should it come to that.
Making it Home
The couple started their marriage in a small home not far away in Ravine Woods, but after the first two of their three sons came along (Sutton and William), their starter home began to burst at the seams. During their search for a larger home, they stopped by this property on a whim, not expecting to be impressed. The rooms felt dated and the heavy curtains drab, but the bones were good and they saw possibility. With the help of architectural designer Robert McCown and interior designer Ann Inge of Design House, a new home for their busy family slowly came to life.
The ideally located, 1960s ranch needed a facelift and a new flow. McCown shifted a fireplace, added French doors, a master suite and a porch that is the stuff of outdoor living dreams. "With three boys, we live outside on our porch," Jessica says. "We have a TV out there and spend afternoons watching golf or football." Between the grill, the firepit and a secret gate leading to the neighbors, there is no shortage of entertainment for her sons and husband.
The brilliance of the house, however, is the perfect flow between the living spaces. Kitchen, dining, living and den drift seamlessly together, feeling connected yet distinct. It helps that the color palette and fabrics move from room to room as well. "We started with this blue Suzanne Tucker floral fabric on the pillows in the living room," Ann remembers, "and designed from there. I always start a plan with great fabrics." The print made its way from the living room to the backs of the dining chairs, but the seats are indoor-outdoor. Let's not forget the Delaneys have three boys. "That's one thing I love about working with Ann," Jessica explains. "Her children are a little older than mine, so she has just lived through it! She knows what works and wears well." Everything in the home is beautiful but livable.
More Than Just Design
While the two women knew each other before working together, picking custom trims and designing for Jessica and Scott's everyday life has certainly brought them closer as friends. So much so that when Jessica was pregnant with the couple's third child, and not planning to find out the gender, Ann designed a surprise nursery for the family. Only the OB's office and Ann knew the sex of the baby to come. When Warner was born, Ann had two days to get everything she had planned over to the house and installed before the Delaneys came home from the hospital. "I couldn't wait to come home and see the space she had created. After years of having a gender-neutral nursery, it was really fun to have a sweet little boy's room for our last child." When you work with a designer that you completely trust to know your taste, going with the flow feels natural.
As we take our time walking through each room of the house, talking with designer and homeowner together, I hear stories not just of fabrics and trims but also of the way a family lives, has fun together and takes care of one another. Ann's fabulous little design details all come together to make a comfortable — and beautiful — place for the Delaneys to call home.