In recent years, outsiders have struggled to label North Mobile County. Is it the new West Mobile? The new Eastern Shore? For those living in Mobile's northern suburbs, neither of these labels really apply, because it feels like residents are creating something wholly unique unto themselves. If you ask any of them, they'll probably say they live in the new North Mobile County.
Buoyed by brand new school systems, affordable property and wide-open opportunity, the area's progress and growth is a tangible reality, evidenced by the sparkling subdivisions along Celeste Road. An increasing number of families, like that of Megan and Stephen Wyatt, are gravitating north in search of an inexpensive, small-town lifestyle with easy Mobile access.
For this feature, in order to provide a more in-depth portrait, we've elected to narrow our focus to three towns along Highway 43: Chickasaw, Saraland and Satsuma. Dig into the people, places and businesses that make us want to drop everything and move to North Mobile.
ABOVE Small-town charm makes Chickasaw one of the most welcoming towns in all of North Mobile County. Local waterways, a major source of pride for the residents of North Mobile County, have become an outdoor destination in southwest Alabama. Photo by Hanlon Walsh
Chickasaw • A Hidden Treasure
Population 6, 023  |  Drive Time from Bienville Square 14 minutes
What if I were to tell you that in southwest Alabama lies a town of hidden coastal delight? Waterways wind through its neighborhoods, and children are encouraged from a young age to explore its secrets. Its oldest homes display historical plaques and rocking chairs on picturesque porches, and its position as a port town sparked its growth and continues to define its identity.
Its name, although derived from an Indian word, isn't Mobile.
It's Chickasaw.
Surprised? Don't be embarrassed. In fact, unheralded Chickasaw is a little town full of big surprises, and more and more people are catching on every day.
History in Brief
The area of land now known as Chickasaw was once the crossroads for various groups of migrating Indians. Native Americans named the creek running through this land "Chickasha Bogue, " from which the name Chickasaw is derived.
It wasn't until World War I that entrepreneurs recognized the potential of this coastal piece of land in Alabama. Its deep waterways and proximity to Birmingham's steel were ideal for the shipbuilding industry, and in no time, a company town was born. Companies, like the Chickasaw Shipbuilding and Car Co., literally built an entire town for workers to live in, complete with homes, community centers and schools. All the way through World War II, Chickasaw played a vital role in the shipbuilding industry, but after the conflict, activity dwindled. Then, in 1946, the townspeople voted to become an incorporated town, and Chickasaw as we know it was born.
ABOVE LEFT The front porch of Teresa Goolsby's home. ABOVE RIGHT Chickasaw's happiest residents Bonnie and Horace Allen (read their story here)
Who you Oughta Know
When Teresa Goolsby set out to start a historic society in Chickasaw, it was her feet that paid the price. "I wore out three pairs of shoes walking up and down the streets and meeting people, " Goolsby says. And she's dead serious.
What she found was that most Chickasaw residents wrongly assumed there was already a historic society in place. Goolsby moved quickly. After the creation of the society in 2002, it only took two years before Chickasaw's Shipyard Village was placed on the National Register of Historic Places. 
Standing inside her historic home on a blustery Chickasaw morning, Goolsby fondly recalls the series of events that landed her in the role of president of the Historic Preservation Society. "I was totally a novice when I started all this, " she openly admits. "I had no experience other than when I went to New Orleans and was falling over my own feet looking at the architecture."
It all started when Goolsby applied for the historical state marker that proudly sits like a beauty mark on the face of her house. When the National Register coordinator called from Montgomery to ask if there were more houses in Chickasaw like hers, Goolsby coolly responded, "Only a city full of 'em."
Goolsby's home, built in 1919, rests in Chickasaw's West Village and was built by the Tennessee Coal, Iron and Railroad Company in the early 20th century. Like many other homes in her neighborhood, it has the look and character of a house in Midtown Mobile. "But it's easily half the price, " Goolsby says, explaining Chickasaw's draw for budget-minded homeowners. For those hoping to catch an inside glimpse of Chickasaw history, the Christmas historic homes tour is an annual favorite.
Pride of the Place
Almost 50 percent of the city of Chickasaw lies within a stone's throw of the picturesque Chickasabogue Creek and its humming wetlands. In other words, if you need to borrow a kayak, ask your friend in Chickasaw first.
Perhaps more so than anywhere in North Mobile County, Chickasaw is a town that just screams, "Go outside!" From Chickasabogue Park to the 3-mile-long Ron Jones Paddle Trail, Chickasaw has become a paddle destination in south Alabama. And for anyone who wants to stay above the water line, a disc golf course and the Chickasabogue Mountain Bike Trail should do the trick.
ABOVE The Kennedy and Hamilton families gather for a typical cousin get-together at a creek in their Chickasaw neighborhood.
ABOVE LEFT Sisters Vera Kennedy, Ava Kennedy and Ellis Kennedy with cousin Kate Hamilton ABOVE RIGHT Sisters Elizabeth Kennedy and Ellen Hamilton
Family Ties
Sisters Elizabeth Kennedy and Ellen Hamilton never planned on raising their families down the street from one another, but when the opportunity arose, it seemed too good to be true. The two Fairhope natives wanted to give their children a childhood like their own — full of long days outside and never far from the sound of moving water. In Chickasaw, they've found just that.
"It's so much fun for our two families, " Elizabeth says, "because we can always just hang out or go on walks together. We don't even have to plan for it. We'll just be walking by [their house] and suddenly we're having a play date."
Elizabeth and her husband Shawn, both graduates of the University of Mobile, have three daughters, Ava, Ellis and Vera. Ellen and her husband Frank have a daughter and son, Kate and Brooks.
The five cousins delightfully romp across the front yard in a chaotic routine that their parents seem to expect at this point. Brooks, the group's lone boy, more than makes up for the lopsided male-to-female ratio; the only thing the energetic 2-year-old loves more than dirt is seeing how far he can run away before mom or dad yells out his name. 
The entire neighborhood was built with water in mind. "It's a quiet and scenic waterway for fishing, wildlife observation, canoeing and kayaking, " Elizabeth says. The Kennedys and Hamiltons live in an area called Pirate's Cove, so named for the pirates who were known to rob settlers in the 18th century and hide out in the creeks. One such creek runs directly behind the families' homes, another endless source of entertainment for the gang of cousins.
ABOVE Fascinating displays at Chickasaw's Rose Bud Flowers and Gifts have drawn customers to the successful shop for more than 35 years. "Chickasaw has been good to me, " says owner Sheila Kirksey.
Where to Shop
"We're in an emotional business, " Sheila Kirksey, owner of Rose Bud Flowers and Gifts, says slowly. "We could have a customer standing here that's had a brand new baby and then a family could walk in the door that's had a death. I just love that we can help with their needs and be here for them for whatever the occasion."
For the past 35 years, Kirksey's floral and gift business has firmly embedded itself in the fabric of Chickasaw and the surrounding communities. The shop's interior is a delightful combination of gift displays and floral arrangements, and noise and activity from a back room behind the counter belies the peaceful storefront. The business of arranging fresh flowers requires speed and expertise, and the key to success is an efficient staff.
"I'm only as good as my staff, and most of them have been with me 20-plus years, " Kirksey says. "So it's more of a family. And Chickasaw itself is a family.
"Of course, I don't survive just on Chickasaw, " she continues. "In fact, most of my deliveries are in West Mobile or the Eastern Shore. We like Chickasaw because it's convenient for delivery. I can get on the connector and be on Schillinger like that!" she says with a snap.
Local Lore

 
Over 160 years ago, another gang ran amuck in Pirate's Cove: The Copeland Gang. Led by the notorious James Copeland, the ruthless and daring group of bandits robbed their way into Chickasaw lore, inspiring treasure hunters and thrill seekers to search for gold coins around their old haunts. Using Pirate's Cove as their hideout, it was said that those in the gang were the only ones who could travel the backwaters without getting lost. Although pots of Copeland gold have allegedly been discovered in other locations across the South, nothing has ever been found in Pirate's Cove…
Don't Miss…
A performance at the Chickasaw Civic Theatre. One of North Mobile's most popular destinations for a live theater performance, the Chickasaw Civic Theatre has been delighting audiences for over 50 years with family friendly entertainment. Catch their rendition of "Oklahoma!" on April 22 – 24, 29 – 30; May 1, 6 – 8.
Saraland •  A Big Little Town
Population 13, 490  |  Drive Time from Bienville Square 17 minutes
The next stop that you'll find along Highway 43 is Saraland, the centerpiece of North Mobile. It's a town that refuses to stop growing; rolling subdivisions keep popping up along Celeste Road, and a relatively new school system is continuing to attract interest and young families. But despite its progress, Saraland maintains its small-town identity. Old friends make conversation at Saraland Produce, and waitresses can still rattle off the names of their regulars. Its charm appeals to everyone, from students and business owners, to toddlers and retirees. And that's something Saraland will never outgrow.
History in Brief
The area of land that would one day become the third largest city in Mobile County was part of a Spanish land grant to a man named Don Diego Alvarez, for whom the town was first named: Alvarez Station. The name Saraland is credited to C.J. Dewitt, a retired minister and man of influence who named the area after his wife, Sara.
Thanks to the industrial and population boom of neighboring Mobile, residents were inspired to incorporate the town in 1957, and Saraland was born. Though Saraland claimed only 125 residents at the time, further northward expansion of Mobile spurred an enormous population growth over the decades.
ABOVE LEFT The popular seafood platter at Catfish Junction. ABOVE RIGHT Morgan Kelley, manager of Saraland's beloved Moka's Coffee House, greets the morning's customers.
Where to Eat
Catfish Junction along Industrial Parkway is nothing if not comfortable, with its smiling waitresses, comfort food and a view. Ducks go rear-end-up searching for food in the property's pond, a wink toward the establishment's past when patrons could catch their own fish and bring it inside for a fry.
Owners Carolyn and Paul Stanley might have sold off the surrounding land that once contained several other ponds, but the essence of Catfish Junction remains. "It's very family-oriented, Southern seafood and barbecue, " manager Melissa Jemison summarizes. The sides are Southern (from turnips and grits to baked beans and hushpuppies) and the seafood is from the Gulf. They've recently added barbecue to the menu to compete with the ever-popular seafood platter.
Just minutes down the road toward I-65 is Moka's Coffee House, a favorite for Saraland's young and old. "Our customers are literally ages 9 to 90, " manager Morgan Kelley says. Kelley's parents, Theresa and Mark Custred, opened Moka's 11 years ago, which has since become the watering hole for North Mobile's coffee addicts. Plush armchairs and couches create social and hideaway spaces to chat, work or read a book. Barista Heath Vester's chalkboard menu is eye-catching and downright helpful when deciding how to remedy those early morning blues. Experiencing the interior atmosphere is half the fun, but if you're in a hurry, swing by the easy drive-thru window.
ABOVE For almost half a century, Belle Bouquet of Saraland has provided flowers with a family-friendly touch to customers throughout the region. Owner Edna Adcox spends her days working with her three daughters and husband Bill, bottom left. "Every season is totally different, " Edna explains. "That's what keeps it interesting."
Who you Oughta Know
When Edna Adcox, owner of Belle Bouquet Florist & Gifts, tells me that the store receives business from all surrounding communities, I ask her why.
"Cause she's a sweet pea, " says a regular customer walking through the door.
Adcox certainly is sweet, but there's also some tough determination in this florist. "I wanted to work in a flower shop and nobody would hire me, so I started my own little business, " she says, as if that was the obvious alternative. Adcox opened shop 46 years ago with little means and no experience in the flower business. Today, the family-run operation is one of the area's hottest spots for flower power.
Three of Edna and Bill Adcox's daughters work in the store, alongside employees who have been a part of this work family for up to 19 years. The colorful banter in the bright flower-cutting room is characteristic of a family, or at least working relationships that have evolved into family.
"People come to the shop because we try to be personal with them and let them feel that their wedding is our wedding, " Adcox explains. "And the people are so friendly in Saraland.
"It's in my blood, " Adcox says of the flower business. "I love it."
ABOVE Colorful and welcoming displays invite shoppers to The Shop Around the Corner.
Where to Shop
"Busy morning?" I ask Jody Maples, owner of Saraland Produce, as people stream in and out of the door.
"Busy?" he asks. "This is slow."
If there's a secret to creating a top-notch produce stand, Maples has figured it out. Here's his recipe for success: boiled peanuts out front, daily fresh vegetables and Bayou la Batre seafood. "Every day, I pick out the vegetables and bring them here in my truck. That way I know they haven't been sitting in some warehouse for weeks." When the weather permits, Maples makes an effort to buy from local farmers, and he does the same with fishermen, buying Bayou la Batre seafood straight off the boat. Saraland Produce, flaunting its colorful murals at a busy three-way intersection, has been a bright spot in Saraland since 1993.
A stone's throw away, you'll find The Shop Around the Corner in a new location. The repurposed dance hall still contains traces of its past (you can still see the old snack bar and where the stage used to sit), but it's one of the building's unexpected features that might be owner Robin Stewart's favorite. "There's no good cell phone coverage!" she brags. "People don't realize why it's so peaceful in here. Because your phone's not ringing!"
The shop, named after the bookstore in Stewart's favorite film "You've Got Mail, " is a fascinating idea. About 80 local vendors rent booths in the expansive space where they can paint and decorate their displays however they wish. The store gives artists, woodworkers, jewelry makers or anyone with a creative bone in their body a platform to sell their merchandise. 
"The thing that I heard the most the first year that I opened was, 'This is great for North Mobile. We've never had anything like this.' That makes us feel really good."
Pride of the Place
There's something special happening up in Saraland since the town broke away from the Mobile County School System in 2006. It's hard not to be impressed with the school's main entrance, especially when greeted by the affable Beverly Spondike, above left, in her sixth year as high school principle.
"What we're focused on is college and career readiness, " Spondike says while standing in a hallway of lockers. "So that's why we're adding trades like engineering and welding." Through this practice of "credentialing, " students who take welding, for example, can be hired right out of high school. Likewise, students enrolled in Saraland's health sciences program will be certified nursing assistants before graduation.
"Most people don't realize how quickly we've grown, " Spondike says. "When I started here, we offered one advanced placement class — European history. Now we offer chemistry, calculus, biology, English 11, English 12 … academically we really serve the students."
Saraland's independent school system has even inspired other business ventures, like the new Elysian Fields subdivision off Celeste Road developed by former South Alabama baseball star and major league standout Jon Lieber. "I bought the property about 15 years ago without any intentions to develop a subdivision, " Lieber says. "But things started happening, like the new school system, and it was a telltale sign of good things to come. There's no question that Saraland is a hidden gem."
ABOVE Oak Grove Plantation in Mauvilla features imposing homes that might as well be Oakleigh's distant cousins.
Satsuma

 • A Sweet Escape
Population 6, 133  |  Drive Time from Bienville Square 25 minutes
A train bellows its way through Satsuma at dusk, running alongside the cars on Highway 43. This coupling of old and new is a fitting representation of a place like Satsuma, a town whose name itself is a vestige of a bygone past. As much as any locale in North Mobile, Satsuma continues to lure the young and old with its history and opportunity. On one side of Highway 43, a young family brings life to Satsuma's oldest home. On the other side, a couple chooses Satsuma over Mobile for the location of their restaurant. Left and right, affordable property and a slow lifestyle continue to bring fresh faces under Satsuma's spell.
History in Brief
In 1915, a 6.5-square-mile area known as Fig Tree Island was renamed Satsuma in honor of the town's extremely successful cultivation of the oranges from Japan. As if on cue, severe cold and a bacterial disease known as citrus canker wreaked havoc on the crop in the following years, but the name stuck. In 1959, Satsuma's official town charter was approved by Mobile County and the State of Alabama.
DID YOU KNOW? Satsuma ranked 3rd on the 2016 list of "Safest Places to Live in Alabama"
ABOVE Megan and Stephen Wyatt showcase their home, the oldest in Satsuma, with their daughter, Helen, and newborn son, Ellis. The house was ordered out of a Sears, Roebuck & Co. catalog in the early 20th century and delivered in parts by rail to Satsuma.
Who You Oughta Know
Before Megan and Stephen Wyatt, right, could finalize their purchase of the oldest home in Satsuma, there was one final step. "We had to sign papers saying that we knew it was a haunted house, " Megan says. They signed those papers about a year ago, and now the house, with all its history, charm and ghosts, belongs to them.
It's safe to say the home has more history than ghosts. The two-story wooden structure, tucked away down a short gravel drive, was ordered out of a Sears, Roebuck & Co. catalog around 1915 and delivered in parts by railroad. The land was once owned by C.J. DeWitt, who is credited with naming Saraland after his wife, Sara. 
These days, the Wyatts raise their young family on the 3.5-acre property. "Eggs!" 2-year-old daughter Helen repeats from her red wagon. 
"It's our routine to collect the chicken eggs every day in the wagon, " Stephen explains. Megan, who just gave birth to her second child, Ellis, is a kindergarten teacher at Saraland Elementary while Stephen works at Slingshot in Downtown Mobile.
The couple stands in front of their fairy tale house nonchalantly, mirroring its friendliness and grace. The two discuss their plans to refurbish the interior of the house in phases, effectively leaving their own mark on one of Satsuma's most historical sites.
As for the ghosts, it's been said you can still smell C.J. DeWitt's cigar smoke or catch a glimpse of a lady walking down the stairs every New Year's Eve holding a candle. "So far, we haven't seen anything…" Stephen admits.
ABOVE RIGHT Jarvis Law, a paid firefighter with the Satsuma Fire Department.
Pride of the Place
"It's a combination department, " Fire Chief Clyde Miller explains, meaning that the Satsuma Fire Department is run by paid and volunteer firefighters. Chief Miller, a 27-year veteran of the Mobile Fire Department, has been the top dog in Satsuma for the past 8 years, and he says he enjoys the slower pace.
Miller, a no-nonsense type, clearly takes pride in his department. "We have 25 volunteers right now, " Miller says. "We do everything: residential fires, medical calls, wrecks on the
interstate. If people need help, they call us."
Another point of pride within the community, the Satsuma City School System has received acclaim as an undiscovered gem of K-12 education.
ABOVE LEFT A grill chef at the Bay City Grill prepares for the lunch rush. ABOVE RIGHT Gumbo grits are popular at Satsuma Chevron. Photo by Todd Douglas
Where the Locals Eat
"We were looking for something to do together, " Mark Courington says behind the front counter of Bay City Grill, next to his wife, Gina. "We looked all over Mobile at different places, and then this came available." Gina grew up in Satsuma, but Mark admits he didn't know what to expect. 
That was more than four years ago. Since then, Bay City Grill has become the go-to Satsuma burger destination. "The people of Satsuma, just across the board, have been extremely supportive, " Mark says. Directly behind the couple, the restaurant staff makes its pre-lunch preparations, shouting out orders and flipping burgers over the constant hiss of the grill. Their best seller is the bacon cheeseburger ("Hands down, " Mark says.), but don't miss their hand-sliced Reuben and homemade sauces. "We hear a lot of suggestions about what we should do, but we have stuck by what we do, " he says. "We're not a meat and three place; we're a grill."
Right down the road, you'll find the best Italian cuisine in Satsuma at Pintoli's Italian Café (plus, they deliver). And for an unexpected treat, stop by the Satsuma Chevron station in the morning for owner Bill Beasley's famous gumbo grits.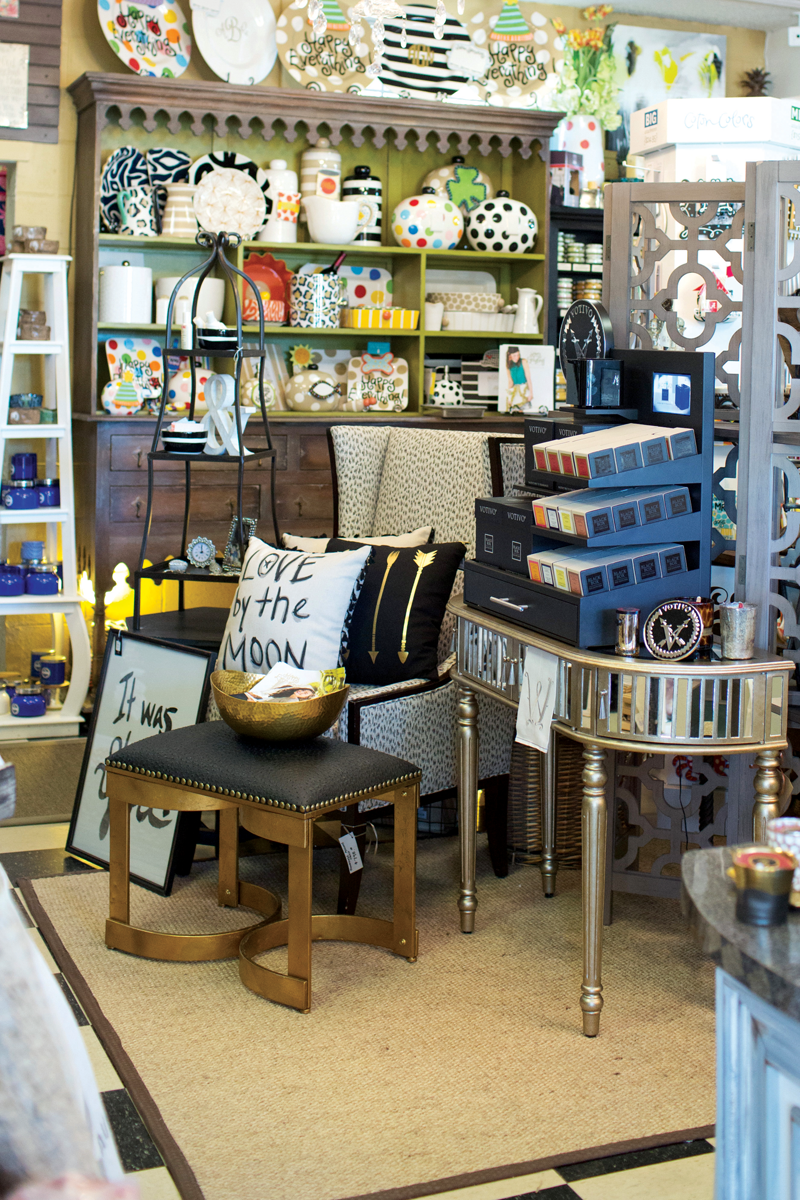 ABOVE A Little Shoppe boasts on-trend inventory and a convenient location. Daphne Price works the register at the celebrated Satsuma boutique.
Where to Shop
For being called A Little Shoppe, it sure doesn't feel very little. Employee Ashley Easley describes it as the department store of North Mobile. "We have almost everything. We have a baby boutique, a women's boutique, jewelry, home goods, Vera Bradley."
The 8-year-old creation of owner Diane Little, A Little Shoppe is the quintessential Southern boutique. Customers love it for its accessibility: "Every day we hear, 'We're so glad you're here. We don't have to go to the mall and drive down Airport Boulevard, '" says Easley with a laugh. As one Satsuma resident put it, "I don't know what we ever did without them!"
For antique and vintage needs, another Satsuma favorite is The Rusty Rooster at the corner of Plateau Avenue and Highway 43. Choose from an endless supply of vintage collectibles, repurposed furniture and even man cave items.
ABOVE Thomas Crowley on the rolling 12.5 acres of land that make up Oak Grove Plantation.
ABOVE LEFT Several original structures still remain, such as the original schoolhouse, where a door mysteriously unlocks every few weeks. ABOVE RIGHT The staircase has a creaky sixth step that squeaks in the middle of the night.
Just Up the Road
Oak Grove Plantation in Mauvilla is at once gorgeous, fascinating and spooky. The quiet 12.5-acre property sits along Kali Oka Road and features two imposing homes that might as well be Oakleigh's distant cousins. As if the ghost stories from these houses aren't creepy enough, the legendary Crybaby Bridge is right down the road, where it's rumored the cries of a baby who was drowned in the river by its mother still ring out late at night.
June Townsend Crowley and husband Thomas, however, aren't that easily spooked. "[The ghosts] like what we're doing, " Thomas says. "Nobody's ever been hurt, but many people have been scared." Since purchasing the property from Spring Hill College in 2004, June and Thomas have worked relentlessly to breathe life back into the historic plantation. "Both houses were completely boarded up and easily could have been condemned, " Thomas says. The transformation is absolutely extraordinary.
The two houses were built in 1885 and 1900 by M.L. Davis, who opened up a sawmill on the property, complete with shotgun houses for his workers and a schoolhouse for the workers' children. Today, many of these structures remain, and the Crowleys are content with being their loyal caretakers. After all, you wouldn't want to upset the ghosts.
---
TEXT BY Breck Pappas • PHOTOS BY Elizabeth Gelineau