1. Artichoke Leaves with Crabmeat
2 large artichokes
1 pound crabmeat
2 tablespoons mayonnaise
2 tablespoons sour cream
1 teaspoon Worcestershire sauce
1 tablespoon capers, drained
​dash red pepper
1/4 cup grated onion
chopped chives to garnish, if desired
1. Steam artichokes and remove leaves. 
2. Combine crabmeat with all other ingredients, except chives. 
3. Place artichoke leaves on a platter, then top each leaf with a spoonful of crabmeat mix. Garnish with a sprinkling of chopped chives. Serves 8 – 12.
Photo by Elizabeth Gelineau  
2. Marinated Goat Cheese
8 slices of goat cheese (about 2 ounces each)
1 cup extra virgin olive oil
4 bay leaves
1 tablespoon mixed white, black and green peppercorns
1 1/2 tablespoons dried thyme
3 large garlic cloves, cut into slivers
3 tablespoons julienne-sliced fresh basil
1 tablespoon dried pink peppercorns
baguette slices or crackers
1. On a large, ovenproof platter, place slices of goat cheese. Do not let slices touch.
2. In a small saucepan over medium-high heat, heat oil, bay leaves, mixed peppercorns and thyme, until the mixture begins to sizzle and pop. Immediately remove from heat and pour over cheese.
3. Scatter slivered garlic in the marinade. Sprinkle with basil and peppercorns.
4. Marinate in the refrigerator overnight. Before serving, bring to room temperature. Serve with baguette slices or crackers. Serves 8.
3. Jezebel Sauce
1/4 cup jarred horseradish
2 – 3 tablespoons dry mustard, or to taste
1 (16-ounce) jar pineapple preserves
1 (16-ounce) jar apple jelly
1 – 2 teaspoons freshly ground black pepper, if desired
1. In a medium saucepan over medium heat, stir together all ingredients until smooth and well blended. 
2. Remove from heat. Store in airtight jars in the refrigerator until ready to use. Makes approximately 4 cups.
Photos by Todd Douglas,  Elise Poché  
4. Cranberry Macadamia Tarts
3 ounces cream cheese, softened
1 cup flour
1 stick butter, softened
1 egg
3/4 cup brown sugar
1 tablespoon butter, melted
1 teaspoon vanilla
1 cup finely chopped cranberries
1/4 cup chopped macadamia nuts
1. Preheat oven to 375 degrees.
2. Beat the cream cheese, flour and butter together until well combined. Cover and chill for 1 hour. 
3. In a medium bowl, beat together the egg, brown sugar, melted butter and vanilla. Add the cranberries and macadamia nuts. 
4. Once the dough is chilled, divide it into 1-inch balls and press into ungreased mini-muffin tins. Fill each with a spoonful of the cranberry nut filling. Bake in the oven for about 18 -20 minutes. Makes approximately 2 dozen.
5. Ginger-laced Chocolate Truffles
1 (8-ounce) block cream cheese, softened
4 cups confectioners' sugar
5 squares unsweetened chocolate
1 1/2 teaspoons ground ginger
cocoa powder, powdered sugar and/or chopped nuts
1. Beat cream cheese. (A food processor makes this remarkably easy.) Add in confectioners' sugar a little bit at a time.
2. Melt chocolate in the microwave or in a double boiler.
3. Add chocolate to the cream cheese and sugar mixture. Beat until well blended, gradually adding in ginger.
4. Refrigerate for an hour or so.
5. Roll into little balls, then roll in cocoa powder, powdered sugar or chopped nuts to coat. Makes approximately 5 – 6 dozen.
Photo by Todd Douglas  
6. Classic Cheese Straws
3/4 pound extra sharp cheddar cheese (Cracker Barrel preferred)
1 stick butter, softened
1 1/2 cups all-purpose flour
1 rounded teaspoon baking powder
1/2 teaspoon salt
1/4 teaspoon cayenne pepper
1. Preheat oven to 300 degrees.
2. Combine cheese and softened butter until well blended.
3. Sift together flour, baking powder, salt and cayenne. Stir into cheese/butter mixture (by hand or in a mixer). This should form a big soft ball of dough.
4. Pack dough into a cookie press. Squeeze out cheese straws, flat side down, onto an ungreased cookie sheet.
5. Bake for 20 minutes. Watch carefully. Do not allow to brown.
6. Remove cheese straws from cookie sheet to cool on waxed paper. They will become crisp as they cool. Break into 3-inch pieces.
7. Once completely cool, keep in an air-tight container, layering with waxed paper to keep them from breaking. Makes approximately 7 dozen.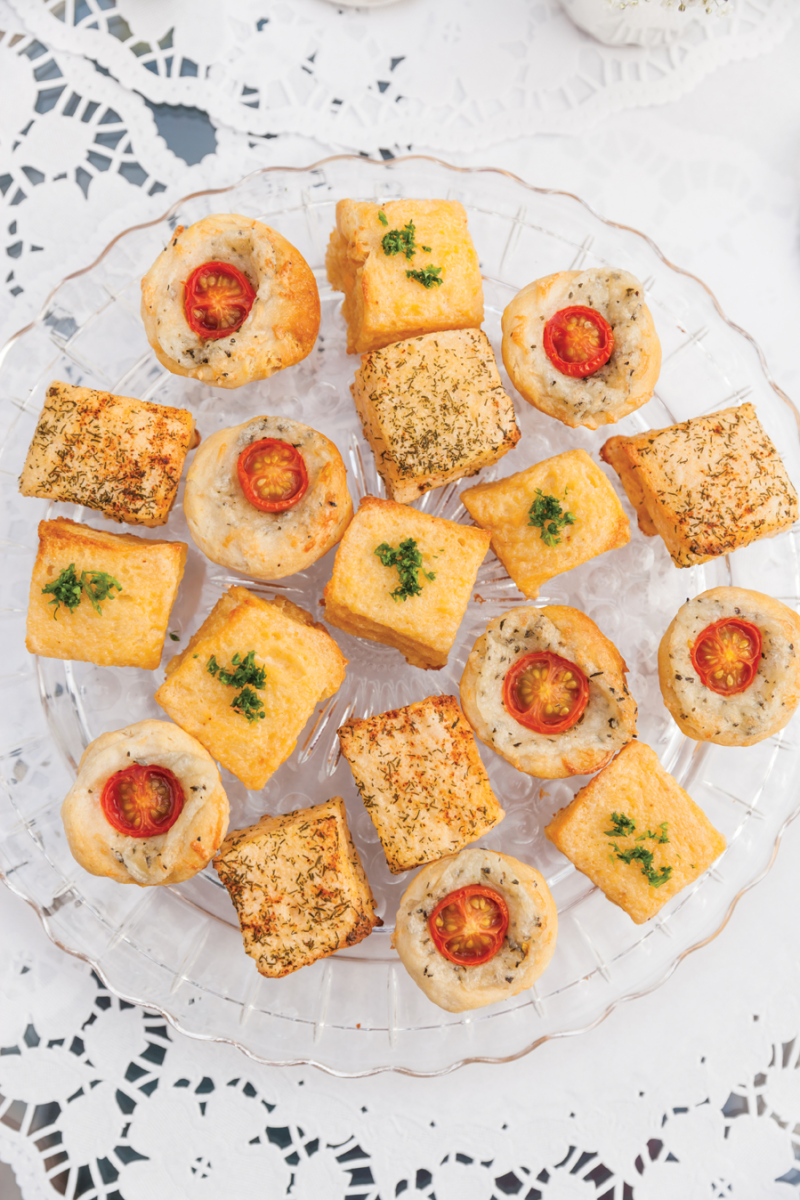 Photos by Todd Douglas,  Elise Poché 
7. Cheese Petit Fours
3 (1-pound) loaves Pepperidge Farm Blue Label Sandwich bread (not thin bread) 
2 sticks margarine, softened (Cissy always uses Land O' Lakes.)
4 (5-ounce) jars Kraft Old English cheese
1 1/2 teaspoons Worcestershire sauce
1 teaspoon Tabasco
1 teaspoon onion powder
dash of cayenne pepper
dill and cayenne, or chopped fresh parsley for topping
1. Cut crusts off loaves of bread.
2. Beat margarine, cheese spread and seasonings until the consistency of icing. 
3. Make double-decker sandwiches by layering a bit of the cheese mixture and 3 slices of bread each.
4. Cut each stack of three into quarters. Spread remaining cheese mixture over top and sides of each quarter. 
5. Sprinkle dill and cayenne over top. 
6. Freeze on cookie sheets; then transfer to zip-top plastic bags. 
7. When ready to serve, preheat oven to 375 degrees. Bake for 10 – 15 minutes. Makes approximately 6 dozen.
8. Bruschetta
1/2 cup basil chiffonade
2 cups seeded diced tomatoes
1/4 cup diced red onions
1/2 cup chopped kalamata olives
1/2 cup extra virgin olive oil
1/4 cup balsamic vinegar
freshly cracked pepper, to taste
kosher salt to taste
12 crostini (see recipe below)
12 Roma tomatoes, sliced
4 ounces feta cheese, crumbled
1/4 cup reduced balsamic vinegar,  to taste*
1. To make salsa, combine chiffonade, diced tomatoes, onions, olives, olive oil and balsamic vinegar, and toss. Season mixture with freshly cracked pepper and kosher salt.
2. Spoon salsa over crostini. Top with Roma tomato.
3. Sprinkle with feta cheese.
4. Drizzle with reduced balsamic vinegar. Makes 12 crostini.
* To make reduced balsamic vinegar, simmer 1 cup of balsamic vinegar on low heat until reduced to 1/4 of a cup.
Crostini
1 loaf French bread,  cut into 3/4-inch slices
herb infused oil, to taste
salt and pepper, to taste
Parmesan cheese, grated, to taste
1. Preheat oven to 350 degrees.
2. Arrange bread slices on baking sheet. Brush slices with herb infused oil. Sprinkle with salt and pepper and grated Parmesan.
3. Bake for 5 minutes, until crisp and lightly browned.
Photos by Summer Ennis, Todd Douglas  
9. Crab Cake Muffins
1 pound lump crabmeat
3 eggs, divided
2 cups fresh breadcrumbs
1/2 cup red pepper, minced
3 scallions, sliced
1/4 cup mayonnaise 
10 or more dashes hot sauce
1/2 teaspoon salt
freshly ground pepper
1. Preheat oven to 450 degrees. Oil the muffin liners. (No need to oil silicone liners.) 
2. In a large bowl, combine 2 eggs and 1 egg white, and remaining ingredients. Divide into muffin cups. Store.
3. Bake 20 – 25 minutes until tops crisp.
4. Cover with foil; keep in a warm place. Makes 12 muffins (you may want to double the recipe.)
10. Duck Breast and Apple Stacks
2 cooked duck breasts,  cut into bite-sized pieces
2- 3 Granny Smith apples, unpeeled, cut into bite-sized pieces and seeds removed
Blueberry Chutney (See below.)
1. Place a piece of duck breast between two similar sized pieces of apple. Secure with a toothpick. Place on a platter and drizzle each "stack" with Blueberry Chutney. Serves 6 – 8. 
Blueberry Chutney
1/2 cup thinly sliced shallots
1/2 tablespoon minced garlic
1/2 orange (including rind),  cut into thin strips, seeds removed
4 cups fresh blueberries
1/2 cup balsamic vinegar
1/3 cup packed dark brown sugar
1 tablespoon chopped fresh tarragon leaves or 1 teaspoon dried tarragon
1/2 teaspoon dried red pepper flakes
1/2 teaspoon ground cardamom
1/2 teaspoon salt
1. In a large nonstick saucepan over high heat, cook shallots and garlic for 1 minute. Add remaining ingredients and bring to a boil.
2. Reduce heat to medium low and simmer, stirring occasionally until thickened, about 50 minutes. Pour chutney into a pint jar. Cover and store in the refrigerator for up to a month. Makes about 2 cups.
---
mobilebaymag.com staff