Photos by Dan Anderson, Elise Poché
1. Wild Bunch Shrooms
Butch Cassidy's Café • 60 N Florida St.
Go for the burger, stay for the shrooms. These delicious mushrooms are coated with a top-secret batter, fried and served with a creamy, white dipping sauce.
2. Mussels Brodett
Osman's Restaurant • 2579 Halls Mill Rd.
Large Canadian mussels are sautéed with onion,  garlic, capers, diced tomatoes, red wine and vinegar.

Photo by Ashley Rowe
3. Deviled Eggs
The Noble South • 203 Dauphin St.
These are not your mama's deviled eggs. The Southern classic goes gourmet with a savory topping of caviar and shards of bacon. A hint of ghost pepper gives the eggs a creeping heat. 

Photos by Elise Poché, Blair Abraham
4. Crawfish Gravy
R Bistro & Pastry • 334 Fairhope Ave.,  Fairhope.
R Bistro's specialty, the home-style, white cream gravy, is not too thick,  not too thin, nicely spiced and loaded with crawfish, served over rice by the cup or the bowl.
5. New South Brussels Sprouts
Dumbwaiter Restaurant • 167 Dauphin St.
The down-home vegetable gets a delicious makeover with bacon confit,  red onion and a honey-balsamic sauce. You don't even have to like brussels sprouts to like these things.

Photo by Blair Abraham
6. Ahi Tuna Salad
Ashland Midtown Pub • 2453 Old Shell Rd. 
Ditch your boring lunch in favor of this light tossed salad topped with pan-seared ahi tuna, sesame ginger vinaigrette, sliced avocado and a citrus soy glaze. So. Good.

Photos by Elise Poché
7. Smoked Duck Nachos
OK Bicycle Shop • 661 Dauphin St. 
A mountain of crispy tortillas slathered with jack cheese, pickled jalapeño,  pico de gallo, cabbage, a trio of sauces and chunks of smoked duck. What more could you want?
8. Pear and Gorgonzola Flatbread
Pinzone's Italian Downtown • 312 Fairhope Ave.,  Fairhope.
The crisp, chewy flatbread is topped with slices of sweet pear, salty Gorgonzola and golden, bubbly mozzarella cheese, creating a divine molten medley of sweet and savory.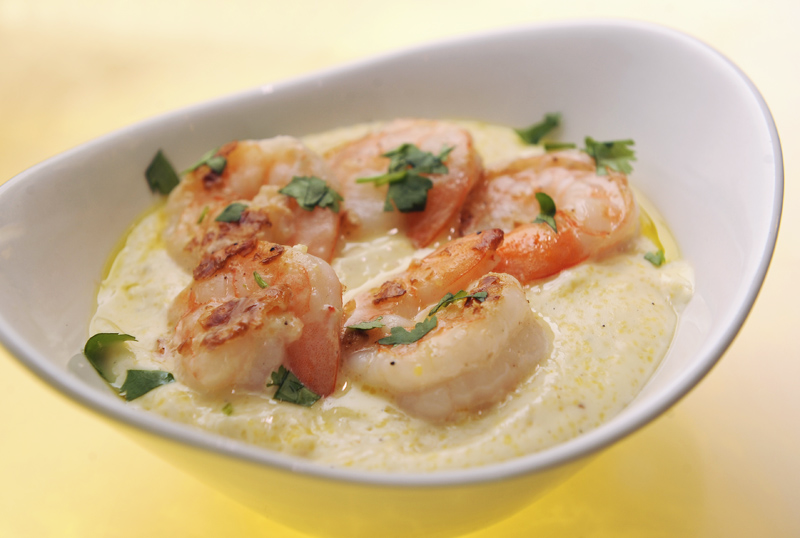 Photo by Elise Poché
9. Shrimp and Goat Cheese Grits
Kitchen on George • 351-A George St.
Ultra-smooth, rich and cheesy grits topped with pan-seared Gulf shrimp and a light lemon butter sauce. It's like eating a really delicious cloud. Tip: Order this dish during happy hour (4 p.m. – 6 p.m. every day) for just $6. 

Photos by Elise Poché
10. Sugar Rush Burger
LoDa Bier Garten • 251 Dauphin St. 
Two fluffy rings of goodness with a thick, juicy burger patty and layers of gooey cheese and bacon in the middle. It's one of those things you have to eat so you can say you ate it…and because it's ridiculously good. 
11. Wade's Lamb
Locals • 410 Fairhope Ave., Fairhope.
This is one out-of-the-box burger. A savory, juicy lamb patty stacked with melted cheese and a slathering of mint aioli on locally made focaccia bread.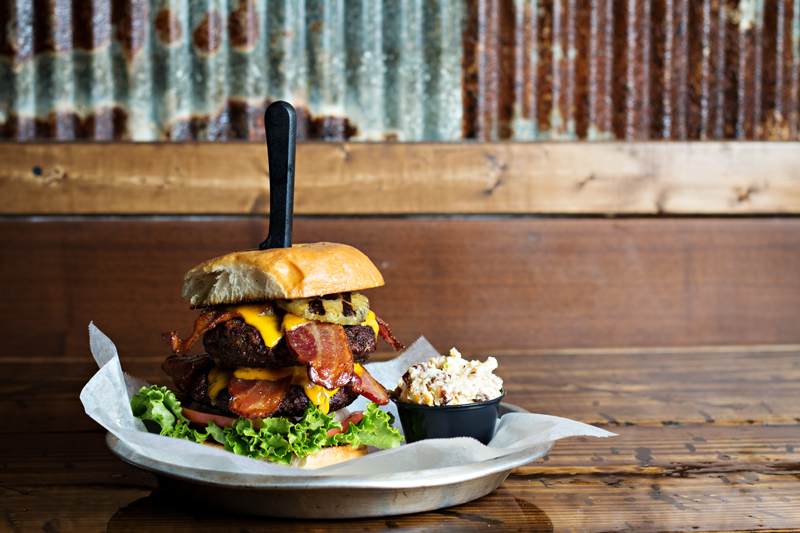 Photo by Ashley Rowe
12. The Full Monte
Montego's Caribbean Café and Bar • 225 Dauphin St. and 6601 Airport Blvd.
A pound and a half of Angus beef, crowned with a host of toppings, including bacon, cheese and a slice of grilled, marinated pineapple. It's the perfect dish to order if you've recently competed on "Survivor" or you're just really, really hungry.

Photos by Ashley Rowe, Jeff & Meggan Haller
13. Seared Scallops
Fisher's at Orange Beach Marina • 27075 Marina Rd., Orange Beach.
Golden, lightly crisp seared jumbo scallops paired with roasted cauliflower and shards of red onion in a satiny browned butter with a mint- and parsley-laced ginger herb salad. 
14. Mardi Gras Dog
Old 27 Grill • 19992 State Highway 181,  Fairhope.
A 10" all beef dog on a fresh baked roll with sweet relish, diced purple onion, comeback sauce, sriracha sauce and peppadews. Laissez les bons temps rouler!

Photo by Todd Douglas
15. Gumbo Grits
Satsuma Chevron • 6059 U.S. Highway 43
Don't knock gas station cuisine until you've tried it. Feast on cheese grits piled with bacon,  sausage, potatoes, bell peppers, onions and more, with a touch of Tabasco sauce.

Photos by Todd Douglas, Elise Poché 
16. Navco Special
Navco Pizza • 1368 1/2 Navco Rd.
Meat lovers and supreme unite in delicious harmony. This pie has it all – sausage, beef, ham, pepperoni, onions, bell peppers, black olives and mushrooms.
17. Lost in Translation
Master Joe's • 21 N Section St., Fairhope.
This roll features spicy tuna and asparagus, topped with spicy crawfish, cheddar and cream cheese and spicy mayo, oven baked and dressed with eel sauce. It definitely gives the Russian Revolution a run for its money. 

Photo by Ashley Rowe
18. Bone-In Ribeye
Briquettes Steakhouse • 720 Schillinger Rd. S
​This hearty house specialty, a big, tender, juicy, well-seasoned rib eye, comes in both 10- and 12-ounce sizes. The flavor is simply fantastic.

Photos by Ashley Rowe, Elise Poché
19. Chocolate Kahlua Cheesecake
Hope's Cheesecake • 210 E 20th Ave., Gulf Shores.
A crumbly cocoa-laced crust acts as the base for a chocolate cheesecake filling that is topped with chocolate shavings. As if that weren't sinful enough, it's spiked with Kahlúa.
20. Bushwacker
Pirate's Cove • 6664 County Rd. 94, Josephine.
Trying to put the Pirate's Cove bushwacker into words is nearly impossible. Just go order one. Or two. You won't be disappointed. 
Like our list? Tell us below which dish is your favorite or which dish you would add to the list.
---
mobilebaymag.com staff