Bruce Larsen
Artist's Workshop, Fairhope
Fairhope artist Bruce Larsen says his workshop is in a state of flux. He is trying to move his art, equipment and raw materials up the hill and further away from Fish River, which has been known to breach its banks on many occasions. "Flux" perfectly describes his art, as well, where Larsen takes found objects (anything from hunks of old tractor engines to junkyard bicycle seats) and changes them, combines them and gives them new life. His art is intriguing, exciting and just a little bit macabre. He has had major success as both a sculptor and animator, with films like "The Patriot" to his credit. But in 1997, Larsen landed in the outskirts of Fairhope while seeking an escape from the frenetic and cutthroat art world.
In Baldwin County, he found an out-of-the-way spot where he could quietly raise his family and stay true to his creativity. Though civilization lingers nearby, thick stands of bamboo, lush banana plants and his menagerie of animals give off the feeling that this is indeed a world apart. Larsen toils away at his craft seven days a week in the workshop under his house while kids and dogs amble in and out. Surrounded by welding equipment, compressors, tools and piles and piles of scrap, he carves out his own magical world one piece at a time.
Fontaine Howard
The Shack, Citronelle
Fontaine Howard has been on the back of a horse for as long as she can remember, and that probably won't change anytime soon. "In our family, the girls ride and the boys hunt, " she explains. But after she bought a young horse a few years back (what she calls her "last horse"), she decided to downsize her operation. The big dusty barn that sits on her father's 2, 000-acre estate on Celeste Road proved too demanding for this photographer and frequent traveler, so she passed it down to her two nieces and created what she lovingly calls "The Shack." Howard bought the portable building on the side of the road and gussied up the interior with loads of glossy white paint and a good AC unit. It's a little turnkey spot inspired by the tiny house movement where Howard can unwind and enjoy her pursuits. Sleek white furniture, cowhide rugs, a kitchenette and perfectly maintained leather tack fill the bright space. A shed-roofed front porch proves the perfect spot for watching the sun go down, and Howard always keeps her camera nearby in case a wild black bear makes an appearance. It may be more chic than shack, but it is perfectly Fontaine.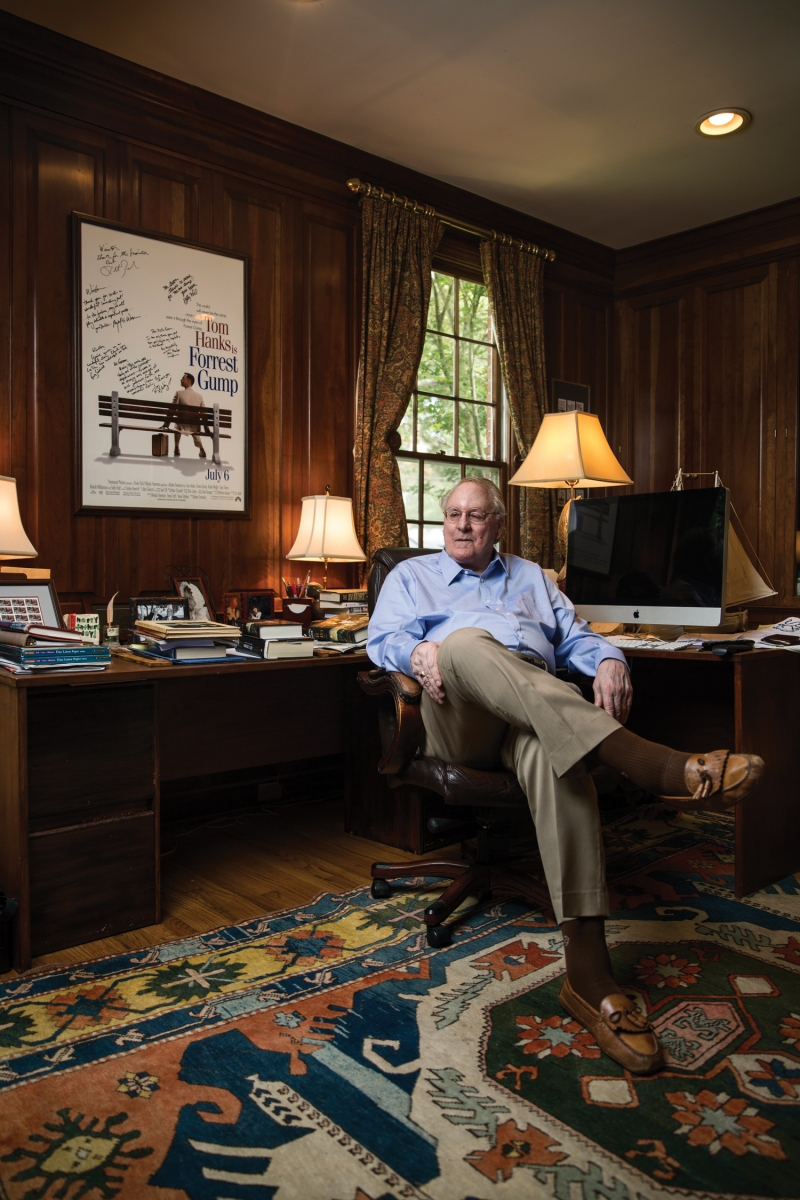 Winston Groom
Writer's Desk, Point Clear
A gentleman's study is often paneled in wood with grand, leather furniture. There might be a case full of shotguns and some form of animal skin or mount on the wall. If there isn't a bar in the room, there is surely one nearby. Books might pile on shelves and framed accolades should adorn the walls. This could be any man's study based on description alone, but this particular study belongs to Winston Groom. The local novelist and nonfiction writer of "Forrest Gump" fame needs no introduction, but his handsome office at his home in Point Clear deserves a deeper look. This is, in fact, a working office where Groom writes seven days a week at the desk he describes as "nothing special, some Scandinavian thing" that has been his friend these many long years. It's functional and to the point, like the man himself. Groom gets the business of being a writer out of the way in the morning — emails, phone calls, letters that undoubtedly arrive in piles — and reserves the afternoon for his craft. He researches his nonfiction works after lunch and then closes the door so as not to be disturbed in his thoughts until dinnertime. Everyone has a different method, he says, and that's his: equal parts sophistication and good old-fashioned hard work.
Fred Richardson
Ben May Public Library, Downtown Mobile
Mobile City Councilman Fred Richardson's personal story starts and ends with books, so it's not surprising that a quiet corner of the public library is where he draws his inspiration. He was educated in a two-room schoolhouse in a town with no library, and he says that the deck was pretty much stacked against him. But the deck had never met his mother. She used a set of 1935 American Educators' Encyclopedias to improve the education of her 10 children, and, against all odds, almost all of them eventually made it to college. Councilman Richardson's face lights up as he talks about the library, which he calls the seat of all knowledge. Even today, as a grown and well-educated man, he comes back here to read histories and discover how other people solved problems, hoping to learn something applicable for today. Richardson sets his book down to watch kids coming and going from the beautiful two-story Ben May Library, proud of the facility that the city supplies its people. It's a place where bright futures can be made.
Shelby Mitchell
Lakefront Retreat, Bay Minette
As with many professionals these days, radio personalities have to be diversified. As the world moves toward syndicated programming and streaming, a local DJ must also blog, stay active on social media, record podcasts, make public appearances, perform remote broadcasts and make sales calls — all to stay relevant. It's exhausting just to hear about, but Shelby Mitchell, longtime host of the successful Dan and Shelby show on WKSG, has built a quiet haven with a down-home feel where she and her husband can unplug from all the noise. She starts each day with coffee and breakfast on her home's cozy screened-in porch that overlooks a peaceful neighborhood lake while two giant Catahoula mixes (with giant barks to match) are ever at her heels. Named Kona and Banjo in honor of her Hawaiian heritage and south Alabama roots, the dogs snuggle up close but keep one eye on the ducks and geese parading to and from the lake. Surrounded by funky art, candles and comfy pillows, Mitchell enjoys this scene each day before it gets too hot — and before the emails and devices pull her back into her busy life.
Beverly Gibson
The Rectory, Downtown Mobile
An executive office, at first glance, can feel formal and intimidating. Although the Rev. Beverly Gibson might have the stereotypical large corner office, the tone is set not by the furnishings and appointments but in how she uses them. She spends as little time as possible behind the heavy wooden desk in the rectory at Christ Church Cathedral, preferring instead to sit in one of four armchairs gathered, along with a comfortable sofa, around a coffee table. Decorators would call it a conversation circle, a term which sums up so much of the Rev. Gibson's work. She prefers to be face-to-face when she takes meetings and counsels parishioners in an effort to be fully present and open to their exchange. She wanted to remove any barriers between her and her work, the people of Christ Church. The desk is reserved for studying, letter writing, sermon preparing — and the occasional email, too. She describes this corner office as a very personal space, where many important things happen in a lot of people's lives.
Powell Hamlin
The Line, Midtown Mobile
As customers walk in the door of the Dew Drop Inn, a warm face offers a smile and blue food service gloves wave from behind a shelf full of hot dogs and onion rings. You get just a peek of owner Powell Hamlin standing under the fluorescent lights of the kitchen. He mans the line six days a week, slinging condiments on the restaurant's "world famous dogs." One might think there would be another, better spot that Hamlin would call his favorite — where he does his best thinking or where he relaxes to the fullest. But the truth is, he has spent so much time in the kitchen of the Dew Drop that he can't imagine choosing anywhere else. Although generations of Mobilians have come to the restaurant on their lunch breaks or before football games, few have ever seen the other side of that kitchen window, where you might say "the magic happens." They say if you can see the inside of a restaurant kitchen and still want to eat there, that's a real compliment. Well, we came, we saw and we ordered hot dogs.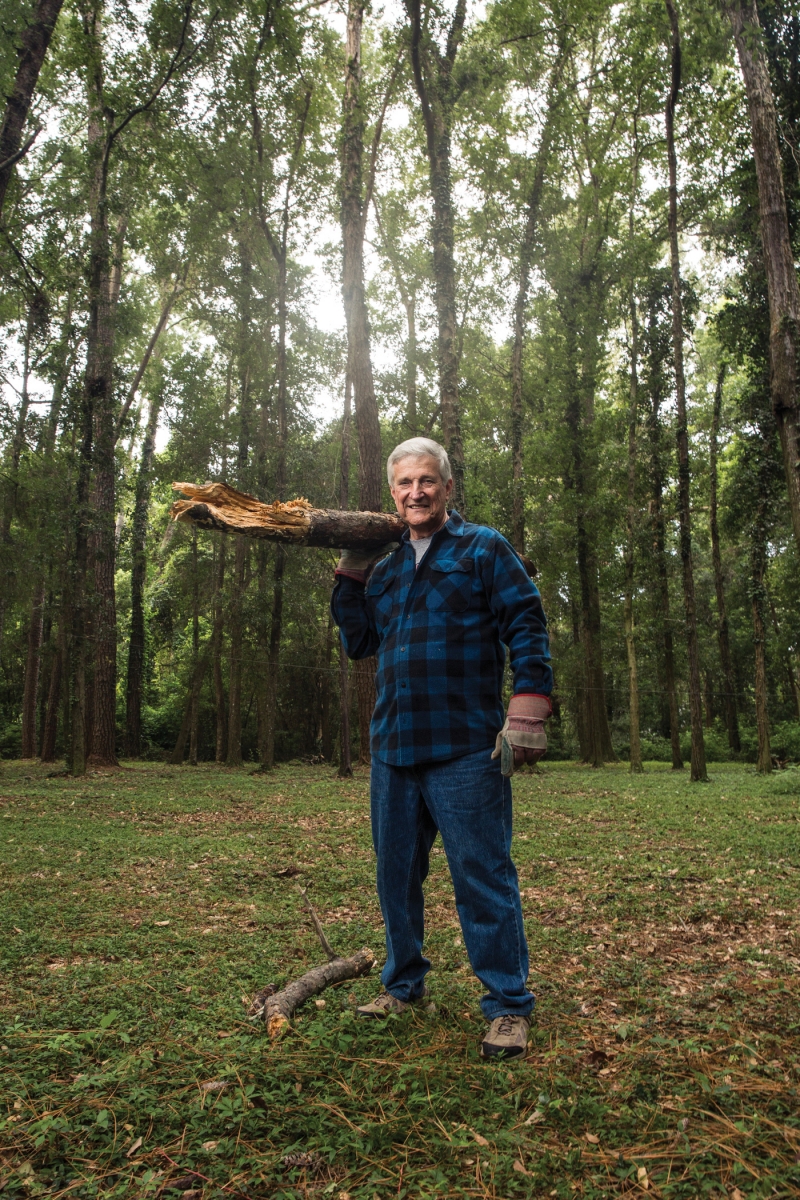 Dr. Bill Williams
Private Parklands, Montrose
A wooded field is not the first spot that comes to mind when you think of a room. But if you are Dr. Bill Williams — meteorologist, Professor Emeritus at the University of South Alabama and founder of the Coastal Weather Research Center — this private growth of forest is his favorite room, without hesitation. From the time he purchased the half acre adjacent to his home in historic Montrose, the woods became his refuge from a crazy house full of kids. He walks the property, picking up limbs that fall in storms and thinking. He maintains the property like a pristine parkland. He knows each tree, its trunk or its roots, as if it were an old friend. Williams says he gets his best ideas walking underneath the canopy of a giant hickory tree that he calls "the cathedral." Several large dogs slice across the landscape with the handle of a zipline held tight in their teeth, the only interruption to all the serenity. As he enters his 50th year providing forecasts for the Mobile area, he has a lot to contemplate while walking the land and gathering limbs, but always with a watchful eye on the skies.