In nearly 60 years of business, Clarence and Sandra Bishop, right, have made every dish imaginable featuring their prized pecans. Daughter Mona, far left, and son Doug, second from left, are in the business with their parents, and grandchildren and even great-grandchildren help out. 
Sandra and Clarence Bishop are the "mom and pop" behind Baldwin County's beloved B & B Pecan Co. Their decades-long marriage and thriving local business have stood the test of time: The Bishops celebrated their 60th wedding anniversary in April and next September will mark the 60th anniversary for B & B. 
The couple bought the business from a Fairhope man who was running the company out of his garage and was ready to retire. With only one pecan cracker and 200 mail order customers, B & B was born. (Sandra's maiden name was Brown, and her dad was the one who suggested the moniker.) Now, the Bishops have expanded their business to more than 100 acres, 2, 000 pecan trees and more than 20, 000 mail order customers.
However, just like marriage, the pecan business hasn't always been easy. The first year was the hardest. "We went broke, " Clarence says. "There was no UPS back then, so we had to drive the pecans to Mobile to put them on the train." Sandra's dad was driving the truck one night when the cargo accidentally caught fire, and he had to dump all the pecans in the river to save the truck. Clarence's father loaned them some money, which gave them the chance to try again.
Eight hurricanes have also taken their toll. Sandra explains, "A pecan tree has to have so many leaves in order to produce a nut. You know you're going to lose your crop even if it's only a Category 1 storm." Hurricane Frederic in 1979 was the worst: "We were down to almost nothing because it not only took all of the crop, but it took almost all of the trees we had. We had to look to Georgia and anywhere away from the coast to fill orders." The silver lining? They observed what other pecan businesses were doing and launched B & B's now-booming gift business.
B & B has become a full-fledged family affair with daughter Mona managing the retail shop on U.S. Highway 98 and son Doug in charge of growing and harvesting the pecans. (Mona's last name is now Barfield; she jokes that she had to marry a "B." The Bishops' other son, Ross, is a family physician.) Sandra and Clarence's dozen grandchildren and 14 great-grandchildren have all been involved over the years, especially at harvest time. Mona says, "I think it has taught them a good work ethic. Even toddlers can put stickers on the bags of pecans, enjoying what they're doing and spending time with family."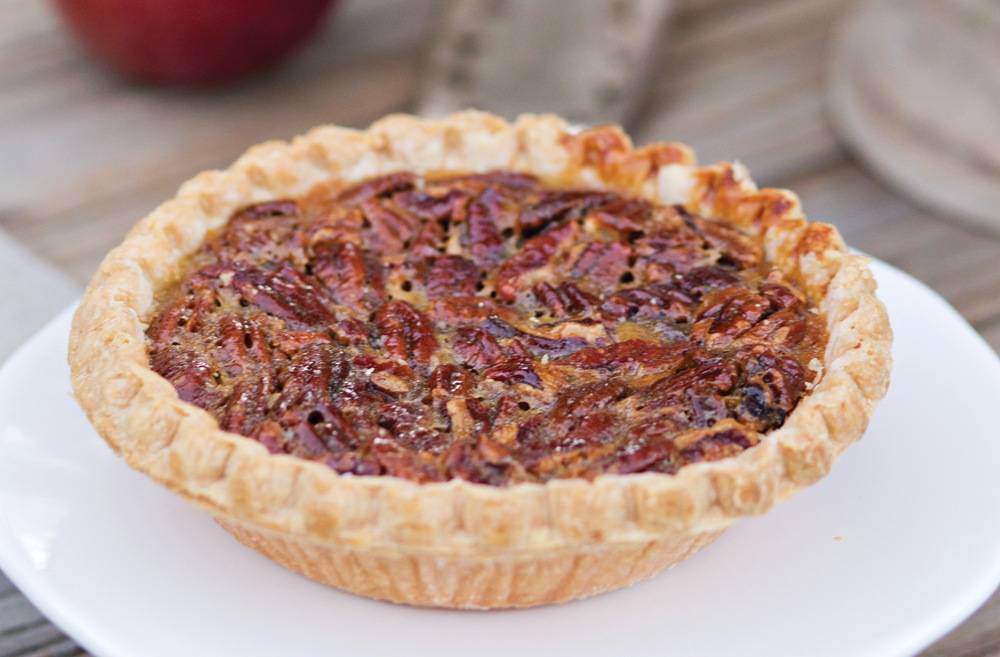 B & B's Classic Pecan Pie
Pecan pie is a perennial favorite and, for many families, a must-serve for the holidays. This is the recipe they give out at B & B. As Clarence Bishop says, "You can't lose with this one."
3 eggs, beaten
1 cup Karo syrup (dark or light)
1 cup sugar
2 tablespoons melted butter
2 tablespoons flour
1/2 teaspoon vanilla
pinch of salt
1 cup chopped pecans
9-inch unbaked pie shell 
1. Preheat oven to 425 degrees. 
2. Combine beaten eggs, Karo syrup, sugar, melted butter, flour, vanilla and salt. Stir in chopped pecans and pour into pie shell. 
3. Bake in oven for 10 minutes. Reduce heat to 325 degrees and continue baking for 30 minutes or until an inserted knife comes out clean. Let cool. Serves 6 – 8. 
Pecan Date Candy Roll

 
This is an old-fashioned sweet, perfect for the holiday season. Sandra says she used to make it often when her children were young. Her son, Doug, is especially fond of the candy roll.
3/4 cup milk
3 cups sugar
1 pound dates, chopped
4 tablespoons butter
1 teaspoon vanilla
2 – 3 cups finely chopped pecans
1. Combine milk, sugar and dates in a large saucepan and let sit until dates are soft, approximately 15 minutes. 
2. Add butter and bring to a boil over medium heat. Boil mixture,  stirring frequently, until it reaches soft ball stage, approximately 5 – 6 minutes. (To test, drop a small amount of the syrup into very cold water. Use fingers to roll cooled syrup into a ball; when removed, it should flatten.)
3. Remove from heat and cool to room temperature. 
4. Stir in vanilla and pecans until well mixed and pour mixture out onto a clean, dampened kitchen cloth. Shape into a roll using the cloth. Chill in the refrigerator until firm. Slice. Serves 6 – 8.
Pecan Muffins 
Mona Bishop Barfield often makes these delicious, buttery bites for church gatherings.
1 cup pecan meal (sold at B & B)
1 cup packed brown sugar
1/2 cup self-rising flour
2/3 cup butter, melted and cooled
2 eggs
1. Preheat oven to 350 degrees. 
2. Mix pecan meal, brown sugar and flour together in a large bowl. 
3. Mix together butter and eggs in a small bowl, then stir into dry ingredients. 
4. Grease muffin tins and pour batter in each. 
5. Bake for about 15 minutes. Makes 24 mini muffins.
Parmesan Garlic Pecans
These tasty tidbits are great for gift-giving, and they also make a perfect pick-up snack for parties or impromptu guests.
3 cups pecan halves
1/4 cup melted butter
1 teaspoon garlic salt
1/3 cup grated Parmesan cheese
1. Preheat oven to 350 degrees. 
2. Spread pecans in a rimmed baking pan and bake for 10 minutes, shaking the pan or stirring once or twice. 
3. Meanwhile, combine butter and garlic salt in a bowl. 
4. Remove pan from oven, pour butter mixture over all and toss to coat. Sprinkle nuts with the Parmesan. 
5. Return pan to oven and continue baking for another 3 – 5 minutes. 
6. When cool, store in an airtight container. Makes 3 cups.
Pecan Crusted Fish
Pecans make a marvelous, hearty-flavored, crunchy coating on this baked fish dish.
1 – 2 tablespoons olive oil
6 (6 – 8 ounce) fish fillets (snapper, grouper, redfish or trout work well)
salt and pepper, to taste
1/2 – 3/4 cup Dijon mustard
1 cup finely chopped toasted pecans
1 cup Italian-seasoned breadcrumbs 
1. Preheat oven to 350 degrees. 
2. Pour olive oil onto a rimmed baking sheet and spread to coat. Season the fish with salt and pepper. Spread a light coat of mustard on both sides of each fillet. 
3. Combine chopped pecans and breadcrumbs until well mixed, then press the mixture into the mustard to coat each fillet. 
4. Bake for 15 – 20 minutes or until fish is opaque and cooked through. Serves 6. 
---
text and styling by Sallye Irvine • photos by Elizabeth Gelineau