Classic elegance and eat-and-mingle practicality make buttermints a party staple for Audrey McDonald Atkins.
An unmistakable sea of kelly green coats and Irish flags parade down the streets of downtown Mobile every March 17. Now in its seventh decade, the Friendly Sons of Saint Patrick are just as lively as they have always been, preserving their history while bringing smiles and a little Irish luck to Mobile.
The conservation effort to save the Mobile-Tensaw Delta from an invasive, orange-toothed rodent turned into one of the Bay's biggest annual parties.
Whether being thrown from a float, caught mid-air or dropped from a building, no town does MoonPies like Mobile.
Coat or stole, fur is a seasonal luxury for any Southern woman.
What an Alabama Christmas lacks in snow it makes up for in boozy treats galore.
A craft bourbon with a nod to Judge Roy Bean brings local flare to this traditional eggnog recipe.
Pain is beauty — but Velcro rollers and mimosas may help.
Thankgiving and its traditional dishes may be widely accepted today, but Southerners haven't always welcomed the New England holiday with its cranberry recipes.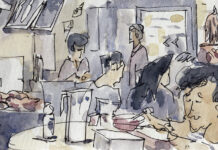 For writer Audrey McDonald Atkins, football and barbeque spell fall.