What is it about farms? A trip to the farm could represent unbridled freedom, warm nostalgia or even a look back into the lives of our ancestors. (There's a reason why "Old MacDonald Had a Farm" is one of the first songs a child learns!) But it's also growing into something else. As society becomes increasingly aware of the origins of its food, several local farmers have dedicated themselves to attracting and accommodating visitors. This is "agritourism." 
In 2003, the Alabama Agritourism Partnership was established to string together and support a statewide agritourism trail, the effects of which can be seen in Baldwin County. Since then, many nearby farms have opened up their barn doors for tours, festivals, corn mazes and fruit picking (among a host of other fun activities). It's a win-win situation, satisfying the public's curiosity while supporting local farmers.
Here, you'll find MB's very own Baldwin County Agritourism Trail with a spotlight on four homesteads. From alpacas to vineyards, blueberries to peanuts, get a taste of Baldwin County — straight off the vine.
ABOVE RIGHT Cheryl Bowen outside of her barn in Silverhill.
 
Humming Star Alpacas
Staring into the distance from the dusty gravel of Blueberry Lane, you might begin to question your eyesight. The mysterious, loping creatures in the distance look too big to be sheep, too small to be camels and their necks are way too long for them to be goats. Unless you're from Peru, as these endearing animals are, chances are you're stumped.
Up close, the most striking feature on an alpaca is its eyes. "Their eyes are so big because in the Andes Mountains, they have to have great peripheral vision, " explains Cheryl Bowen, who operates Humming Star Alpacas in Silverhill with her husband, Andy. "This is because they're prey animals and don't have any defense." No longer searching for predators, the bulging peepers of Cheryl's alpacas instead reflect the idyllic countryside of Baldwin County and, occasionally,  the delighted faces of visitors of all ages.
The Farmers
It all started when the Bowens got a Great Pyrenees dog. "I jokingly said, 'Well, now that I have my livestock guardian dog, I can have alpacas, '" Cheryl says. "I had read about them." Encouraged by a friend who had once worked on an alpaca farm, Cheryl and Andy began traveling and researching, going as far as Dallas-Fort Worth on the quest for alpaca knowledge. The alpaca "joke" became more and more serious.
"We just visited alpaca farmers and asked, 'What would you definitely do again? What would you never do again?' And after a few years we decided to purchase property in Silverhill. So there was a lot of research before that."
Despite having just bought their "forever home" in Fairhope, Andy and Cheryl decided to give the alpaca idea a shot and moved in the summer of 2010. "Our families said, 'What?! You're selling the house that you've worked so hard for?'"
It might have seemed like a crazy idea, but six years later, the Bowens' alpaca farm has surpassed even their own expectations. "It's just taken on a life of its own, " Cheryl says. "And, as you can tell, I love it."
Things to Do
A visit to this alpaca haven is something to be enjoyed by young and old. Regularly hosting children from just about every school in Baldwin County, Cheryl masterfully explains and demonstrates how to raise alpacas, from what the animals are fed to how they are sheared once a year. Hands-on activities are the norm, allowing children to experiment with fiber spinners, pickers and carders. An instructional video details the shearing process as well as how the animals' teeth and nails are trimmed. According to Cheryl, receiving visitors and meeting community members is by far the most rewarding part of the job. "The people we have met are the biggest blessing of all."
What's for Sale
After feeding the animals and petting their soft fleece, don't leave before checking out the small store and all the alpaca-related products inside. Choose from a quirky selection, such as handmade alpaca felizes — dryer balls made from the fibers of Humming Star Alpacas. Toss them into a load of laundry for extra softness and to reduce static, drying time and wrinkles. One alpaca felize can last more than 1, 000 loads!
Another unique buy is the bird-nesting bag, a bundle of multicolored alpaca fibers that didn't make the cut to be used in yarn or fabric. Rather than waste the water-resistant fibers, hang this bundle from a tree in your yard and watch birds pick away at its contents and carry the hairs back to their nests as cozy building material. 
And, of course, you can't leave without picking out your favorite pair of alpaca socks. You can even try on a hat or scarf for size. From head to toe, the Bowens and their alpacas have got you covered. 
Due to camps at Humming Star Alpacas, there are no regular store hours during the summer. However, circle your calendars for Family Farm Day on November 19, when visitors mingle with the alpacas and browse the crafts of talented artists. From then until December 31, the farm will be open every Friday and Saturday. Stay up to date through their Facebook page or call directly for information and store hours.
Humming Star Alpacas • 19700 Blueberry Lane,  Silverhill. 214-8224  
ABOVE All bottling at Perdido Vineyards takes place on property.
 
Perdido Vineyards
Jim Eddins is nothing if not passionate about muscadine grapes. And why shouldn't he be? The South's native grape is the main ingredient of the wines and award-winning vinegars at Perdido Vineyards, tucked away along County Road 47 off I-65. Although a different grape species altogether from the grapes you're used to drinking from the vineyards of California or Southern France, the local muscadine is in the driver's seat at Perdido Vineyards. "The idea that wine has to come from someplace else is stupid, " he says with conviction.
Following the enactment of the Alabama Native Farm Winery Act of 1979, which opened up commercial winemaking in Baldwin County, Eddins' 50-acre muscadine vineyard made Alabama history as the first of its kind after Prohibition (a historical marker by the road tells the full story). Today, the vineyard represents a bygone melting pot where Alabama and Native American history, agriculture, science and vinification converge in splendor.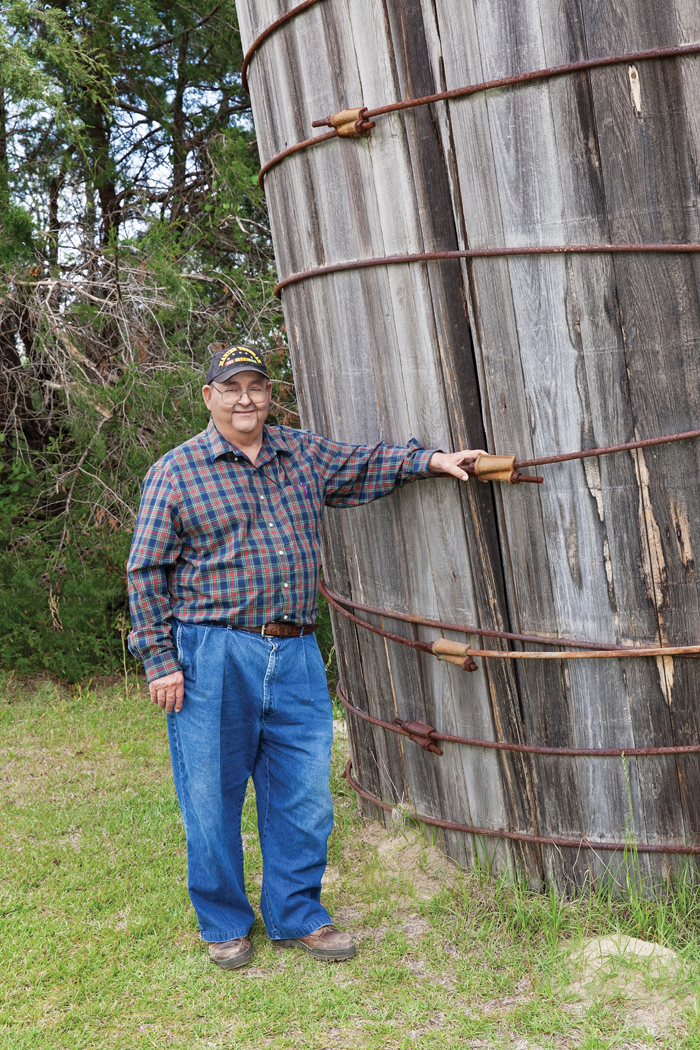 ABOVE The Spanish Mission-style vineyard is a historic site in Alabama. Eddins, a Vietnam War veteran, has made a name for himself as a staunch advocate for Alabama wineries.
 
Why you should visit
Stop by the winery's store for a free tasting and tour. You're sure to find something you like out of their 19 wines and 15 gourmet wine vinegars, all made and bottled on location. The internationally awarded vinegars add a local touch to classic dishes, such as collard greens, or "whatever you want to put it on, " Eddins says with a smile. Also, don't leave without trying some of their non-alcoholic muscadine juice, which is consistently one of their best-sellers. 
You're also likely to find things you've never seen before, like pickled garlic to throw in your next bloody mary or hot pepper sauce, in which muscadine wine vinegar is infused with chili peppers (feel free to ask for a taste test to gauge the heat). Peruse local art in the gift shop as well, from pottery and handcrafted pepper grinders to salt shakers and wooden ornaments. 
The winery is open to visitors from 10 a.m. to 5 p.m., Monday through Saturday. 
Perdido Vineyards • 22100 County Road 47, Perdido. 937-9463
ABOVE Today, the once-neglected 10 acres of rabbiteye blueberry plants are maintained without the use of pesticides.
 
Suberi's Blueberries
The word "adventurous" falls a little short when describing Barbara and Bob Suberi (yes, rhymes with blueberry). The passionate sailors spent about eight years circumnavigating the globe before dropping anchor in Baldwin County where a new adventure awaited, hidden beneath weeds and rusted equipment. When the Suberis bought this 70-acre property in Loxley in 2008, the previous owner's 6, 000 blueberry bushes hadn't been touched for more than 10 years. "Amazingly though, the plants didn't seem to mind, " they write on the farm's website. "To the delight of the neighbors, they just kept on producing big, luscious, sweet berries."
"It still took about four years to bring the whole place back to life, " Barbara says. "Not all of them were alive, but enough were." The Suberis opened up their blueberry farm for u-pick five years ago, relying on little more than word-of-mouth. According to Barbara, the work is tough, but it's ideal for them in at least one way. "We get our winters off, so we'll take our sailboat down to Central America, " Barbara says. But one thing is for certain: These blueberry plants aren't going anywhere. 
ABOVE LEFT Plastic buckets with a piece of fabric to loop around the neck allow for picking with both hands.
ABOVE RIGHT Staff writer Breck Pappas receives a lesson in blueberry picking from Barbara Suberi. 
 
Why you should visit
"Picking blueberries is kind of zen, " Barbara says. "People get obsessed and just keep going and going." 
At the farm, you'll find 10 acres of rabbiteye blueberries in four different varieties. Which ones should you key in on? Barbara gives a hint: "Everybody believes the bigger the blueberry, the better. But that's not always true."
Loop a bucket around your neck (to free up both hands for picking) and grab your fill before the summer sun chases you away. Don't leave without picking up a jar of homemade
jam or scratching their friendly dog, Bill, behind the ears.
The farm is open for summer picking on Tuesdays through Sundays from 7 a.m. to noon.
Suberi's Blueberries • 27608 County Road 65, Loxley. 228-2322   
ABOVE Laurel Hixson has spent years mastering the art of jam-making. Her favorite variety? "Apricot and pineapple, " she says with a knowing grin.
 
Hillcrest Farms
Of all the agritourism farms on our list, Hillcrest Farm in Elberta is the most difficult to define. There's a reason it's not called Hillcrest Blueberry Farm or Hillcrest Muscadine Farm (although visitors can come and pick both). It's called simply Hillcrest Farm because the experience is much bigger than just one crop. It's a portrait of farm life, from chicken feed to blackberries, from honey to herbs. Since 1978, the business-minded Laurel Hixson has owned this land on a road that shares her last name, meaning that Hixson has seen 37 summers at the homestead — and she's gearing up for number 38.
ABOVE Hixson's daughter-in-law Christel Cherrix is a native of Delaware. She lived in Costa Rica for 13 years, where she met Hixson's son Wayne. Christel does a little bit of everything around Hillcrest Farm, but her newest fascination is beekeeping.
The Farmers
Hixson greets me at the end of the driveway between painted signs advertising homemade ice cream and honey. After a gentle handshake, she points in the direction of her son, Wayne, who's putting together a cabinet in the distance. Hixson explains that Wayne's wife, Christel, is planting zinnias, which visitors will be able to pick this summer. 
Hixson immediately leads the way to the chickens, carrying with
her a small pail of dusty feed. "Even toddlers know the turn off to our farm. People of all ages really love feeding chickens!" she says with a warm smile. 
Do the chickens have names?
"Never. They are livestock. If you name them, they're family."
Although many nearby farms participate in agritourism for extra income, here at Hillcrest Farm, it's the primary moneymaker. "All our sales are here [on the property]. When we have blueberry season, which is busy, busy, busy, we can't sacrifice any hands to go to a farmers market." So instead, they let the consumer come to them.
We walk past blueberries and muscadine grapes, blackberries and pecan trees, and before long, I hear the bees. Christel walks closer to investigate the swarming cloud. The addition of honeybees is a new feature that Christel hopes will only add to the already impressive store inventory.
On the busiest of days, Hixson estimates they might have 40 cars out front, all delivering families with a thirst for adventure and a craving for blueberries. It's not hard to imagine the madness that ensues.
But just when the 40-acre property is beginning to feel like a playground, Hixson stops that notion dead in its tracks. "It's seven days a week, 10 to 12 hours a day! And even when you get a day off, you do exotic things like go to Wal-Mart!" 
"But would you trade it for anything in the world?" I ask.
"Well, I certainly haven't!"
Things to Do
Handpick your very own blueberries, blackberries, musca-dines and scuppernongs. Although guests are not allowed to pick anything that requires a ladder (such as pears), that produce is still available for purchase. Grab a pail of chicken feed for 25 cents to entertain the little ones, and then peruse the flower garden for the zinnias that steal your heart. If you're not up for doing the work yourself, simply pay a visit to Laurel's Farm Store for her signature jams, ice cream, hot sauce and honey. And once the weather cools down in October, be sure to return to attempt the reasonably challenging corn maze for only $4!
What's for Sale
Besides the u-pick fruit, stop by Laurel's Farm Store for jams, jams and more jams. Homemade preserves are the farm's best-sellers. "In the summer, we throw the season's produce in the freezer, and in the winter, we spend all our time making jelly, " Hixson explains. Try strawberry jalapeño, blackberry pear or the popular frog jam, a combination of figs, raspberries, oranges and lemon. It comes in three sizes: tadpole, frog and bullfrog. All jams are made in-house with straight-off-the-farm love (and zero preservatives).
Hillcrest Farm • 30497 Hixson Road, Elberta. 962-2500
MB's Unofficial Agritourism Trail
1. Perdido Vineyards • 22100 County Road 47 Perdido. 937-9463
2. Reeves Farm • 34605 US Highway 31, Stapleton. 232-0572
3. Gardner's Berry Farm • 21909 County Road 68 N.Robertsdale. 960-5317
4. Suberi's Blueberries • 27608 County Road 65,  Loxley. 228-2322
5. Lyrene's Blueberries • 11689 State Highway 104,  Fairhope. 928-0925
6. Fidler Farms Peanuts • 15705 Harris Lane,  Silverhill. 945-5687
7. Humming Star Alpaca Farm • 19700 Blueberry Lane,  Silverhill. 214-8224
8. Fish River Trees • 13982 Woodhaven Dairy Road E.,  Summerdale. 988-8114
9. Magnolia Corn Maze • 15275 County Road 49,  Summerdale. 605-7216
10. Oak Hollow Farm • 14210 Greeno Rd.,  Fairhope. 928-4840
11. Weeks Bay Plantation • 12562 Mary Ann Beach Rd.,  Fairhope. 279-8745
12. Zimlich Ideal Farms • 21790 Ranchette Rd.,  Robertsdale. 947-8819
13. W&E Kichler + Sons • 24619 Kichler Circle S.,  Elberta. 986-8225
14. Gary Merchant Hatchery • 27721 Totsch Lane,  Elberta. 986-5840
15. Hillcrest Farm • 30497 Hixson Road, Elberta. 962-2500
16. Peebles Farm • 11850 County Road 91,  Lillian. 235-1060
---
text by Breck paPpas • photos by TODD DOUGLAS