Robertsdale and Rome have much in common. Both start with the letter "R, " and … OK, that's about it. But when the moon hits your eye like a big pizza pie, that's amore in Robertsdale. And that's two hearty slices of the pizza of your dreams, breadsticks and a drink for — Momma Mia, can this be right? — $8!
You betcha pepperoni it's right, and it's the Tuesday lunch special. "Tuesday is our most popular day, " owner Mark Nicholson says on his third attempt at this Tuesday phone interview; after all, pizzas were in the oven and customers needed seating. "You have a choice of toppings for all our pizzas, and it's all made fresh. We do not have anything sitting around a kitchen." 
Incidentally, for $10.50, Vitollis offers a Friday 14-inch, three-topping pizza of your choice. I know, we are supposed to be sticking to under $10, but a large pizza for an additional 50 cents? You can do it, Diamond Jim.
The Haberdasher, Bake My Day 
The Haberdasher isn't just a place for twentysomething hipsters to order up fine vintage libations. Bearded bartenders decked in 1920s golfer hats, vests and neckties also serve up some spectacular small plate options. Owners Naude Gouws and Elise Poché reopened their popular downtown hangout this past summer on the southeast corner of Bienville Square. Regulars know that their expanded, inventive menu, which features fresh and flavorful fare with a global flare, is a hidden gem. South American arepas, or corn cakes, come stacked with a myriad of toppings, for only $4 or less. Fresh and fluffy house-made naan bread is also stuffed with a variety of savory fixings, including braised chicken and South African bird's eye chili sauce, with peppers, purple cabbage and Gouda, all for only $6. Or, try an American classic, a Mississippi grass-fed beef burger slathered with garlic herb kefir cheese, spinach, red onion and tomato. The menu boasts, "It's not $14, but you'll still love it!" In fact, it rings up at less than half that price, meaning you'll have extra dough for one of those fine libations.
Bake My Day • 
156 N. McGregor Ave. 219-7261
Go ahead, bake my day. With taco soup and chocolate chip cookies. "People line up out the door for this soup. Hot weather, cold weather; it doesn't matter, " confirms Bake My Day owner Paula Bentley. "It looks like soup, tastes like tacos." By the cup it is $5.50, and a bowl is $7.50. A cup, one homemade jumbo cookie and a drink is under $9.
Well, while our calculators are out: A half-pound of shrimp pasta salad in a bag lunch with cookie and drink is under $10. And a half-dozen homemade big-bustin' chocolate chip cookies goes for about 9 buckeroos. 
Mondays at Bake My Day mean red beans and rice with Conecuh sausage and on Wednesdays, make room for Sloppy Joe Day — not to be confused with Sloppy Emmett Day, when I devour one. All are under 10 bucks. 
J. Rodgers Barbecue • 
1444 Industrial Parkway, Saraland. 675-3282
Josephine Rodgers has seen many barbecue restaurants come and go. Hers stays. It's been at its present Saraland location for 22 years. The big fat two-rib barbecue plate with sides and bread for $8 is one reason why.
"Actually, we have a lot of items under $10 dollars, " she adds. But she can't talk long. On this interview an order must be filled — for 92 to-go plates. 
J. Rodgers also has a most excellent pulled pork sandwich combo, featuring two sides and sweet tea for $9. Specialty sandwiches, smoked cuts and a lunch special sausage on a bun for — sit down for this one — $5. 
Cravin Cajun

• 
1870 Dauphin Island Parkway. 287-1168. 
Take 10 bucks into Cravin Cajun and eat like a king. Want gumbo or jambalaya? $9. Shrimp po'boy? $8. But a favorite Cravin Cajun hankering is as good as it sounds: fried fish smothered in crawfish sauce.
"We offer it as a Friday lunch special, " Jack Hartman, restaurant manager, says about five big pieces of fish, presented in a pan, ladled with mudbug sauce. "It's $10, with two sides and a drink. And it is one of our most popular items." Sides include fries, onion rings, hush puppies, boudin, potato salad, steamed broccoli, coleslaw, macaroni, sausage, corn, potatoes, salads, daily vegetables, fish, shrimp, crab cakes and oysters. Yea, that's about it.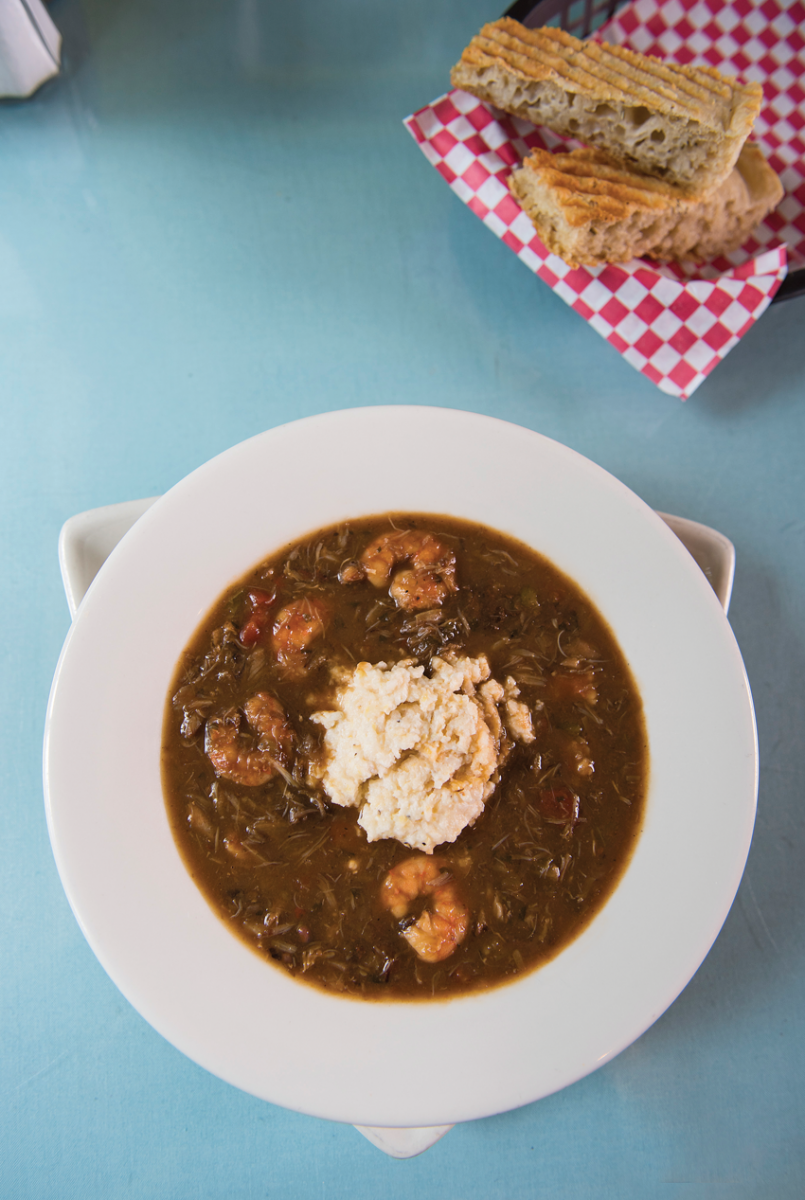 Bob's Famous Hot Dogs, Cream and Sugar 
Man's best friend is the dog … between buns. And at Bob's Famous Hot Dogs, on the corner of Mobile's Canal and South Royal Streets, it's easy to make friends. For here, there are no losers, only wieners. 
The delectable dogs of distinction start at $2.75. They also end at $2.75. You heard me: Every combination, condiment selection, all the toppings and trimmings are $2.75. And get this: TWO loaded dogs, chips and a drink combo meal is $6.75.
"It can be messy, " Bob Sawyer, the hot dog stand owner says. "But it's not good if it's not messy." Favorites include the slaw dog — mustard, homemade chili and homemade slaw. My favorite is the South of the Border Dog with chili, cheese and pico de gallo sauce.  
Get there early. The stand serves about 60 to 80 hot dogs a day. Official hours are 9 a.m. to 2 p.m., but Bob usually opens earlier. "I am here every day, Monday through Friday, rain or shine, cold or hot, " he notes. "If you're hungry, we'll feed you." 
The Oakleigh Garden District is known for its pretty cottages on quaint "Mister Rogers' Neighborhood"- type streets. Look closely at the house called Cream and Sugar. Its eats are as good as the name implies. 
With bagels, muffins, cookies, cakes and more, the house/bakery/café/coffee shop offers ample opportunities for $10 dining. Try the gumbo over "soon to be famous" cheese grits for about $8. The roux base of crab, shrimp and seafood stock is sold every single day and rightly so. "Our gumbo over cheese grits is popular with locals, business people and Midtowners. And tourists love it, " says owner Susan Carley. "We sell a ton of it for breakfast and lunch. Travelers Google us and stop in for our gumbo while passing through town." Probably because Northerners do not have access to fresh seafood gumbo like we do, so we should pray for them.
Leah Lott is a trained chef who daily takes her culinary skills on the road in a great big red food truck. The big rig houses her kitchen and your breakfast for $10 or less. 
Lott claims that "walkers" are partial to bowl food, something they can eat while in stride. Office employees tend to purchase items for sit-down office dining. Try the three-egg omelet for $7. Now get this; the egg trio includes one or more choices: sausage, bacon, ham, turkey, spinach, mushrooms, bell peppers, tomatoes and about five different cheeses — you feta believe it's Gouda. 
"Omelets go pretty fast, " notes Chef Leah, "In a two- to three-hour morning, we average 60 to 80 orders."
Then there's the delightful, savory French toast sandwich with eggs, smoked ham and Swiss piled on sourdough French toast.
Grits and Grub also offers a cinnamon roll waffle, sausage and gravy biscuit and breakfast sandwich for, you guessed it, less than $10. In some cases,  much less. The truck parks on Tuesday mornings from 7:30 a.m. – 9 a.m. at Evident LLC, 6600 Wall St., and Thursday through Friday from 7:30 a.m. to 10 a.m. at 63 S. Royal St. at PNC Bank.
Smokin' Gringos, Shanghai Cottage 
Give Jason Harsany a tenner, and he will hand you not one, but two loaded brisket tacos. "And that's the after-tax price, " Harsany says. He's the owner of Smokin' Gringos, one of the most welcomed food trucks on the Gulf Coast.
Depending on the day (check their website), the wheeled kitchen parks on Downtown Mobile's Royal Street or in Spring Hill at Bebo's Spring Hill Market. But wherever Smokin' Gringos sets up shop, the tacos keep on trucking.
Each is handcrafted to the customer's specifications — and that can be a tough decision. Fans choose combos of diced brisket, Smokin' White Sauce, cheeses, lettuce, barbecue and taco sauces, blends of sour cream and much more, all wrapped in a shell and served with love from a parking lot. 
Add chips and drinks and you're good to go, with one disclaimer: "One taco is a large snack, " Harsany shares about his shell-encased dynamic duo. "Two is a great big, two-handed meal." 
Shanghai Cottage • 
22530 U.S. Highway 98, Suite 250,  Fairhope. 928-6668
There's so much more on the sushi shore, including Shanghai Cottage and its sister restaurant, Master Joe's. A good example would be 13 sushi rolls, under $10 each, available at Fairhope's Shanghai Cottage. Manager Vivian Xiao recommends a good snow crab roll -— two for $8.50. "But customer favorites are crunchy shrimp and spicy tuna sushi rolls, " she notes. Each is about $6 for a lunch special, two for $9, including a choice of wonton, hot and sour,  or miso soup or ginger or cucumber salad. Excellent Japanese food! Anything else is gone with the yin.
Buck's Diner • 
58 N. Section St., Fairhope. 928-8521 
The citizens of Fairhope have nicknamed Buck's Diner's legendary country fried steak: "the Golden Monster with Gravy." It is a term of endearment. Battered, seasoned and cooked in accordance with Eastern Shore patron specs, the monster roars. And $8 with two sides makes it even better. But the best deal, $9 with three sides, makes the monster an incredible edible.    
"I'd have to say it is our most popular lunch menu item, " says one of the diner's owners, Daneen Buck. "We sell about 60 or 70 country fried steak plates a week."    
Buck's is also known as "Fairhope's Finer Diner" (it says so right on the sign) and has many regulars. They're a local favorite and friendly to visitors from across the pond (Mobile Bay).    
The diner also has a vibrant Facebook page, and some fans even take social media selfies, posing with the Golden Monster just before slaying it.
Lucky Irish Pub & Grill

 

• 
3692 Airport Blvd. 414-3000 // 1108 Shelton Beach Road, Saraland. 473-0757
Faith and begorrah, 'tis the place that immortalized the Crichton Leprechaun in chicken (the Crichton Leprechaun sandwich — fried breast and trimmings for $9.50)!
But perhaps the best value is Lucky's Sunday burger special: an 8-ounce slab of beef, lettuce, tomato, onions and more wedged between buns and accompanied by fries, for under $7.
"This isn't a 'Happy Meal, '" general manager Andrew Allenbach notes. "You won't find a bigger burger in Mobile for this price." Lucky Irish Pub & Grill's Sunday burger special is a customer favorite, and business is good. 
Hold on to your shamrocks: Irish eyes are now smiling in Saraland. That's right: In addition to the iconic Mobile pub,  North Mobilians can now enjoy a juicy Crichton Burger, as well!
---
text by Emmett Burnett • photos by Elise Poché