Photos by Matthew Coughlin
ABOVE As the manager of Austal's crane and rigging department, Michael Sayner says he's "involved in almost everything we do around here." Lacking a dry dock at Austal, Sayner's department plays an instrumental role in the launching of newly constructed vessels, a process that involves loading a ship onto a barge to be transported downriver to the dry dock at BAE Systems to be lowered into the water.
ABOVE Three crane operators from Austal USA take a break from another day of shipbuilding in the Port of Mobile. From left to right: Tevin Sparks, Dale McKinley and Orlando Brown. "I like teaching these younger guys about the job, " says McKinley. "I've been on this river since 1996 and worked on just about every shipyard up and down the river. Passing my knowledge on to the younger guys — that's the only way they're going to learn."
ABOVE Emanuel Lowe, a line handler for Prestige Maritime Inc, spends his days tying up or cutting loose ships throughout the Port of Mobile.
ABOVE Lowe secures one of the 12 lines used to hold the container ship Maersk Virginia in place at APM Terminals. Secure in her moorings, the Virginia, having just arrived from northern Europe, is ready to have her containers unloaded by crane.
ABOVE Aboard the USS Manchester (LCS-14) at Austal USA, A-class pipe welder Ben Sarantos seals a copper nickel pipe, which will be used to transport seawater in order to perform functions such as cooling down the ship's engines. Copper nickel piping is a popular choice for seawater transport, as it resists seawater corrosion and the growth of marine organisms, such as barnacles.
ABOVE Sarantos, a native of Ohio, describes his decision to join the Austal team as "one of the best career choices" he's ever made. "Welding has been an obsession of mine since I was 17 years old, " he says. "It was something that just came naturally to me." The USS Manchester is Austal's next ship to be delivered to the U.S. Navy, and the ship is expected to sail in May.
ABOVE One hundred and ninety feet above the ground, APM Terminals' crane operator Jason Reed gets to work unloading the container ship Maersk Virginia. Reed shares the task with seven other crane operators, who tackle the job of unloading the 958-foot-long Virginia in four-hour shifts.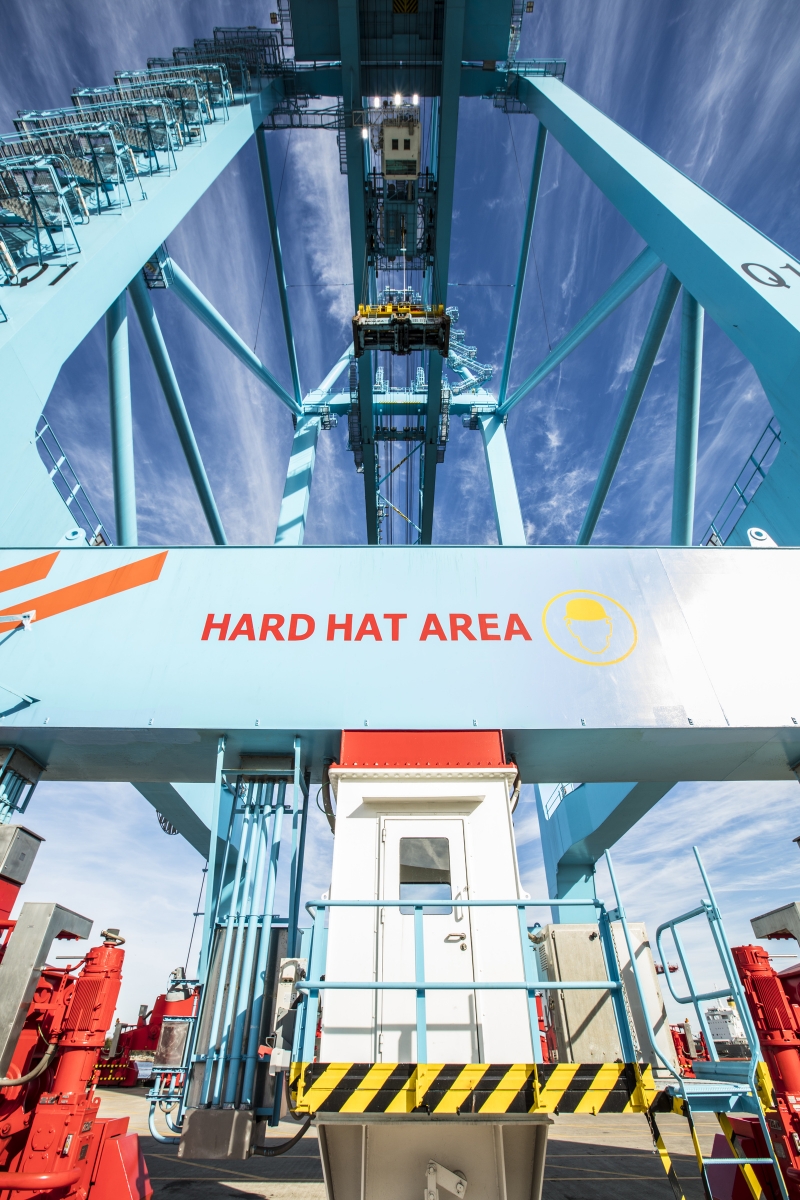 ABOVE With a total height of roughly 300 feet, this crane, and its identical counterpart, has lights on its apex to alert low-flying airplanes. The two cranes will have the Maersk Virginia, capable of carrying more than 61, 000 tons, unloaded and reloaded for departure within about 12 hours.