Almost every Sunday night, Susan and Kevin Carley and their offspring are liable to break out razor-sharp knives, and a rather raucous racket is likely to ensue. It's all part of a repast ritual that they call "ting ting" supper.
Susan says she and her clan have always loved the show the chefs put on in Japanese restaurants. They delight in the fire, the fun, the clinking of the knives and tossing of the food. "When the kids were little, they called it 'ting ting, ' because that's the sound the knives make as they hit the griddle." A kitchen renovation, complete with Susan's dream stove, inspired the Carleys to try hibachi at home. Susan, a former caterer, the creative force behind the late, great Palette Café and current owner of Cream & Sugar Café, says she and her husband, Kevin, are "self-professed foodies." So, it's no surprise that, for the Carleys, cooking has become a family affair. They especially enjoy this Asian-inspired activity.
"We all get tired and bored with cooking the same old standbys for supper. This broadens the children's horizons, " Susan says. "It's relatively healthy and uses fresh ingredients that are different from what we normally use – ginger root, kaffir leaves, coconut milk and sesame oil, to name a few."
The Carley children, daughter Cameron, 13, and son, Ross, 12, wholeheartedly participate in preparation. Ross says he especially likes the hands-on aspects of Asian cooking: the chopping and rolling. "Then afterwards, we all sit on the floor around our coffee table and eat our meal with chopsticks and hot tea like they do in Thailand and Japan, " Cameron says.
Susan says her favorite part is simply having company in the kitchen and the family time that it provides. "They really open up and talk freely when they're cooking." She adds, however, that she does sometimes dread the mess that often comes with all the festivity. "They like to cook, but they don't like to clean."
A word of caution: since clearly Susan is no novice in the kitchen, home cooks take heed when deciding to ignite an onion volcano. (You may want to keep a fire extinguisher handy.) "Lighting the volcano for the first time at home was scary because it flamed much higher than we expected!" she says. "We still laugh about it."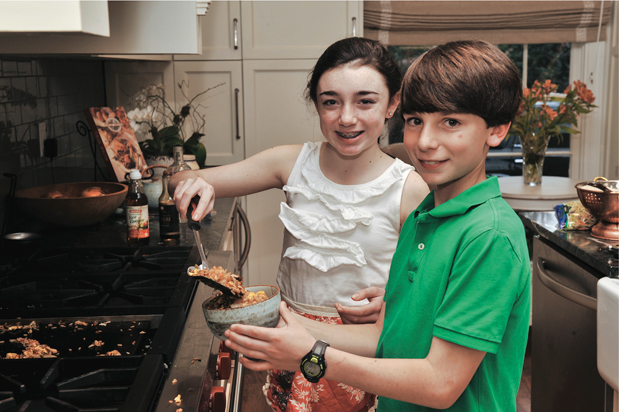 Fried Rice
Ross is keen on the process of making stir-fried rice, although he isn't too fond of how the rice sometimes pops from the heat. Make sure an adult supervises.
4 cups cooked long grain rice (Day-old rice works best.)
1 tablespoon vegetable oil
2 cloves garlic
1/2 yellow onion,  coarsely chopped
1/3 cup carrots,  coarsely chopped
3 eggs
1/3 cup peas (Defrosted, fresh frozen peas work better than canned ones.)
1 bunch green onions, chopped
2 tablespoons soy sauce
1 tablespoon oyster sauce
white pepper, to taste
1. Start with day-old long grain or Jasmine rice that has been stored in the refrigerator. If you do not have prepared rice, then cook rice according to the directions on the bag, then immediately rinse in a colander with cold water and refrigerate for an hour. This will remove the excess starch, which can make rice sticky and difficult to fry.
2. Add oil to griddle or wok and get sizzling hot. Add the garlic and onion, and sauté for 1 minute.
3. Add the carrots and cook for 2 – 3 minutes. Push this to one side.
4. Crack the eggs onto the griddle and scramble for 1 minute or until cooked through but not too dry.
5. Add the peas, green onion and rice. Stir and toss the rice with all of the ingredients.
6. Add soy sauce, oyster sauce, white pepper and toss thoroughly. (You may want to cook in 2 batches.) Serves 4 – 5.
Coconut Shrimp with Sweet and Spicy Dipping Sauce
Cameron loves making this delectable dish, especially the battering of the shrimp. A tip from Susan so that your hands don't get ultra messy: keep one hand for wet (dipping in the egg wash) and the other for dry (dredging in the dry ingredients). Susan says you can find desiccated coconut at Food Pak or make your own by baking freshly grated coconut at 275 degrees for 20 minutes (nonconvection). Serve with sweet chili sauce, or make one of the sauces below.
oil for deep frying (vegetable or peanut oil)
3 eggs, beaten
4 teaspoons sugar
1 cup flour
1 cup dried coconut flakes (desiccated coconut)
2 cups panko breadcrumbs
1 teaspoon kosher salt
2 pounds medium shrimp, peeled, but with tails left on, deveined and patted dry
sweet chili sauce (available in the Asian section of most grocery stores),  for dipping, if desired
Spicy Tartar Sauce, for dipping (see recipe below)
Mango Chutney Sauce, for dipping (see recipe below)
1. Heat oil to 360 degrees.
2. Prepare three bowls: one with the beaten eggs and sugar combined together, one with flour and one with the coconut, panko and salt mixed together.
3. Dredge the shrimp in flour.
4. Dip in the egg and sugar mixture.
5. Dredge in the coconut, breadcrumb and salt mixture.
6. Fry the shrimp for approximately 3 minutes or until golden brown and cooked in the middle. It is important to keep the oil at 360 degrees, so a candy or frying thermometer is helpful. Serve fried shrimp by itself or with an assortment of dipping sauces. Serves 4. 
Spicy Tartar Sauce
1 cup mayonnaise
1 tablespoon sweet chili sauce
1 tablespoon finely chopped onion
1 tablespoon finely chopped celery
lemon juice, to taste
1. Mix all ingredients together and refrigerate for at least 1 hour. Makes approximately 1 1/4 cups.
Mango Chutney Sauce
2 mangoes, peeled and diced
4 green onions, chopped
5 large basil leaves,  julienned
1 tablespoon soy sauce
4 tablespoons coconut milk
2 tablespoons sweet chili sauce
1 tablespoon brown sugar
1 tablespoon lime juice (or more, to taste)
Kosher salt, to taste
1. Combine all ingredients in the food processor. Pulse until desired consistency is reached. (Some prefer it as a chutney; others prefer a smooth dipping sauce.) Do not over process, or it will become runny. Makes approximately 1 1/2 – 2 cups.
Szechuan Green Beans
These stir-fried green beans make a snappy, flavorful side or a zesty vegetarian entree.
1 tablespoon vegetable oil or sunflower oil
1 clove garlic, minced
2 teaspoons grated fresh ginger root
1 tablespoon rice vinegar
2 – 3 green onions, chopped (white part only)
2 teaspoons toasted sesame oil
2 teaspoons soy sauce
1 teaspoon sugar
1 teaspoon red pepper flakes
1 pound fresh green beans,  washed, dried and cut into bite sized portions (Susan uses the thin haricot vert beans.)
1. Add oil to wok or large frying pan or Dutch oven. Heat until shimmery.
2. While pan is heating, whisk together the next 8 ingredients in a bowl and set aside.
3. Stir-fry the green beans in the hot pan, being careful not to splatter hot grease when adding them to the pan. Cook for 3 minutes or until they shrivel and black spots appear on beans (only for 1 – 2 minutes if using thinner haricot vert).
4. Using a slotted spoon, remove garlic, onion and ginger from sauce and sauté quickly. Then, add the remaining sauce to the pan and cook for 1 – 2 more minutes. Serves 4 – 6 as a meal over rice or 6 – 8 as a side dish.
Fried Wontons with Ground Turkey and Kale 
Susan says her husband, Kevin, is the wonton expert. He and the children usually assemble them while Susan does the chopping. Wontons are very versatile. They can be used as an appetizer, main entree or dessert. They can be fried, steamed, baked or boiled. They can be eaten alone, with a dipping sauce or in a soup. The Carleys often fry them with a ground pork, turkey or chopped shrimp filling.
1 pound ground turkey, finely chopped
1 tablespoon grated fresh ginger
1 teaspoon minced garlic
2 – 3 green onions, finely chopped
1 tablespoon soy sauce
2 tablespoons oyster sauce
2 cups kale, finely chopped
50 wonton wrappers (Keep wonton wrappers covered until you are ready to fill and fold so they don't dry out.)
egg wash (one egg whisked with 1/2 cup water)
soy sauce or sweet chili sauce, for dipping, if desired
1. In a bowl, combine ground turkey, ginger, garlic, green onion, soy sauce, oyster sauce and kale.
Mix well.
2. Add 1 teaspoon of mixture to center of each wonton wrapper, dab egg wash on each corner, and fold the wonton in half, corner to corner, to form a triangle, making sure not to leave any air bubbles. Press the edges together to seal tightly. (They can be fried this way, or you can fold the longer two triangle points together to look like a fortune cookie.)
3. Set filled wontons aside and cover so they don't dry out while you prepare the rest.
4. Heat 2 – 3 inches of oil in a pot until it reaches 360 degrees.
5. Fry wontons for 1 1/2 minutes or until golden brown. Serve with soy sauce or sweet chili sauce.
Makes 50. 
---
text by Sallye Irvine • photos by Elise Poché