Mardi Gras in Mobile is a time to celebrate. People make time for weeks of revelry — parades, music, king cake, balls, beads, MoonPies and a general sense of excitement flood the city. Over 40 mystic societies operate year-round, planning festivities, floats and social events.
But one krewe, established in 2018, channels the energy and spirit of Mardi Gras for more than just fun. The Krewe of Kindness, founded by Jenni and Michael Zimlich, hosts an inclusive ball each year to raise funds that improve the quality of life and meet the non-medical needs of families, individuals and children with physical disabilities and other special needs.
The nonprofit's first ball in 2019, held at the Pillars in Midtown, raised over $15,000.
The Krewe of Kindness used the funds to install over 100 feet of beach access mat at Dauphin Island's West End Beach. Since then, the organization has purchased an additional 270 feet of mat in partnership with the Mobile Bay National Estuary Program, has supported local and national wheelchair athletes, has donated hundreds of pillowcases to USA Children's & Women's Hospital and has made it possible for students with special needs to attend Dauphin Island Sea Lab's Sea Stars, a three-day buddy camp for students with special needs.
"We don't just do one thing," Jenni says. "Think about organizations like Junior League — we have so many initiatives, but it all boils down to one central focus."
Inspiration
Jenni and Michael know firsthand what it's like to care for a loved one who needs accommodations to enjoy a world that is designed for people without disabilities. In 2006, their daughter Delaney was born with spina bifida, which didn't show up on an ultrasound during Jenni's pregnancy.
"The day she was born, the doctors were looking and said, 'Oh wait, we are doing a C-section right now,' and from then on the surprises never stopped," Jenni says.
As she and Michael learned all they could about spina bifida, they realized how little support existed for families like theirs. Sixteen years later, they are doing their part to create a more inclusive community for their daughter and other individuals with disabilities who want a rich, fun, involved life.
"What we've seen as Delaney has grown is there is so much for small children — there are so many great initiatives with playgrounds and really great therapies — but then they grow up," Jenni says. "Then what? They still need something to be involved with. As Delaney got older and her friends became involved with sports, there wasn't a home for her. She wants to participate, but it's only her physical limitations that hold her back."
Although inclusivity and accommodations are becoming more common, Jenni says there is still work to be done. The beach access mat project was inspired by a saddening interaction she saw on a Dauphin Island Facebook page.
"Someone posted that Gulf Shores had gotten beach access mats and asked if there were any plans for Dauphin Island to get them," she says. "Several people commented saying it was not needed — that it was fluff and that we needed internet more than that. It lit a fire under me. After we completed the project, I went back to that post and invited all of those people to come to the opening."
Adaptive Racing
In 2015, after Delaney had a major orthopedic surgery at USA Children's & Women's Hospital, she was asked to be an ambassador for Children's Miracle Network. She traveled to Washington, D.C., to speak to the surgeon general, and she became passionate about fundraising. Around the same time, the family got involved with the local chapter of myTEAM TRIUMPH, which promotes inclusivity at endurance racing events.
"After being pushed in several races, Delaney wanted to start racing on her own," Jenni says. "She fundraised and got her own racing wheelchair, and we went to Disney World and raised money for Children's Miracle Network at a race there. One of our friends who is a physician in the Emergency Department at Children's & Women's dressed up as a mermaid and ran with her. There was also a tent for athletes with disabilities — it was just a beautiful, inclusive experience, and we wondered how we could bring that environment home. We have all these races, but don't have this kind of inclusivity."
In addition to projects such as the beach access mat, as Krewe of Kindness grows, Jenni says the organization hopes to pick up where the local chapter of myTEAM TRIUMPH left off after it dissolved in 2020.
"We want to help connect people and foster inclusion for everyone at these races," she says. "Part of all of this is changing the way we view people with disabilities. We want it to be normal to see adaptive racers at these events."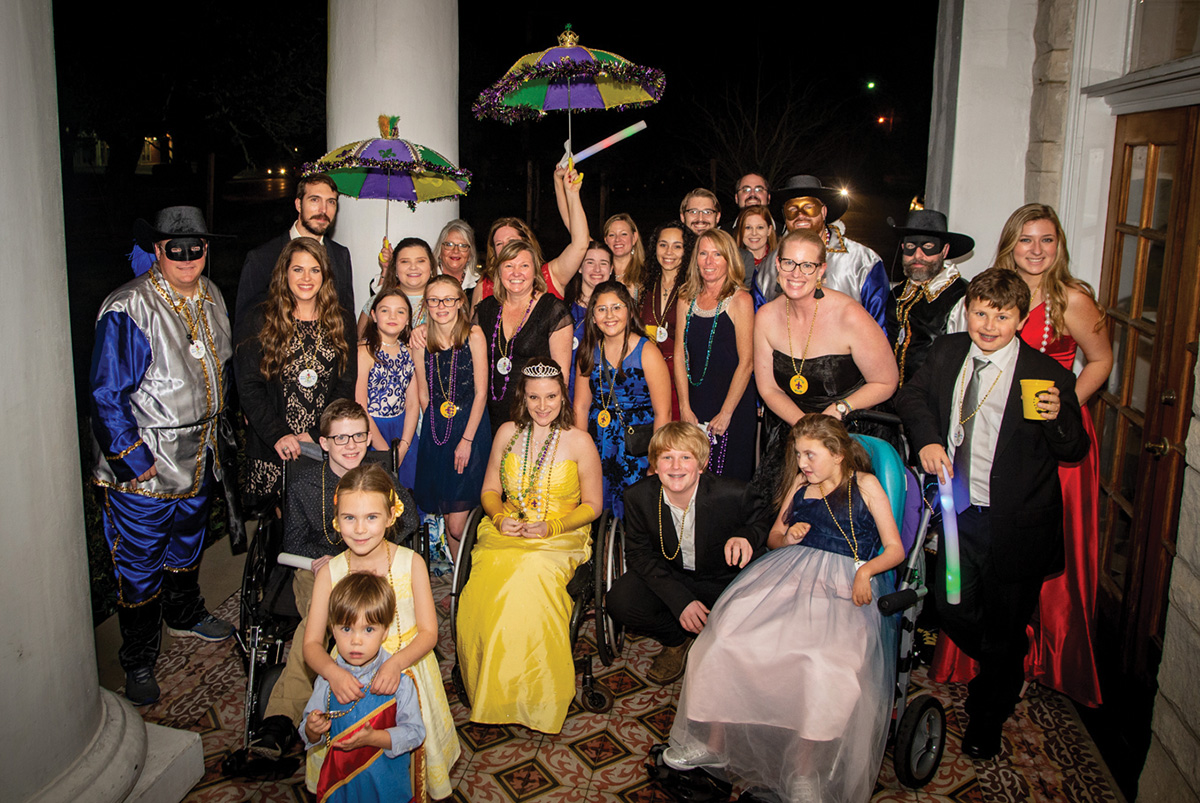 The Krewe of Kindness Ball
Jenni says the Krewe of Kindness ball is open to everyone, and attending is the best way to support the organization.
"We aren't like a typical krewe — we are just a group of people," she says. "There's no membership required to attend."
Just like other Mardi Gras balls, the Krewe of Kindness ball has a theme each year. In 2019, the theme was "Have Courage and Be Kind," loosely based on "Cinderella;" 2020 was "Be Our Guest," with "Beauty and the Beast" touches; and this year's ball, which has been postponed to May 14, will be held at the Battle House and will take guests under the sea with the delightful theme "Part of Your World."
"Our ball is inclusive, but it's not a kiddie ball," Jenni says. "It's an actual ball with a tableaux, DJ and a cash bar. It's fun for kids, adults, everyone."
Each year, the organization's king and queen are individuals with disabilities. The event has been sponsored all three years by Mark Clark of General Insulation.
Jenni says this year's ball will be bittersweet — Heather Pfefferkorn, who owned The Pillars and helped Jenni and Karen Coulson Simmons start Krewe of Kindness, died in January 2021 after contracting COVID-19.
"She got very close with Delaney and remembered Delaney telling her one time, 'I don't think I'll ever get to go to a Mardi Gras ball,'" Jenni says. "Heather ran with that and said, 'No, honey, you will have a ball. I'm going to make sure you have a ball.' She didn't have a dog in that hunt, but she wanted to see her friends have a good time. She donated the venue, reached out to catering companies and had a custom ramp made so people could get in and out. We miss her."
Learn more about Krewe of Kindness at kreweofkindness.com