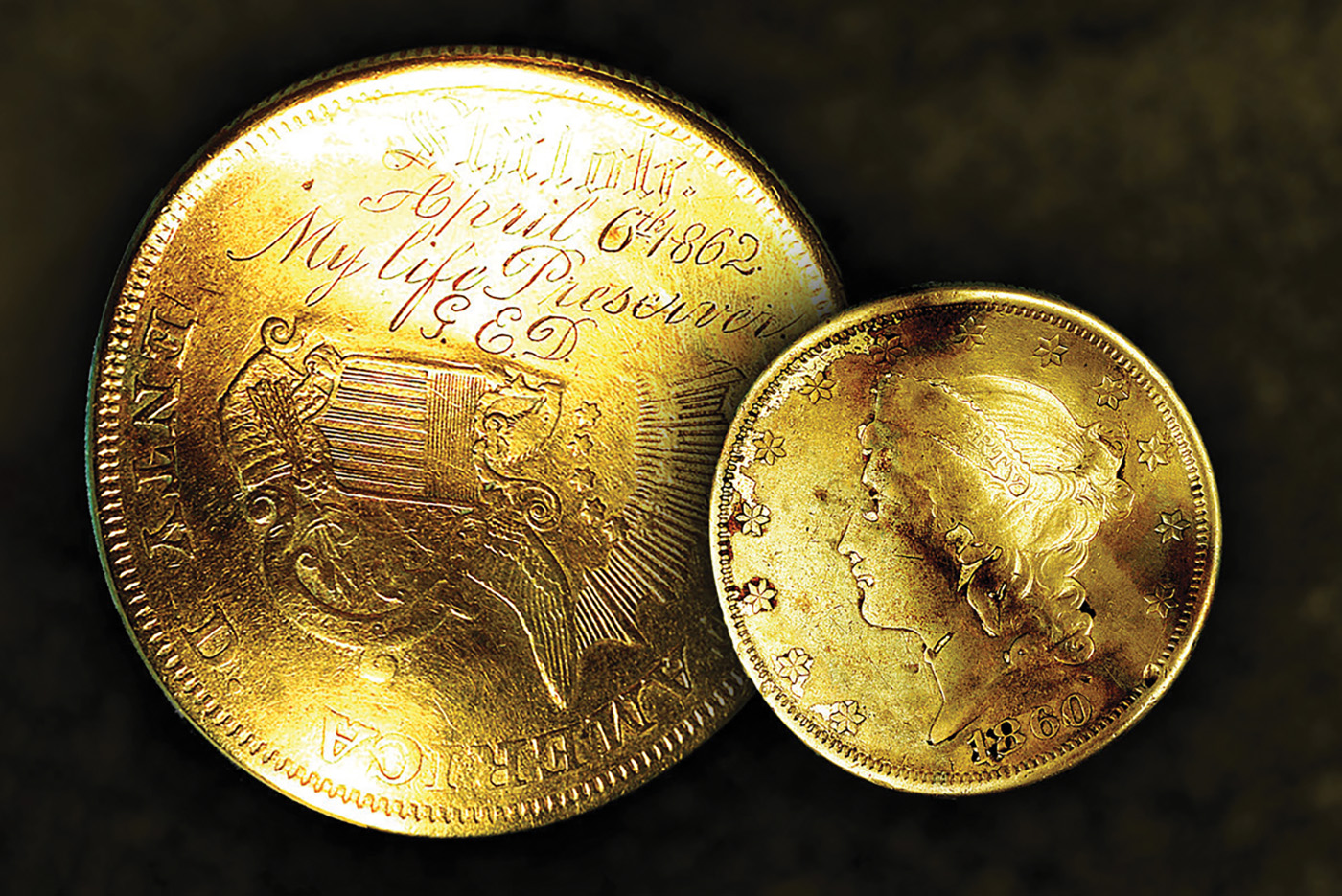 Life-Saving Coin
In 2001, America watched as the CSS Hunley, the first successful combat submarine, was excavated from Charleston Harbor. Along with the mystery of what happened to the Confederate submarine, there was also a romantic legend involving the submarine's commander, Lieutenant George Dixon, a Mobile belle named Queenie Bennett and a gold coin.
Dixon, a steamboat engineer, came to Mobile shortly before the war. He then became involved with Bennett, the daughter of a steamboat captain. He enlisted in the 21st Alabama Infantry of the Confederate Army, but before leaving Mobile, Bennett gave him a $20 gold piece as a good luck charm and token of her love. Dixon carried it in his pants pocket at all times, including during the Battle of Shiloh. There, a bullet struck him in the upper leg but was deflected by the coin, saving his life.
In 2001, archaeologist Maria Jacobsen discovered a gold coin minted in 1860 while searching near the Dixon's remnants. The coin was bent from the bullet's damage, and on the back of it was the cursive inscription: "Shiloh April 6, 1862, My Life Preserver, GED." Thus, the legend became real, and the coin is now on display in the Warren Lasch Conservation Center in Charleston.
Russell Blount | Author and Historian
Fairhope Hardware Building
Commonly known as the old Fairhope Hardware, the building at 301 Fairhope Avenue first housed the People's Cooperative Store & Bakery (1922-30). One of only four cooperative stores in the state of Alabama, the Peoples Store anchored the business district of the newly founded utopian colony of Fairhope. With an auditorium on the second story for public events and meetings, the store's motto was "of, for, and by the people." The store embodied the Fairhope Single Tax Colony's ideal of cooperative individualism. Members of the community pooled resources to purchase products at competitive prices, participated in management and shared in store dividends.
The People's Store did not survive the Great Depression. After it closed in February 1930, a range of retail businesses occupied the building, most recently Fairhope Hardware, which operated in the location for more than three decades before eventually closing its doors in 2017. After sitting vacant for nearly six years, the building sold for $1.6 million in an online auction in March, reviving hopes that the iconic 12,240-square-foot property will find a new purpose and continue to stand as testament to Fairhope's unique and storied history.
Mara Kozelsky and other members Fairhope Historic Preservation Committee
Nursing Program for Black Women
In 1954, the Mobile County Public School System launched Mobile's first practical nurse training program that was open to Black women. Black women would no longer have to travel to faraway places like Selma or Tuskegee to train for a nursing career. The program used Lillie B. Williamson High School in Maysville for their classes, taught by Mrs. Caroline Tyler, and City Hospital for their clinical training. The one-year program, which prepared students to take their LPN exam, was only in existence for two years. But graduates of the program found jobs in Mobile's segregated hospital wards many years before any Black physicians were granted hospital privileges. Black nurses worked long hours for low pay but took pride in having a professional career and being able to provide care for patients who might otherwise be neglected.
Daryn Glassbrook | Executive Director, Mobile Medical Museum
Châteauguay's Smuggled Africans
In October 1706, six enslaved Africans arrived in Mobile as spoils of war. Four years earlier, Pierre Le Moyne d'Iberville had established French Louisiane and its lone settlement at Twenty-Seven Mile Bluff, leaving behind his brothers Bienville and Châteauguay to oversee the colony and the family's personal interests. When Iberville led a French naval expedition that invaded and sacked England's rich Caribbean Island colony of Nevis in 1706, he pared off those six individuals for his brothers from the 3,400 enslaved people captured during his conquest. Importation of African slaves to Louisiane would be forbidden until 1719, but the colonists had enslaved Native Americans from the start.
Châteauguay smuggled the six Africans from Nevis into Mobile aboard the Aventurier from Havana, where Iberville had died in July 1706. Historians Peter Hamilton, Jay Higginbotham, Gwendolyn Midlo Hall and Virginia Gould have pieced together the history of these first Africans in French Louisiane. In 1707, the six included three-year-old Joseph, seven-year-old Jean-Baptiste, Georges, one unnamed in the records, and François Jacemin and his wife Amarie, who gave birth to Antoine in October. Georges, also known as Jorgé, and Amarie later married and lived in Bienville's household for 26 years. In one of the most remarkable colonial manuscripts preserved at the Louisiana State Museum, a petition to the colony's superior council documents Jorgé and Amarie's emancipation by Bienville on October 1, 1733.
Gregory A. Waselkov | Professor Emeritus of Anthropology, University of South Alabama
Population Boom's Lasting Impact
Mobile's population boomed from 78,720 to over 220,000 by some estimates in the lead-up to America's entry into World War II and through the war as defense industries attracted Depression-weary workers from near and far. The vacancy rate for housing in Mobile in 1940 was 2.6%, and the influx of civilian defense workers and their families to employers like Brookley Field, ALCOA and Alabama Dry Dock & Shipbuilding Company created a housing shortage that, as City Commissioner of Public Health Harry T. Hartwell declared in a May 27, 1942, letter to U.S. Senator Lister Hill, was "DESPERATE."
The Federal Housing Administration worked to locate land, build out utilities and construct housing for the defense workers at Brookley, at Mobile's shipbuilders and other wartime industries. In addition, the private enterprise made use of expanded federal mortgage guarantees to construct defense worker housing beginning in March 1941. While most of the housing constructed was considered "temporary" and has been demolished, many of the neighborhoods constructed for defense workers and their families still stand today and include Dauphin Creek Estates, Belle Cour, Brookley Heights and Thomas James Place (colloquially known as Birdville).
Christine Quinn Dawson| Deputy Director, Build Mobile
Pierre LeMoyne d'Iberville
On Mobile's riverfront, next to the GulfQuest Museum, there is a statue of Mobile's founder, Pierre LeMoyne d'Iberville. He stands tall, facing the Mobile River, dressed in the height of 18th-century fashion, buckled shoes and all. What few may know is that he isn't just taking in the view, admiring soaring pelicans and massive barges floating their way down the river. He is looking far beyond the river, beyond the Bay and across the Gulf to Havana, Cuba. In Havana, an identical statue of d'Iberville stands along the harbor, facing its companion in Mobile. D'Iberville was in Havana in 1706 when he died suddenly, possibly of yellow fever.
Hannon Falls | Digitization Project Assistant, Mobile Historic Development Commission
The Industry That Wasn't
One day, while researching old Brookley files at the Mobile Municipal Archives, I stumbled upon a document from June 1965, titled "Preliminary Site Proposal for National Accelerator Laboratory." I did a double-take.
As it turns out, the Atomic Energy Commission (AEC) announced its plan for a new particle accelerator in April 1965 — less than a year after the Department of Defense announced the closure of Brookley Air Force Base. Mobile needed a new industry and the AEC needed 3,000 acres for a particle accelerator. A match made in heaven!
Unfortunately, the Brookley site is only 1,700 acres, which is how we end up with a particle accelerator in Mobile Bay. Well, not exactly. The master plan calls for dredge fill material to reclaim between 300 and 1,000 acres of land. Not being a physicist, I don't know what a good Gulf hurricane would do to a particle accelerator on a foundation of dredge fill — and it seems the Mobile Area Chamber of Commerce thought this was a question better left unasked. The proposal instead dwells on Mobile's strengths: the mild winters and the absence of earthquakes. As a joyous cartoon sun in Aviator sunglasses expounds from the margins, "The climate's ideal for progress in Mobile!"
Meredith Wilson | Architectural Historian, Mobile Historic Development Commission
The Mobilian Who Robbed the Robber Barons
One of the Gilded Age's most colorful characters got his start in Mobile. Colonel William d'Alton Mann was far from being a native son — he was a bona fide Ohio-born carpet bagger who arrived here in 1866. He discovered that he would win more friends by hiding his Northern allegiance.
With funds acquired from questionable wartime dealings, he loaned money to the city's struggling newspapers and ultimately became their owner. He was known for his hospitality, and invitations to his 13-course Christmas dinners at the Battle House Hotel were highly sought after.
In August 1869, he won the congressional race here as a Democrat with the motto "Down with Carpetbaggers!" The federal authorities overturned the election, leading to a riot on Government Street.
Mann left Mobile to successfully design grand European railway cars before starting anew in New York. He eventually took over a struggling publication, and "Town Topics" went from describing receptions and tea dances to revealing adulterers, nymphomaniacs and adult strip parties from Palm Beach to Newport. To keep such exploits quiet, Mann extorted untold fortunes from New York's 400.
Although Mann's exploits and the Gilded Age were largely forgotten by his death in 1920, Mobile's "Register" devoted an entire editorial to his years spent in the Port City. He was truly a Mobile character.
Tom McGehee | Director, Bellingrath Home
Fairhope's Quaker Meeting House
Of the three Quaker groups in Alabama, only the Fairhope Friends Society has a meeting house. Quakers arrived in Fairhope shortly after the town's incorporation in 1908. Located off Highway 181, the cemetery was established first in 1917. The one-room school followed in 1918, and the meeting house in 1919. About 20 Quaker families lived in Fairhope, which at that time comprised about 10% of the town's approximately 550 people.
The Fairhope Friends thrived until 1948 when Congress passed the Selective Service Act. Because Quakers follow a tradition of non-violence, four community members were arrested when they refused to register for the draft. After their release from prison and parole in 1950, the majority of Baldwin County Quakers emigrated to Costa Rica, where they founded the town of Monteverde. In 1972, the Costa Rican Fairhope Friends joined forces with scientists from the Tropical Science Center to form the now internationally recognized Monteverde Cloud Forest Biological Preserve. Today, the remaining Fairhope Friends maintain contact with the Costa Rican Quakers and still meet at the beautiful and historic meeting house at 9261 Fairhope Avenue.
Tara Vaughn, Carol Motley and other members | Fairhope Historic Preservation Committee
Several local historians wanted to share their knowledge and interest in the Twin Beech Community, a historically African American community situated between Fairhope and Point Clear. Little-known to those outside the area, it has remained a thriving community built upon a long and prosperous history.
Twin Beech Cemetery
Believed to have begun in 1817, Twin Beech Community Cemetery is one of Baldwin County's oldest African American cemeteries. A beautiful 4.36-acre site situated on Twin Beech Road was selected for the community cemetery. Earlier burials likely existed based on oral family history of the southern migration and census records of the African Americans living in the community, and there are many unmarked graves and unreadable stones. The earliest legible headstone is that of Mammy James and dates back to 1886. Twin Beech Community Cemetery and road access were deeded on April 8, 1930.
Revitalization efforts and research by the Twin Beech community are hoping to bring awareness to the cemetery as an important part of Fairhope and Baldwin County's culture and heritage.
Vickie Graham | Co-Leader, Twin Beech Community Cemetery Association
Twin Beech School
African American residents of Twin Beech established one of the earliest schools in Baldwin County in 1907 when local families donated land and initiated construction. By 1908, the school received a $300 contribution from the Anna T. Jeanes Foundation to finish construction. Jeanes was a Quaker philanthropist who bequeathed $1 million for the education of African American children in the rural South. Trustees subsequently named the school in her honor and opened the school later that year.
The Julius Rosenwald Foundation, formed by the president of Sears in partnership with Booker T. Washington, enhanced the school's resources around World War I. Washington also knew Anna T. Jeanes and served as a trustee of both funds. Rosenwald's foundation inspired the construction of 5,000 schools, many of which were overseen by administrators supported by Jeanes' foundation. Although a fire in 1954 destroyed part of the historic campus, other structures remained in operation through integration until 2015.
Thelma J. Todd | Retired Research Librarian, Hope Community Member
Twin Beech AME Zion Church
In 1867, two years after the Civil War, newly freed African Americans living around Battles Wharf desired a place to meet and worship. They formed a congregation known as Zion Chapel. The small congregation held worship services in a brush-arbor building located by two beech trees that were bound together by one single limb growing from one tree into the other. Reverend Charles Lee led the new congregation.
Fire and storms destroyed the original and subsequent structures until a more enduring building was built. Reverend A. N. Bennette and the congregation decided to rebuild but moved to a more desirable and centrally located site. A new parcel of land was purchased in 1923.
In 1925, the present church was constructed by Axal Johnson, a Black craftsman. The wooden pulpit is elaborately carved and was part of church trustee Michael Houston's horse-drawn hearse.
Clarice Hall-Black Director, Hope Community
SS Gateway City
This is the wheel that steered the ship that carried the metal boxes that changed the world.
In 1957, Mobile businessman Malcom McLean converted the SS Gateway City to carry just over 200 containers. It was the proof of concept for containerization, an innovation so revolutionary that it now underpins the global economy. For two millennia, not much had changed in the way ships were loaded and unloaded at docks – scores of dockworkers hauled goods off of ships in barrels, boxes, and sacks. McLean, who owned a trucking company before buying Waterman Steamship Company in 1955, realized that a single, secure container could be transferred between trucks, ships and railroad cars, thus dramatically reducing the time and cost associated with maritime shipping. Today, over 95% of manufactured goods arrive via container.
As one of the over 117,000 objects in the collection of the History Museum of Mobile, the wheel of the SS Gateway City reminds us that proximity to Mobile Bay has shaped nearly every moment of our region's history. A ship's wheel also reminds us of our colonial beginnings, of the French, Spanish and British colonists who arrived in ships, sailed into port, and built a life for themselves and generations of subsequent Mobilians. In the 21st century, the Port of Mobile has returned us, in some ways, to our 18th-century beginnings: it is the heart of Mobile's economy and force behind a multinational city.
Meg McCrummen Fowler |Director,
History Museum of Mobile
Close Encounters
Stephen Spielberg filmed much of the blockbuster UFO drama "Close Encounters of the Third Kind" (1977) in Mobile and Baldwin counties. Famous for its dazzling sci-fi effects executed in a pre-digital age, the movie grossed $340 million worldwide and was nominated for nine Academy Awards, taking home the Oscar for Best Cinematography. Many people from Mobile and Baldwin Counties fondly recall serving as extras in the film. Cary Guffey, a first-time child actor from Mobile, played a key role as 3-year-old Barry Guiler, who is abducted from his family's Indiana farmhouse.
Built in 1950, the house where this and other key scenes take place still stands on Highway 181 in Fairhope. Close Encounters enthusiasts maintain that the house is unique in cinematic history: Whereas most major films rely upon specially constructed sets, in which lighting and sound can be carefully controlled, Spielberg and his crew masterfully shot all footage inside the house. In the film's famous alien abduction scene, the house itself becomes animated with cutting-edge special effects. Developers of the 35-acre property that surrounds the famed farmhouse hope to preserve the structure for film buffs and area residents to enjoy.
Mara Kozelsky and other members Fairhope Historic Preservation Committee
USCT Troops at the Battle of Fort Blakeley
The Battle of Fort Blakeley, fought on April 9, 1865 as the culminating clash in the combined-forces operation for control of the city of Mobile, featured one of the largest contingents of African American soldiers in any Civil War battle. Known at the time as the United States Colored Troops (USCT), these men—mostly former slaves—comprised approximately a fourth of the Federal army which assaulted Fort Blakeley in one of the last major battles of the war. The Federal government had first authorized acceptance of small numbers of Black regiments in specific locations in the fall of 1862, but by April 1865, there were more than 180,000 USCT troops in the Federal army, representing about ten percent of its total manpower. At Blakeley, nearly 5,000 USCT troops marched with General Frederick Steele's column as its First Division, and served under the brigade command of Brigadier General John P. Hawkins. Several miles of earthworks they dug under fire during the week-long siege of Fort Blakeley prior to the final assault are today preserved on land owned by the Historic Blakeley Foundation. A portion of these earthworks are accessible to hikers, bikers, and horseback riders as part of Historic Blakeley State Park's new "USCT Heritage Trail."
Mike Bunn | Director, Historic Blakeley State Park
Footprints
I am continually intrigued by Mobile's richly layered history. For example, in 2018, I was astonished when University of South Alabama archaeologists digging ahead of the new I-10 Bayway and bridge project along Canal Street uncovered the remnants of a French colonial rice field, probably dating from the 1740s. An associated ditch revealed dark soil crowded by ghostly human footprints filled with yellow sand, likely made by enslaved West Africans who cultivated the field in suffocating heat and humidity. Mobilians today know the site as the Mardi Gras RV City, where hundreds of revelers park their motor homes as a convenient party camp each winter. But beneath the roaring Interstate and the camp's hulking recreational vehicles, along with fluttering flags, golf carts, lounge chairs, ice chests, chert rocks, beads and bonhomie, there lies an older reality. Who could not be moved by this?
John S. Sledge | Architectural Historian, Mobile Historic Development Commission
Mobile's Indiana Jones
Mobilians know the names of our city's earliest French colonists and explorers well, but there's a name we barely know at all whose life reads more akin to an Indiana Jones plot than a priest and missionary living in colonial North America: Father Antoine Davion.
In the 1690s, Davion lived in Quebec, part of the colony of New France. He then traveled down the Mississippi River from the Great Lakes with De Tonti and Cadillac, making connections with the indigenous tribes and introducing them to Christianity. He was likely the first permanent European settler in the Mississippi region. In Mobile, he presided over many early landmark moments. Davion performed the first recorded baptism in the entire colony — on September 6, 1704, he baptized an unnamed indigenous woman — and also installed the first pastor of the first parish in Louisiana. He buried De Tonti at the original settlement of Fort Louis, he wed the Pelican Girls and he performed the burials of the girls that died of yellow fever. His work and travels took him all over the French colony of Louisiana, from Yazoo to Angola, to Biloxi and New Orleans. Davion also served as a political intermediary between the warring Yazoo and Chickasaw tribes. Davion should not be overlooked when we name the founding fathers of Mobile.
Kyle Williams | Curator of Living History at Colonial Fort Conde, a site of the History Museum of Mobile