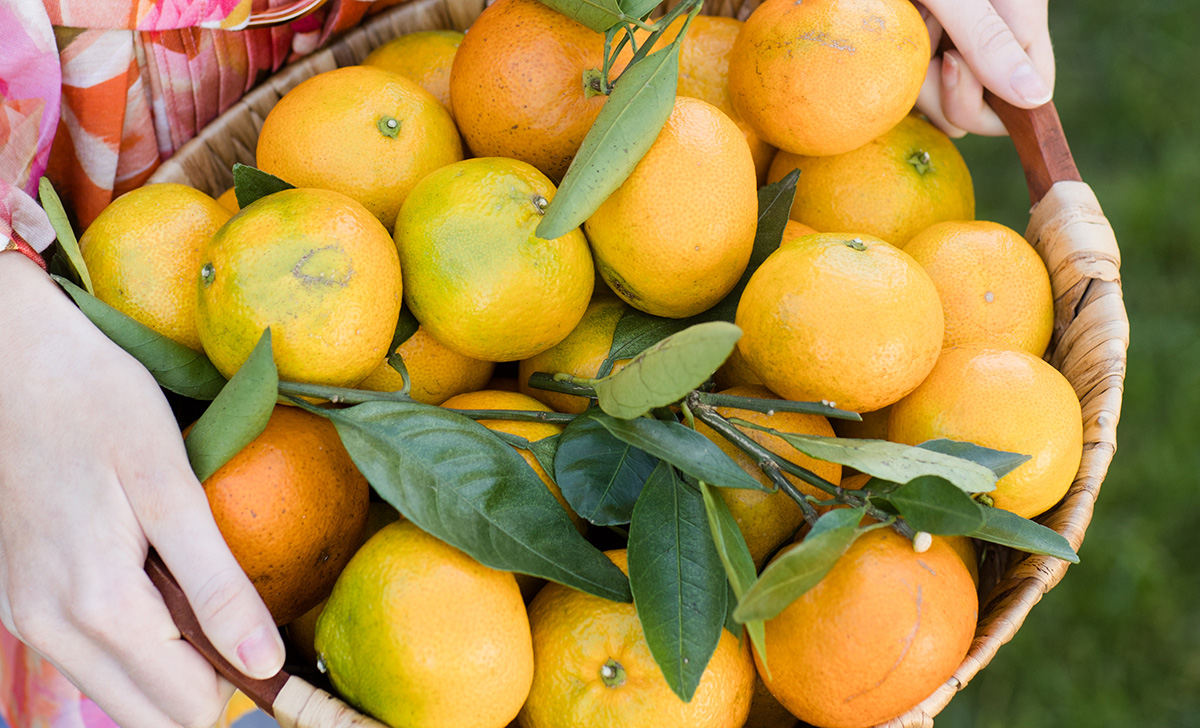 We Alabamians are eager to brag about the many wonderful things unique to our state — Auburn or Alabama football, Conecuh sausage, Chilton County peaches, sugar-white beaches or the Mobile-Tensaw Delta, for example. I like to surprise out-of-state friends and guests with a treat that is only grown on the Central Gulf Coast — that bright orange, uber sweet, easy-to-peel, seedless citrus wonder, the satsuma.
Satsumas are true mandarin oranges, unlike tangerines and clementines, which are hybrids of mandarins. Jesuits brought satsumas (named for the Japanese region where they were cultivated) from Asia to North America in the 18th century, starting groves in the Jesuit Plantation upriver from New Orleans. There have been several attempts to establish a satsuma growing industry in Lower Alabama but most failed due to freezes or dips in the economy. In the 1930s, Dr. O.F.E. Winberg, a Swedish immigrant and self-taught horticulturist living in Silverhill, decided to lick the temperature sensitivity of the fruit and experimented with grafting the Owari variety of satsuma to several rootstocks that could withstand colder temperatures. The most successful rootstock was and remains the trifoliata rootstock.
The Harrisons of Baldwin County
Shortly after my wife and I moved to Weeks Bay in 2006, I decided to plant some trees of this amazing fruit. The experts at Old Thyme Feed informed me that it would be a few years before those trees produced fruit.
While I waited for my own trees to produce, I relied on the Harrison family orchard located on Highway 98, just south of Fairhope. In the fall, many travelers drive by (and stop at) the Harrisons' truck parked in front of their house with its iconic "Satsumas Now!" sign. The truck is stocked with bags of satsumas, and purchasers operate on the honor system. There's a lockbox on the truck where buyers insert their money. As far as I know, this is the biggest honor system retail operation in Baldwin County, maybe even in the entire state. Not by mistake, this honor system is in keeping with the wholesomeness of Joe Harrison and his family.
The Harrison family has owned several acres of farmland on Highway 98 between county roads 24 and 3 in the same location since the early 1900s. The farm is a family compound inhabited by Joe, his wife Carolyn, a brother, two sons, a daughter and four grandchildren. Joe refers to Carolyn as the farm manager, but all family members, including the grandchildren, are involved in the farm operation. Though familiar with farming since childhood, Joe's chief employment was as a project manager in shipyards. He retired in 2016. Looking ahead to his retirement, Joe, with the help of his family, planted 400 satsuma trees in 2000. They lost half of those trees to a frost in early 2001 and planted another 200 that year. They have maintained an orchard of approximately 400 trees ever since.
Harrison Farms grows three varieties of satsumas, all planted on the trifoliata root stock: Early St. Ann, Owari and Brown Select. Obviously, the Early St. Ann variety ripens first, usually the first weeks of November. The Early St. Ann will still have greenish / yellow skins when they are ready, but the fruit is fully ripe and brimming with sweetness. They will turn bright orange after a few days of colder weather. Joe ranks the Early St. Ann as his favorite. At picking time, it sports very thin skin and practically no white pith. Owari usually come in around Thanksgiving and Brown Select are gathered around Christmastime. Once fruit starts ripening, the family picks two to three days a week, usually harvesting 40 to 50 bushels a day. One bushel of fruit will fill three bags. The fruit is taken to a cold storage room, sorted, bagged and then put on the truck in front of the house. Harrison has tried to sell to local supermarkets in the past, but because of the central warehousing practice of most chains, he believes that it's better to sell the fruit at its freshest, right on the farm. Just as the annual snowbird migration gets underway, Joe is swamped with calls from returning patrons asking when the truck will be parked and loaded with the first fruit of the season.
Sessions Farm in Grand Bay
While Harrison Farms focuses on selling to local buyers, Art Sessions, the patriarch of Sessions Farm family in Grand Bay, developed a large wholesale market for satsumas. The Sessions family started farming shortly after World War II, but it wasn't until the early 2000s that Art and brother David decided to scatter several satsuma trees in their pecan grove. The Sessionses' pecan grove, with its large, mature trees, turned out to be an ideal locale for the new satsuma trees. Art explained that the larger pecan trees give off heat and thereby protect the satsuma trees from dangerous freezes.
The Sessionses' orchard now numbers some 4,000 trees and produces over 600,000 pounds of fruit annually. In the early 2000s, the Alabama Department of Agriculture offered the Sessionses a large order for their crop to be distributed to school lunchrooms throughout the state. That order provided the foundation for the Sessionses' robust wholesale business. The operation's state-of-the-art cold storage, packing and shipping operation is in the same building as their retail Sessions Farm market.
DID YOU KNOW?
In 1915, an area north of Mobile, then called Fig Tree Island, was renamed Satsuma in honor of the booming Japanese fruit. However, several freezes from 1924 to 1933 severely damaged the trees and their fruit. This was compounded by the fact that longleaf pine forests, which had once protected the town from cold northern winds, had recently been cut down. Then, in 1940, a sudden drop in temperature during growing season dealt a fatal blow, essentially eliminating the Gulf Coast satsuma industry for the next 50 years.
Every fall, Sessions employs about 25 seasonal farm workers to pick, pack and ship their fruit directly to supermarket chains and re-shippers who distribute the fruit all the way up the East Coast. Satsumas that are destined for supermarkets must be in pristine condition. Immediately after picking, the fruit is washed, waxed and sorted (for size — smaller is better), and stored away in a 36-degree warehouse.
Sessions says that this year marks one of the best crops that the farm has ever had. I toured the orchard with him, and he was not exaggerating. One tree he pointed out was overhanging with approximately 1,500 pounds of fruit. The size and quality of the fruit this year are second to none, says the grower.
If you are traveling out of state for the holidays, take a bag or two of luscious satsumas to your hosts. That will ensure you will be invited back, provided you always bring along Lower Alabama's citrus treasure.
Grow Your Own
• The best time to plant young satsuma trees is the spring, after danger of freezing has passed. Ask your garden center for trifoliata rootstock trees.
• Plant young trees in a location that will shelter them from harsh north winds; for example, in front of a south-facing wall.
• It takes 3 to 5 years for a satsuma tree to produce abundant, healthy fruit. Pick marble-sized fruit from young trees so the tree can focus its energy on growth and durability rather than on producing fruit.
• Satsumas are heavy feeders. Auburn's Gulf Coast Research and Extension Center in Fairhope suggests a balanced 8-8-8 fertilizer. The best times to fertilize are the beginning of blooming (usually February or early March) and when the fruit is marble-sized (usually June). Fertilize from the trunk to outside the drip line.
• Irrigation is sometimes necessary, even in our rainy climate. Irrigation begins once the tree blooms.
• Satsumas bear alternately. After a bountiful crop, the satsuma yield will be smaller the following year.
• When harvesting, use a knife or clippers to cut the stem from the branch and avoid tearing the skin. Never pull or twist the fruit from the tree.