A Daphne couple links Haitian creators with American consumers to empower Haitians to transform and develop their communities from the inside out.
In the hunt for the perfect short stack, we've rounded up three recipes that deserve a spot on the table.
Author Audrey McDonald Atkins reminds us that Southerners do things a little differently — and that's OK.
St. Joseph's Church was dedicated in 1908 and has been vacant since 2018. The parish itself has a much longer history, however.
Our contributing food fanatics share the local dishes that made them hungry for more.
A Mobile veteran of the Vietnam War is one of thousands to find comfort under a Quilt of Valor.
Grab some deliciously creative tacos from the Front Yard Tacos truck parked outside Nova Espresso in downtown Mobile.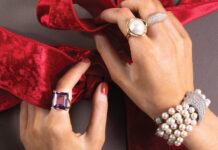 Whether Santa baby will be putting a perfectly wrapped little gift box under your tree this year or not, it's impossible not to swoon over these gorgeous gems from local jewelers.
A historic two-story gem in midtown Mobile gets the lavish holiday treatment with stunning traditional decoration dreamed up by an owner with a flair for design.
Learn the finer points of Lower Alabama's unique satsuma heritage and pick up some tips for growing the cold-weather citrus in your own backyard.