The Bait Buff of Barnwell offers all things for anglers in his shop, including wisdom.
Michelle Prouty of Fairhope's Corner Copia Gardens takes the mystery out of creating the perfect planter for every outdoor setting.
Builder Robert Brown finds that renovating a classic third-generation Bay house is a labor of love, a walk down memory lane and a tug-of-war between the past and the present.
Designer Katherine Goldman makes a dramatic statement in this Fairhope foyer with a refreshing pop of bold color, and she shows you how to achieve the look.
Christina Quick, wine director at Provision in Fairhope, takes the guesswork out of pairing and provides a little insight into wines you ought to try.
Recreate the Fairhope restaurant's popular appetizer at home.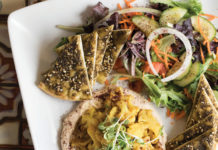 Settle in for a taste of the Mediterranean at Fairhope's Sage Lebanese Cuisine.
Everyone could use a vacation right now. Check out these eight safe and convenient spots, perfect for a weekend getaway.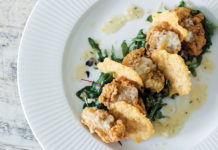 With new ownership and a fresh new look, The Fairhope Inn is ready to welcome another generation of diners.
There's a memory attached to every item in this Fairhope couple's eclectically curated, cabin-style home.