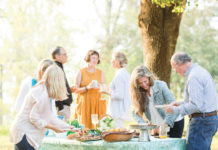 Residents of a small neighborhood, perched on a cliff overlooking Mobile Bay, gather for sunsets, snacks and a sense of community.
A father and daughter team open a new family-friendly pizza joint in Fairhope.
William Stitt of Fairhope's Old 27 Grill pulls back the curtain on the springtime staple.
Seafood Lettuce Wraps // Photos by Blair Merrills Christmas came early in Fairhope when Pete Blohme, better known as "Panini Pete, " launched...
Dragonfly Foodbar feels casual, but their cutting edge menu features creative, flavorful food from an array of cultures.