Born over the Bahamas as a tropical disturbance on September 10, 2020, Hurricane Sally defied its forecast almost every step of the way. Tony Williamson monitored the storm from Walt Disney World, believing, like everyone else, it would hit coastal Louisiana. The Saraland resident and owner of a 48-foot yacht docked near Orange Beach was cautiously optimistic — but not for long. The storm started tracking east. It was time to go home.
On September 15, arriving at Perdido Key, Williamson decided to ride out the storm where his boat was moored, and why not? Even now, Sally was expected to hit Biloxi. Also, the Gulf was choppy, making it unsafe to maneuver a large yacht into more favorable waters.
In the pre-dawn hours of September 16, crouched in chest-deep water on an underwater pier, Williamson bear-hugged a piling and held on for life. Winds of 110 mph pelted him with torrential rain and angry waves. His yacht laid beneath the waves in four pieces.
Meanwhile, Jim Brown, from his Orange Beach home, gazed upon dark waters and a hurricane's wrath. Something caught his eye in the turbulent horizon, small at first but growing larger.
"I saw what looked like a giant light approaching," he recalls about the beacon cutting through the tempest. The glow grew brighter and moved closer. Brown and his wife considered running to the back of their house, but it was too late.
The 75-foot unmanned boat still had its lights on when it crashed into the Browns' yard. It clipped the edge of the deck's pilings, destroyed their stairway and halted on the driveway. The ship's propellers became brakes, plowing the ground but stopping the boat within 5 feet of the home.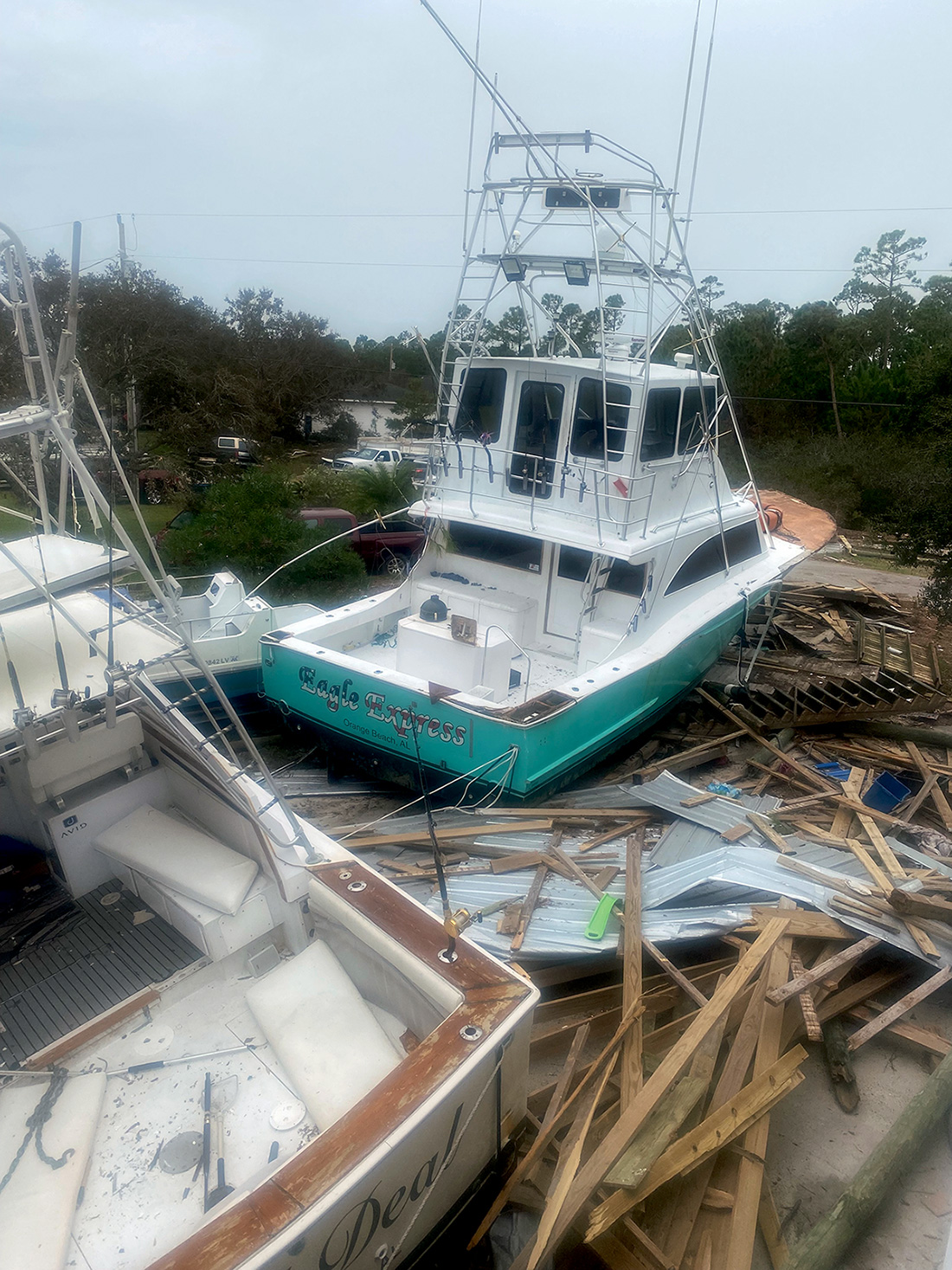 But wait. There's more.
As if following the first vessel's lead, seven other boats, ranging from 40 to 60 feet long, crash-landed in the Browns' yard, now an impromptu marina for wayward watercraft. "It looked like a fleet coming in," the homeowner recalls. The 75-foot boat occupied the west side of his house, and a 55-footer angled against the east side. "The rest were just stacked up in the yard, but they knocked some oak trees down," Brown remembers.
Similar scenarios played out all night across the coast. "I think we saw close to 800 boats either damaged or destroyed," says Orange Beach Mayor Tony Kennon. "I don't know how many were repaired. Once saltwater is in motors or the boat sinks, the chances of repairing are slim."
As winds died and daylight broke, the damage was assessed. Boat restoration, recovery and demolition started almost immediately and is still in progress.
"I have a month's backlog of Sally's damaged boats," says John "Gator" Nelson, owner of Nelson Boatyard Inc. Marina and Dry Storage in Gulf Shores. "We are seeing much more than normal boat repair work resulting from Hurricane Sally. I think it is because of two reasons," he adds. "One: Boaters relied on the forecast, which was wrong. Two: Most hurricanes, once the path is set, move onshore and conditions gradually become better. Sally never got better. It pelted boats with high wind and driving rain for hours."
Nelson says pilings were ripped from docks and piers and became battering rams. Boats broke free of their moorings and crashed into one another. "Boat rash," vessels rubbing against pilings for hours nonstop, also caused significant damage.
Phillip West, director of the Coastal Resources Department for the City of Orange Beach, agrees about the storm's erroneous forecast and claims it is still incorrect. "I don't care if NOAA reclassifies it or not," he says about the officially proclaimed Category 2 hurricane. "When you look at the extent of damage, Sally was a Cat. 3. Boats were scattered everywhere. We have probably spent close to a million dollars just on boat removal."
Submerged boats were collected by barges with cranes. Similar equipment was used to remove land-wrecked vessels in yards, roads, buildings and even embedded among trees. Owners were identified. Anything of value was salvaged.
"All fuels and fluids that could cause environmental damage were removed," West says. The remaining wreckage was crushed and taken away.
Everyone interviewed agrees that in most situations, damaged boats, even those submerged, ultimately come down to the owners' responsibility. But in some cases, the skipper abandons ship.
"Sometimes we are stuck with it," Kennon adds. "We try to find the owner, but that can be an arduous process. I really wish boats had mandatory insurance just like cars do."
Orange Beach had 22 mystery boats recovered and on file. "I think the biggest we picked up was a 55-foot Hatteras," West recalls. "We got a boat out there now. Found it on sonar."
Recovered vessels are placed in a storage yard for a set period of time. Notice is placed in local newspapers, informing the public and giving owners a chance to come forward. After the allotted time to claim a vessel has passed, time's up.
The city recently completed disposal of its unclaimed boats by crushing and removing. Orange Beach is now seeking reimbursement from owners, when they are found. "Boat retrieval is very expensive, and we [the City of Orange Beach] don't want to be in that business," West adds. "However, we can't just let sunken vessels stay there. That poses navigational and environmental hazards."
Williamson, who leaped into raging salt water, grabbed a rope and pulled himself up on a dock pier as his boat was ripped to shreds, hired a private company to retrieve the remains.
"Someone sent me a photo of one of the large sections," he recalls, after the boat pieces broke the water's surface. "I glanced at it and quickly hit delete," he said. "I still have strong memories of that night."
Brown's yard is now fleet-free. "It took weeks for our place to be cleared out, but I am thankful," he notes. "The 75-foot boat missed hitting our home by 5 feet. Had it made contact, that boat would have knocked the house down."
Kennon adds, "Immediately after the storm, we met with owners, insurance companies, attorneys and others. We did not want this process to drag out. Within 60 days, a majority of the boats had been moved. I was pleased with how we worked together."
Sally was the first hurricane to make landfall in Alabama since Hurricane Ivan in 2004. Coincidentally, Sally and Ivan hit on the same date and the same place, 16 years apart.
Almost a year has passed since Sally's arrival. Despite the ordeal, Gulf Shores and Orange Beach remain pretty close to being paradise.
In these two beautiful coastal towns, most storm debris is gone, claims settled, and watercraft big and small have returned to their rightful place — on top of the water.