From the Pepperoni Pizza at Lillian's Pizza to the Omelette and Fried Oysters at the Hummingbird Way, here's what our food contributors are raving about this month.
A collection of some of the most stylish kid rooms occupied by our littlest locals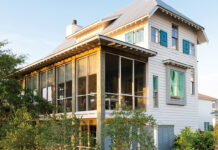 Local architect enjoys the fruit of his labor for the first time as he designs his own simplistic Orange Beach dream home.
Turn back time and peek into Orange Beach history with this photo of swimmers from 1928.
Sandy beach strolls, rigorous marshy treks, tours of local history — no matter what you're looking for, this guide will help you plan your next adventure, right in our own neck of the woods.
E.E.C.T. will perform "Thoroughly Modern Millie" at the new Performing Arts Center in Orange Beach this month.
Tons of boats ended up in unlikely places during Hurricane Sally. Eyewitnesses tell the tales.
Interior designer Ashley Gilbreath infuses an Orange Beach condo with color, pattern and personality.
OSO at Bear Point Harbor serves up coastal fare with good music and a great view.
The only thing that can improve a gorgeous day at our beaches is the right stuff! This round up of the cutest beach duds and best gear from local shops will guarantee a sandy good time.