MEET OUR HOST
We packed up our finest tableware and headed to Murder Point Oysters in Bayou la Batre for an afternoon with Heathie Bagwell Cox, someone who knows a thing or two about throwing a fabulous fete. Though she now resides in Nashville, she loves to introduce her friends to life on the Bay, and that usually involves local seafood, good wine and lots of laughs. During the pandemic, with travel restricted and dining out a little different, Heathie brought friends down to the Bayou for local oysters shucked fresh on property. But it is the way she sets the stage that takes this oyster outing from plain delicious to totally spectacular. Plan your own oyster feast by following these five easy steps.
1. Raid Your Grandmother's Silver Cabinet
The Victorians created a silver utensil to serve every purpose, and oysters were no exception. In a time when it was considered immensely offensive to touch your food, silversmiths designed the oyster fork with a long center tine for stabbing the meat, two curved tines to support and hold it, and a sharp left blade for releasing the bivalve from its shell. Our fabulous picnic effortlessly paired high and low, and the high began with silver. None of this is necessary, of course, but it sure is fun.
Tip: Pack a small plastic zip-top bag to stash dirty silver for the trip home. 
2. Make Your Sauces Ahead
Murder Point doesn't supply the fixings, so be sure to make your sauces before you go. Cocktail sauce, mignonette, sliced lemons and a shot of Tabasco are all a must for a platter of farm-raised oysters.
Tip: Pack the sauces in small Mason jars. The lids keep everything neat and tidy on the way there and back again. 
A TISKET A TASKET
Heathie loves to use a traditional basket to haul things from home to picnic, but this one has a bonus insulated interior. Load it down with all your sauces, fresh veg and a few bottles of bubbly. 
3. Order Fried Seafood To-Go 
The most experienced hostesses make something and buy something when entertaining. We called ahead for fried crab claws from the Lighthouse Restaurant in Bayou la Batre to round out the feast and picked up the takeout on the way to Murder Point. Styrofoam containers are fine!
4. Raise the Bar
Pack glass stemware and a few bottles of fine wine and champagne to complement your oysters. No need to set a full bar, but remember a bag of ice. A pewter ice bucket for keeping wine cold looks très chic compared to an ice chest on the floor.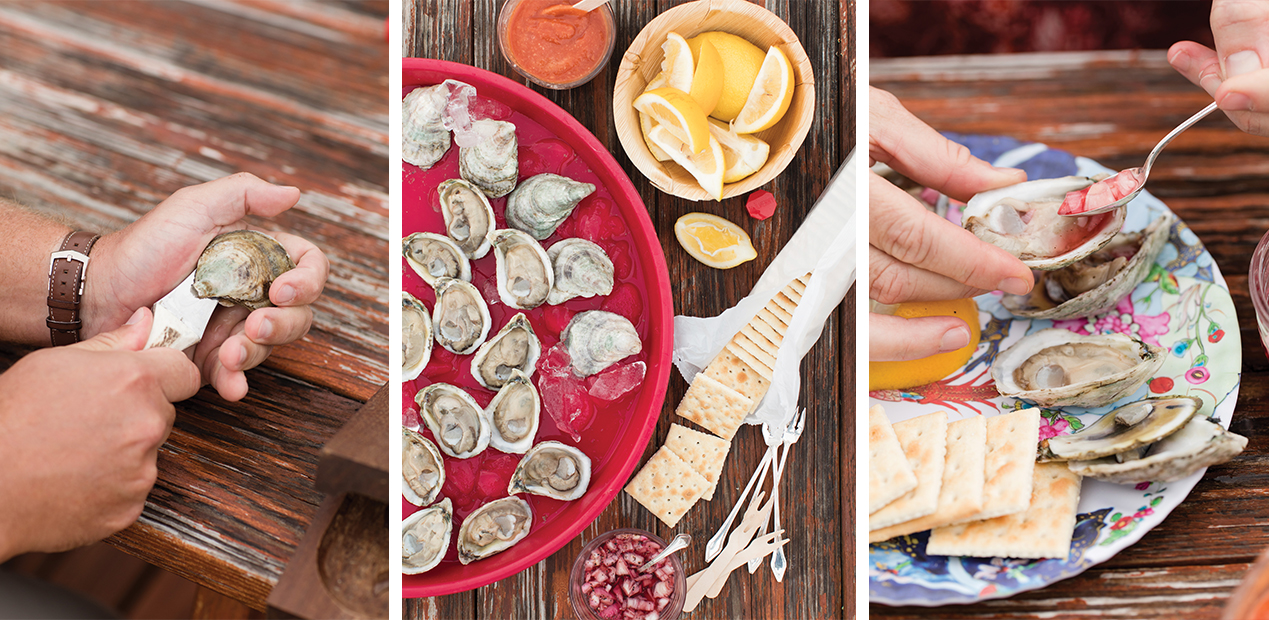 5. Perfect That Shuck
Every Mobilian worth their stripe should know how to shuck an oyster. If you've always been too timid to give it a try, designate one guest as the official "mother shucker" of the day. A couple of sturdy dish rags (that you don't mind ruining) always come in handy. Have a few knife options as well, and once there, ask the Zirlotts for their best tips.
MELAMINE PLATES
These unbreakable melamine plates are printed with the classic tobacco leaf design popular in Mottahedeh's fine china. What a perfect way to get a high-end look in an on-the-go package!
Down on the Farm
The Zirlott family has been working Bayou la Batre's seafood industry for four generations. Rosa Zirlott and her husband Brent have been knee-deep in seafood for 45 years, and their son, Lane, now works alongside them. 
Murder Point Oysters operates a small store along the highway in the shadow of the Bayou la Batre bridge. You can buy oysters by the sack and take them out front where a small deck and a few picnic tables are ready to set the stage for your own oyster feast. While amenities are slim right now, the Zirlotts hope to expand the offering in the near future. 13640 N. Wintzell Ave., Bayou La Batre