Ham Wilson hadn't heard from his grandfather in days. Any other week and this wouldn't have been unusual. When Pappy was at his house on Ono Island, using the telephone wasn't very high on his list of priorities. If it wasn't necessary, Pappy didn't want it.
But Hurricane Frederic was the real deal. As soon as the storm dissipated across the Alabama skies, Ham loaded up his car with gas cans and set out from Birmingham to find Pappy, following behind people clearing the roads with chainsaws. 
"I pulled up to the house and there he was, at 80 years old, on the roof nailing down shingles that had blown off during the hurricane, " Ham recalls.
Before the storm arrived, it had taken the police three trips to convince Pappy to leave his house on Ono Island. In the end, they had to follow him out to make sure he actually went to the armory in Foley to wait out the storm. 
Years later, Pappy's daughter (and Ham's mother) Elizabeth "Itchy" Wilson would write of the incident, "It seemed as though he had been planning for this occasion since he had been [on Ono Island] — to be totally independent of our push-button society … It would have been a pity if he had died before Frederic."
Although the hurricane would turn out to be the final great thrill of Pappy's life, to Ham, this story captures his grandfather perfectly: his stubbornness, his grit and his sheer devotion to a parcel of land on the easternmost tip of Ono Island.
In Pappy's later years, he was known around the island as "the old man who walked his dogs and didn't go in for cocktail parties, " according to Itchy. But what most people didn't realize was that it would be impossible to know the full story of Ono without knowing the story of Pappy. "For Mr. John Calhoun Golightly was Ono Island for 20 years, " Itchy wrote.
ABOVE Ham, left, plays with sisters Adele, center, and Emily, right, on Pappy's boat at Ono Island.
Photo courtesy of Ham Wilson
An Unusual Retirement
Now practicing law in Boone, North Carolina, 61-year-old Ham Wilson lives hundreds of miles away from the island his grandfather colonized, but his summertime memories of Ono are never far from his mind. 
"I spent one summer down there with him when I was about 7 years old, " Ham remembers fondly. It was the summer of 1961, and Pappy had enlisted his grandson to help him with a retirement project — building the first house on Ono Island. "That was my first job. He paid me the grand sum of $1.25 a week, " Ham says with a laugh.
Born in 1899, John Calhoun Golightly (or "Pappy") spent most of his life in Birmingham. After returning from World War II, he found work in the realty department of a Birmingham bank where he heard about some "trash" property on Ono Island. For $1, 000 apiece, Golightly and two friends bought half of Ono Island, each carving out about a third of the property for himself. In choosing his slice of the pie, however, Golightly actually chose less acreage but more waterfront by settling on the island's easternmost point. He began to formulate a plan. 
The year was 1945. At that time, Ono Island was hardly the luxurious beach destination it is today. Some farmers were known to leave their goats to graze there during the winter, earning the 5.5-mile-long sliver of land the name Goat Island. Supposedly, the Navy had even used the sandy strip for target practice during the war, and for years, a rumor persisted that a pair of pumas prowled the overgrown expanse. 
Pappy told his children that the island was once connected to the Alabama mainland, but a violent hurricane around the turn of the century forever altered its topography. "How did Ono get its name?" Itchy once wrote. "Some say Florida said, 'Oh, no, it's ours.' Alabama said, 'Oh, no, it's ours.' Others say my mother said, 'Oh, no, ' when my father said they were moving to an island at age 63."
Relocating to an uninhabited island might not sound like your typical retirement, but Pappy wasn't your typical retiree. "He was just that way, " Ham tries to explain. "When they made Pappy, they broke the mold. He said Ono Island was the most beautiful place he'd ever seen, and that's where he wanted to retire."
John Calhoun Golightly (known as Pappy to his grandchildren) poses in this undated photograph.
Summers with Pappy
In 1961, with his retirement officially underway, Pappy rented a house in Pensacola from which he commuted to Ono Island day after day. Passing through Warrington, Florida, he would pick up two or three hired workers in his old black telephone truck before motoring over in a boat he constructed himself from Holiday Harbor Marina to the island. Pappy delivered his building supplies little by little, using a barge hitched behind his cruiser.
It took him two years to build his house, from digging the foundation by hand to polishing off the interior. "He basically built the thing by himself, " Ham says, remembering his summer construction job with Pappy. "He was the contractor. He might've had two or three men working with him, but he didn't sit there and watch them work. He worked."
The one-story home rested on a single concrete slab behind walls of 12-inch concrete blocks filled with cement. A 12-by-12-foot basement housed his coal furnace, and a well supplied his water. He used a generator until he could convince the power company to run him a line from Florida. It was his retirement dream come true.
But as Ham explains, Pappy's project might have been complete, but it was never finished. "He did everything himself. Nobody came and repaired anything for him." 
"The maintenance of the house took most of his time, " Itchy wrote. "But he loved it; he was the original do-it-yourselfer."
As it turned out, a retiree's dream was also a young boy's paradise. "My family spent many of our vacations down there, " Ham says. "We would actually ride the Humming Bird train, with L&N Railroad, to Flomaton, and Pappy would come and pick us up in that telephone truck."
When Ham was 12 years old, Pappy decided it was time for his grandson to have his own fun on Ono Island. "He got me a vehicle which was a half Oldsmobile, half Jeep station wagon of some sort that was four-wheel drive. I cut the road system in on the whole island, " Ham says. "There were no other dwellings out there, so I drove all up and down that island, going from end to end all the time. Just bushwhacking basically." 
Pappy paired this gift with a 12-foot boat, essentially bestowing upon his grandson the keys to Ono Island. "But if one of my vehicles broke down, I had to fix it. And he would stand over me and watch. If I had to pull the clutch out or fix the motor or something like that, he would make me do that."
Ham's grandfather certainly wasn't lacking in opinions or personality. "He would pontificate a lot, " Ham says. "I used to sit and listen to him all the time. I wish I'd had a tape recorder. He was gregarious and nice and friendly. And when you got around him, he was funny, " Ham says with a chuckle. "He used to tell me stories about raising hell in Birmingham and getting into fights … He wasn't a big man, but I wouldn't have messed with him."
Pappy's wife Louise lived on the sandy wisp at times, humming her own little powerboat to and from the island at her discretion. "But she would stay with her sister in Birmingham a lot, " Ham says. "She didn't like the solitude [of Ono Island] too much." But Pappy wasn't the kind of person who had time to worry about things like solitude; he was just too busy. 
"And he'd put you to work, too, " Ham says. Pappy used to say that he built his house in a way that he could sleep 100 feet away from his grandchildren, but that's not to say he avoided them when the sun came up. Whether he had visitors or not, Pappy served breakfast at 5:30 every morning. Eggs, bacon, pancakes. "If you were gonna eat, you had to wake up with him, " Ham says. 
Dog walking was perhaps the closest thing to a guilty pleasure Pappy had in those days. He'd exercise his animals twice a day, their noses twitching after the scent of armadillos. As the developers slowly moved in, Pappy's world and that of his dogs tightened around them. When Kenny Stabler built a house within shouting distance, one of Pappy's dogs couldn't help but lash out at the shrinking world.
"And one of Kenny's dogs beat the hell out of Pappy's dog one time, " Ham says. "Tore him up pretty good." But Pappy didn't blame "that football player's dog" (as he took to calling it). "My damn dog shouldn't have gone up there, " Pappy used to say.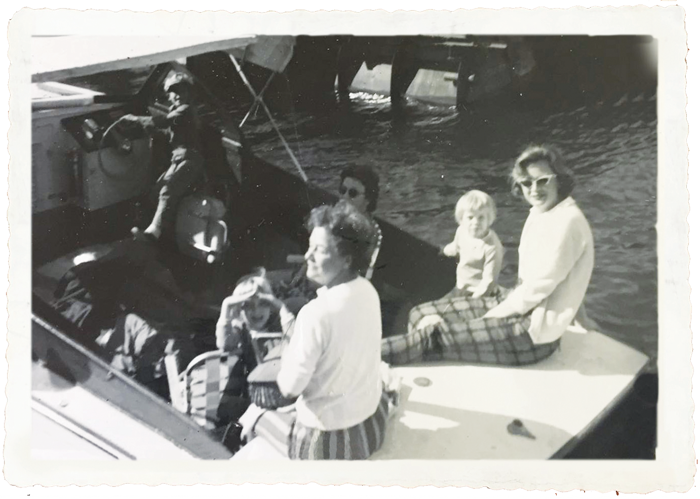 ABOVE Ham's family visited Pappy on Ono Island just about every summer.
Photo courtesy of Ham Wilson
Paradise Lost
In the 1970s, the developers came. While Pappy's two friends sold off their thirds of land without a second thought, he hung on. At the age of 75, Pappy conceded that commuting to the island by boat was becoming too taxing, so he worked out a deal whereby he could use the new Ono Island bridge if he gave developers an option to purchase his property. Pappy eventually sold all but 7 acres of his land, maintaining his hold on the island's eastern tip. With the money he made from the property sale, he created an educational trust fund for his grandchildren.
As Pappy entered his 80s, the island changed, and he changed with it. "With the advent of modern conveniences, most of the fun went out of the island for him, " his daughter Itchy explained. "The pioneer spirit no longer seemed necessary, and he began to age." After Pappy's death in 1983, the family held on to the property for several years before giving in to the developers and selling off Pappy's share.         
In a letter written in tribute to Pappy, Itchy Wilson perfectly summed up her father's legacy: "Pappy gave to his grandchildren a haven devoid of the excesses of modern day living and an example of a totally independent man. The grandchildren had a pony, saw foxes, captured armadillos. They crabbed and fished with bait dug out of the sand. Their experiences on Ono Island enriched their lives and enhanced their sense of values. John Golightly's life was one well spent."
---
Text by Breck Pappas