Congratulations, Mike, on another beautifully written and produced work. You call this a "forgotten story" in the book's title. Why do you think the history of our region during the Revolutionary era has been overlooked?
I think there are several reasons we have overlooked the British colonial period in Gulf Coast history, chief among them being our obsessive focus on developments in the 13 colonies in this period. This of course led to the formation of the United States, and that foundational story is rightfully front and center in any interpretation of our nation's past. But in the process of celebrating the nation's origins, I think we have forgotten there was an America beyond the Atlantic seaboard in 1776. I chose the title "Fourteenth Colony" specifically to communicate how extraneous anything beyond the number 13 can seem in American colonial history and to communicate the point that there is more to the story. In simplest terms, we have forgotten our history during the Revolutionary era because West Florida did not rebel against the British government. But that doesn't mean it was overtly loyal, however. It just means there is a compelling story yet to be told that will be entirely new to most readers.
Tell us about your path to becoming the director of Historic Blakeley State Park, and did that role lead you in any way to your interest in this subject?
I grew up in east Alabama just outside of Columbus, Georgia. That area has a rich history that includes it being the heart of Creek Indian country. It also has a colorful antebellum past and was the site of a significant Civil War battle. That early fascination with the past led me to pursue my passion for history in college — I earned bachelor's and master's degrees in history — and in my career. I've worked with historical societies, museums, commissions and parks, the common denominator being they all allowed me opportunities to research, write, interpret and educate people about history. I came to Blakeley through my connection with former director Jo Ann Flirt, whom I met while working to encourage better state funding for Alabama's precious historic sites. I had always been intrigued with the Gulf Coast's unique history, and moving here allowed me to pursue it as never before. Stories like that of West Florida suddenly became no longer just intriguing history, but local history, and that is always an important distinction in my opinion.
How long did you work on this project, and what was the research process like?
Well, I came to this project having spent a little time investigating the Gulf Coast's colonial era in general, so I had a bit of a head start. Still, I spent over a year of research focused solely on this time period before I had enough material that would allow me to begin writing. My process during the research phase was to familiarize myself with everything on the topic — every book, article, thesis, dissertation and original sources I could find. West Florida existed for only a short while and has a relatively thin historiography compared to some subjects in regional history. I spent about a solid year trying to transform all my notes into a narrative account of the history of West Florida.
Were there any surprises or magical moments along the way?
Yes, there were several things I discovered that I did not know much about previously. I found the inner workings of the representative government the British attempted to establish here to be fascinating. From a purely local perspective, I was really intrigued to learn about some of the details of the settlement of the Mobile Bay area, particularly the Eastern Shore, during the time period. It gave me a new perspective on the really deep roots of this area's history. I found the stories of the immigrants who came here to settle to be at turns entertaining and tragic, but always enlightening. I would say that what stands out to me more than anything, though, was getting the opportunity to piece together all of the details of the dramatic military campaigns, which swept over the region during the Revolutionary War. We forget that the Gulf Coast was a theater of operations for war between Spain and Great Britain during our nation's struggle for independence, and the story of those campaigns are some of the most colorful and poignant in our region's rich past.
There are some wonderful firsthand accounts of Mobile scattered throughout these pages. One naturalist in 1765 described the streams of present-day Montrose as "the finest water I have seen in this country." Another observer described the entrance to Mobile Bay as "one of the most dangerous parts on the whole coast." What other treats can a Mobile Bay-area reader expect to find in this book?
Yes, the Mobile area gets significant treatment in the book, as it was one of only two major urban centers in the colony and a primary center of activity throughout the years of British dominion. I offer both the accounts of William Bartram, whose visit to Mobile led him to celebrate the area's natural beauty in rapturous prose, and the depictions of dejected British officers such as Robert Farmar, whose first impression of the city led him to suppose it a squalid, disease-ridden backwater place. Beauty is always in the eye of the beholder, I suppose! I try to let those I write about in the book speak for themselves about what they saw worth celebrating or decrying in the new environment they would call home. I think it is a unique and honest portrait of a time and place.
Since this is our Outdoors Issue, what advice can you give our readers about exploring the outdoors at Historic Blakeley State Park?
Forgive my shameless plug, but Historic Blakeley State Park is a premier regional destination for anyone interested in outdoor recreation on the Gulf Coast. We have RV, tent, and improved tent camping, as well as cabins and camping shelters, all on one of the most unique historic sites in Alabama. We offer over 20 miles of hiking, biking, and horseback riding trails, enabling visitors to explore layers of history from the prehistoric past to the colonial era and of course the Civil War — we are Alabama's largest Civil War battlefield. But one of the best ways the park offers opportunities for visitors to connect with the environment is on board one of our cruises into the scenic Mobile-Tensaw Delta. We are the Delta's longest-running cruise operator and take multiple themed cruises into the waters of this natural wonder 12 months a year. To see all of our amenities and events, just check our website, blakeleypark.com.
---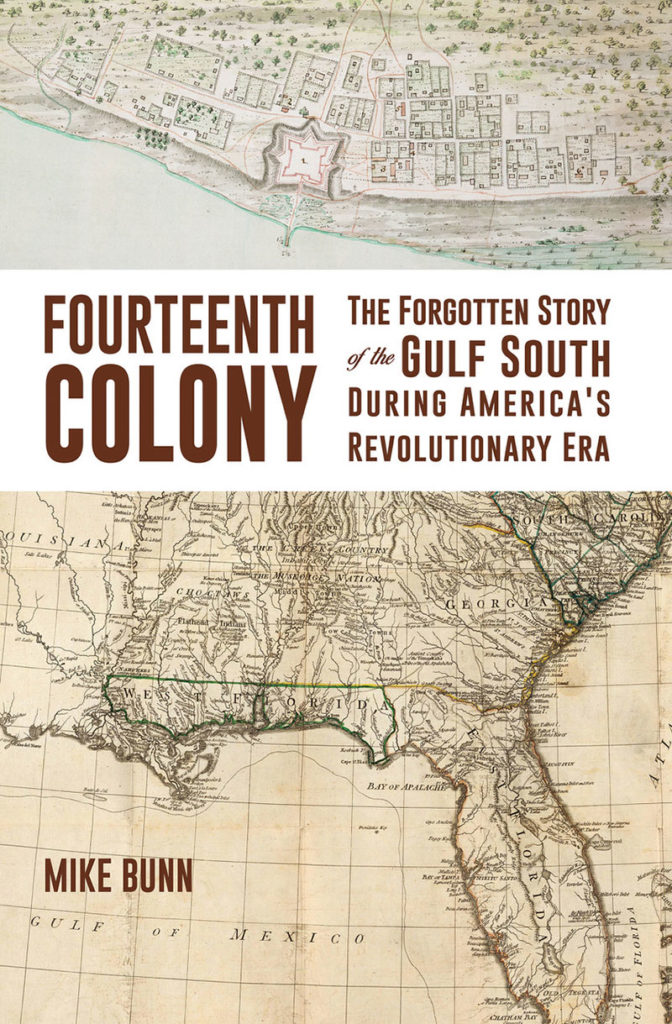 The Revolutionary Era is one of the most storied and studied time periods in America's compelling national saga. Conjuring visions of righteous colonial protests in Boston Harbor, sober state-making in the chambers of Independence Hall in Philadelphia, and martial determination on the frigid meadows at Valley Forge, the 1760s and 1770s are venerated by Americans for having witnessed the formation of the United States from the cooperative efforts of thirteen former British colonies. It is an era studded with iconic moments and rich with legendary figures that are a part of our shared national canon. It is sadly ironic that this grand pageant is a heritage from which Gulf Coast residents have long felt detached owing in large part to geography, for an important but little known chapter in America's colonial and Revolutionary drama played out along their sunny shores.
British West Florida, stretching from the mighty Mississippi to the shallow bends of the Apalachicola and incorporating large portions of what are now the states of Louisiana, Mississippi, Alabama, and Florida, is the forgotten fourteenth colony in America's founding era. The colony and its sister province, East Florida, were erected by the British at the conclusion of the Seven Years' War in 1763 on the ruins of the vast but rather vaguely defined territory formerly claimed by French and Spanish colonials. Headquartered in Pensacola, with scarcely a European settlement west of Mobile Bay, the province grew exceedingly slowly and only began to come of age as the Revolutionary War flared up along the Atlantic seaboard. Eventually the colony featured clusters of European settlement at such places as Pensacola, Campbelltown, Mobile, Baton Rouge, Manchac, and Natchez, and it assumed a position as a dynamic and promising part of Britain's North American holdings. But despite the grand visions of its leaders and the best efforts of its residents, the colony struggled economically and its representative government never quite became the force in provincial life that similar institutions in the east coast colonies did. In fact, West Florida is so obscure to us today at least in part owing to its relatively small population and its pressing daily concerns; the latter occupied residents and precluded their becoming a vital part of intercolonial discussions during a period of political unrest. As it remained officially loyal to the crown throughout the Revolution, West Florida is usually regarded as an afterthought where little of consequence occurred.
Yet the Revolution did find the colony, and the story of the ways it did so colorfully and substantively shapes the history of the region. First came politely declined invitations by the Continental Congress to join its sister provinces to the east in working towards the establishment of a new, independent American nation. Next came a wave of immigration after being declared a safe asylum for besieged loyalists elsewhere. In 1778 came a daring raid by a ragtag American force along the Mississippi which exposed the province's inadequate defenses and caused a great deal of unrest even if never seriously threatening its takeover by a Continental army. Finally came an audacious, prolonged, offensive spearheaded by the ambitious and capable governor of neighboring Spanish Louisiana, Bernardo de Galvez, which would ultimately bring about the end of West Florida's days as a part of the British Empire. Spain never formally allied itself with the nascent United States in its war for independence, but it recognized an opportunity to take advantage of a distracted colonial rival. Spain's stunning campaign to wrest control of West Florida from the British featured intense and spirited fighting from the fall of 1779 to the spring of 1781. This war within a war helped divert vital resources from other Revolutionary War campaigns by the British and culminated in the martial conquest of the colony by the Spaniards. But despite all this, somewhat few people know the colony existed at all. A forgotten Gulf Coast entity which graced regional maps for less than two decades, the province goes virtually unmentioned in most histories of the American Revolutionary Era and is all but unknown to the great majority of those living within its former borders today. The situation is understandable to some degree, as precious few historical sites commemorate the people, places, and events of the region's years as part of the British Empire, and almost no extant structures date to its mid-eighteenth century heyday. Its name alone can confuse some, to boot, as "West Florida" naturally connotes to the modern ear a certain geographical specificity that takes some explaining to communicate the true physical footprint of the colony. Save for the findings of some archaeological investigations and a few scattered historic markers (and one magnificent memorial statue in Pensacola), the British period in Gulf Coast history can only be imagined through the pages of the rather limited historiography on the subject. While that historical literature is solid and features the work of some eminent colonial historians, candidly it is not exactly brimming with best-sellers likely to be familiar to the casual historian. But the fact that the seminal events in America's founding drama—the political unrest and legendary war between the immortal thirteen rebellious colonies and Great Britain which witnessed the birth of the United States as an independent nation—occurred far away from the Gulf has probably been most responsible for rendering West Florida's story so overlooked, understudied, and poorly understood. Scores of textbooks and narrative histories chronicling the era do not so much as mention British West Florida, much less discuss its place in the Empire. It is not uncommon to find within these books maps depicting Britain's North American colonies during the Revolution as existing only along the eastern seaboard, with the amorphous southwestern frontier behind them labeled as simply "Indian land" or "Spanish territory." In short, Americans, both scholars and lay historians, often so associate our nation's founding era with the thirteen rebellious colonies that we have collectively forgotten that there even was an America farther west than the Atlantic coast in 1776. In this book, I attempt to put West Florida back on the map of our historical consciousness.
---
Historian Mike Bunn has served as director of Historic Blakeley State Park since 2017. He is the author or co-author of several books, including "Early Alabama" and "Battle for the Southern Frontier."