This month's artifact from the History Museum of Mobile — a blockade runner's speaking trumpet — played a fascinating role in the Civil War.
The addition of bacon can turn a despised appetizer into a fail-proof party treat. Eleanor Inge Baker cracks open the perfect deviled egg.
Writer Audrey McDonald Atkins discusses a phrase that's got more to do with respect than age.
Our contributing food fanatics share the local dishes that made them hungry for more.
Meet six of the most vulnerable species among us and the experts fighting to preserve them.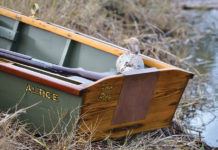 Norman Altice isn't the best-known wooden boat builder to churn out vessels in the Mobile Bay area, but his boats, and his memory, just beg for preservation.
There's more than meets the eye in this historic photograph of pioneers at Camp Beckwith.
Hurricanes and quarantines led to three Montrose families discovering friendships in their own backyard.
Exterior designer Catherine Arensberg shares tips for incorporating the latest design trends into your space without breaking the bank.
In his new book, Mike Bunn — historian and director of Historic Blakeley State Park — peels back the curtain on the "forgotten story of the Gulf South during America's Revolutionary era."