My dear friend and neighbor Jennifer Steed, who is the best cook I've ever known, first suggested I make deviled eggs stuffed with bacon. I had been complaining to her that, although I hated them, I'd been tasked with making the dish for some event.
The deviled eggs I grew up with were made by my grandmother from Greenville, Alabama. The texture of her stuffing was smooth, and they had a pale yellow color flecked with minimal paprika and sweet pickled relish. I thought they were disgusting and saved room instead for her heavenly, seven-layer caramel cake whenever I could get away with it.
Upon Jennifer's advice, I Googled "bacon-stuffed deviled eggs," read four or five recipes, then jotted down the ingredients that sounded best to me. This recipe has changed over the years, but it's set in stone now. I could make these devils in my sleep.
Deviled eggs have been a staple of American picnics and parties since the mid-20th century. They date back as far as Ancient Rome, where eggs were boiled, seasoned with spicy sauces and then served at the beginning of a meal. The word "deviled" can be traced to the 1700s. The British culinary term originally meant to cook something with spicy condiments and seasonings — usually mustard and cayenne pepper.
I love to entertain. In fact, the only reason I ever learned how to cook or clean was so that I could have my friends over. My favorite recipes tend to be the ones I serve most at parties. These bacon-stuffed deviled eggs are my go-to for baby showers, hospitality hour at church, "rosé all day" with my girlfriends and early Sunday suppers with my sweet in-laws. They seem especially fit for daytime fetes, and there are rarely any left standing on the plate!
---
Bacon-Stuffed Deviled Eggs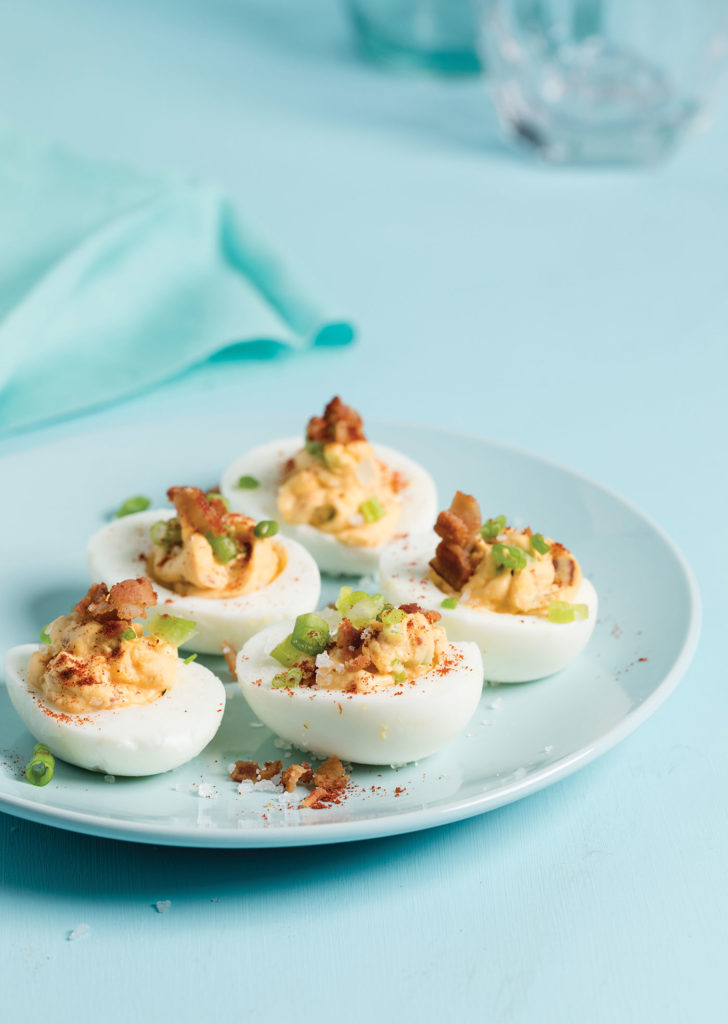 12 eggs
5 – 6 pieces crisply fried bacon, chopped
3 – 4 green onions, chopped, green parts only
3 – 4 heavy-handed shakes Crystal Hot Sauce
3 – 4 heaping tablespoons Hellman's Real Mayo
2 – 3 tablespoons Zatarain's Creole mustard
garlic salt and freshly ground pepper, to taste
paprika, to taste
1. Add eggs to a large pot and fill with cold water to cover by an inch. Bring to a boil and cook for 5 minutes. Remove from boiling water and place in a bowl of cold water until eggs are completely cool. Place in refrigerator overnight. (See tips, below).
2. Slice eggs in half and scoop out yolk into a bowl. Place egg whites on a
deviled egg plate.
3. Set aside 1 tablespoon each of bacon and green onions for garnish. Mash egg yolks, remaining bacon and green onions, hot sauce, mayo and mustard with a fork until mixed well. Add garlic salt and pepper to taste.
4. Scoop stuffing into a zip-top bag. Cut corner off bag and use to pipe stuffing into egg whites.
5. Garnish plated eggs with reserved onion and bacon. Sprinkle with paprika immediately before serving.
---
Eleanor Breaks it Down
Just Chill
Ever had a hard time peeling your boiled eggs? Me, too. After you boil your eggs, soak them in cold water until they are no longer warm. Store them in the fridge overnight. Tell me this trick doesn't help make peeling those eggs easier!
Bacon
Bacon can be cumbersome to fry in a pan. I've found it much easier to fry it on a cookie sheet in the oven. Preheat at 400 degrees and then cook for 8 – 10 minutes until crispy. Be sure to remove the bacon immediately from the hot pan or it will stick.
Flavor
Crystal Hot Sauce is my favorite because of its high vinegar content. I don't want my food just to be spicy — I want it to be more flavorful.
No Substituting
Never ever substitute low fat mayo for real mayo. That trash has tons of sugar and will ruin any recipe. I prefer Hellman's Real Mayo, but if you must blaspheme this and other heavy mayo-laden recipes, try sour cream or Greek yogurt. You may need to add more vinegar for the yummy tang you're bound to lose.
Best Mustard
Zatarain's Creole Mustard costs about $2 and is the best brown, coarsely ground mustard I have found. I substitute it for any and every mustard ever called for in a recipe.
Click here for more classic Southern recipes