Take fresh Gulf fish to the next level with this Quick and Easy Fish Stew, the perfect dinner recipe for cool fall nights.
For these seven die-hard college football fans, it isn't game day without the right food on the table. Here are the dishes — and teams — they can't live without.
Gulf oysters take center stage in this buttery, heartwarming seafood stew.
Katrina refugee and ovarian cancer "thriver" Lexi Mestas opens up about finding purpose in life and food. Here, she shares her story and recipes.
Say hello to our new favorite summer sandwich. Fresh blackberries muddled with crisp basil offer a sweet, fruity twist on the savory classic.
This Fresh Mountain Apple Cake recipe by potter Gail Moore is super moist and works well for dessert or an afternoon snack with coffee.
Four local stay-at-home dads share their go-to recipes and some parenting advice for maintaining a happy, healthy brood.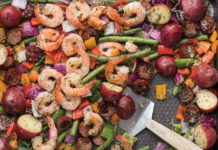 With the kids heading back to school, busy weeknights call for easy dinners with minimal cleanup.
From a farm in Laos to a food truck in Lower Alabama, Lith Vining follows her heart – and her heart wants to cook you food from half a world away.
This classic pickled shrimp recipe is the perfect cold appetizer for a hot summer day.