The perfect breakfast recipe that is ridiculously simple and completely addictive
An outdoor enthusiast — and adventure gear expert — leads locals on Saturday hikes down the Gulf Coast's best trails, and invites MB along for a cookout afterward.
Cool October mornings call for a warm slice of bread bursting with fall flavor.
This cool, colorful, vegetarian meal from Meme Inge is a great make-ahead dish.
Whether you're hanging out at home or throwing a socially-distant tailgate party, here are the recipes you need to celebrate.
Half the recipe for a busy weeknight pick-up or make the whole batch for a socially-distant tailgate party.
In a world of uncertainty, comfort can be found at the dinner table.
An easy sheet pan dinner that is quick, healthy and delicious
The tastiest way to enjoy fresh summer produce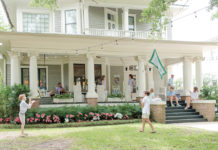 Fresh air and a deep front porch call neighbors together during social distancing in Oakleigh.