The 150th anniversary of the Civil War has been marked by an avalanche of good books. Besides the usual coffee-table volumes, biographies and battle histories, there have also been several notable titles specifically focusing upon Alabamians' experience of the "irrepressible conflict." The five books recommended here range from a visually striking outsized book of photographs to a monograph chock-full of fascinating esoterica, and they should prove popular with any history buff.
The Yellowhammer War: The Civil War and Reconstruction in Alabama
(University of Alabama Press,  $50), edited by Kenneth W. Noe, is a collection of 14 scholarly essays on different aspects of the Civil War and Reconstruction, many of them quite sharply focused. There are only two outright battle narratives — one about the fall of Selma and the
other on Alabama troops at the Battle of Salem Church in Virginia. Other essays include detailed looks at Jewish soldiers and civilians, the attitudes of women and common soldiers, Augusta Jane Evans' popular novel, "Macaria, " and black churches in Perry County after the war. There are few illustrations and maps, but the footnotes are a gold mine for the devoted Civil War scholar.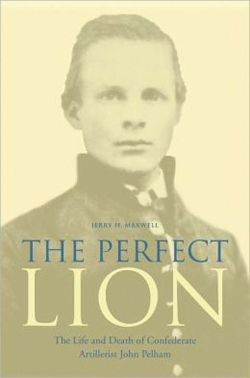 The Perfect Lion: The Life and Death of Confederate Artillerist John Pelham
(University of Alabama Press Alabama, $50), by Jerry H. Maxwell, is the best and most thorough biography in print of the handsome young cannoneer. In novel-worthy prose, Maxwell explores Pelham's north Alabama background and stellar military career. Everyone, it seems, Union and Confederate alike, admired Pelham. Generals Robert E. Lee, Stonewall Jackson and Jeb Stuart positively adored him. And after Pelham checked an entire Union attack with a single gun at the Battle of Fredericksburg, the Yankee cavalryman George Armstrong Custer gushed, "I rejoice, dear Pelham, in your success." In a war full of violent endings, the young Alabamian's death seemed especially tragic. 
The Denbigh's Civilian Imports: Customs Records of a Civil War Blockade Runner between Mobile and Havana
(Institute of Nautical Archaeology, $36), by J. Barto Arnold III, is a scholarly monograph, but so full of intriguing detail that it is a must-have for anyone interested in Mobile's Civil War. The book details the career and cargoes of the blockade runner Denbigh, a British-built vessel that so routinely steamed into and out of Mobile Bay that Union Jack tars called her "the packet." She was a racer on the Gulf, capable of an astonishing 14 knots with her feathering side-wheels and light draft. The book includes a short history of the vessel and her runs, as well as numerous cargo lists that included medicines, ammunition, liquor, tools, sugar, stockings, thread, shoestrings, cakes, corsets, pins, ribbon, white linen table cloths, belts and china. Clearly, blockade running benefited not just military authorities but Southern civilians as well. 
Portraits of Conflict: A Photographic History of Alabama
in the Civil War
(University of Arkansas Press, $65), by Ben H. Severance, presents the best single-volume account to date of the war in the heart of Dixie. Ten chapters explore conflict from Montgomery to Mobile Bay, as well as how Alabamians fared on Virginia's distant battlefields. The photographs, over half of them culled from Alabama Department of Archives and History's remarkable collection, are beautifully reproduced and accompanied by short vignettes. Some of the pictures are well known, such as Jefferson Davis' Montgomery inauguration, while others, such as Private William Pleasant Loyd with his wife and child, are fresh and tug at the heartstrings. Many of the young men shown belligerently brandish knives and revolvers. These ordinary Alabamians felt strongly about their cause, and most paid a high price — in ghastly wounds, death or return to destitution and despair.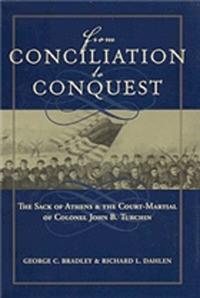 From Conciliation to Conquest: The Sack of Athens and the Court-Martial of Colonel John  B. Turchin
(University of Alabama Press, $32), by George E. Bradley and Richard L. Dahlen, examines the traumatic experience of the early war in north Alabama. A Union brigade occupied the charming village of Athens on May 12, 1862. These troops were under the command of Russian-born Col. John B. Turchin, who had helped suppress the Hungarian Revolution in 1848. When private citizens in Athens took potshots at his troops, he responded as he would have in the Russian army in Europe, by telling his men he would turn a blind eye to their actions for one hour. There commenced a binge of Union looting and other outrages, including the rape of at least one servant girl. This challenged the official Union policy at the time of treating Rebel citizens with kid gloves for fear of alienating them. As the authors of this readable military/legal study show, after Athens, such behavior by
Union troops became the new norm, in the belief that it would speed the terrible war to conclusion.
John S. Sledge is the author of "The Mobile River, " to be published in June by the University of South Carolina Press.
---
text by John S. Sledge