According to the latest survey conducted by Pew Research Center, about 17 percent of stay-at-home parents are dads. MB reached out to four such Bay-area fathers, each of whom is redefining "normal" and shirking societal pressure. Read on as they share their struggles, hobbies, kid-approved snacks and go-to dinner recipes.
Matt Myrick
Fairhope native Matt Myrick dove into his stay-at-home dad role in 2015, soon after the birth of he and attorney wife Danielle Mashburn-Myrick's second child, "Telly." The lawyer-turned-full-time-parent says he's right where he's supposed to be. But that doesn't mean it's always easy.
"We're in the South," he says while wrangling a wriggly infant and an inquisitive 6-year-old whose cheek is smudged with blue paint from yesterday's art camp. "Gender roles are somewhat ingrained." Despite finding it difficult to break into the mom-dominated at-home-parent circuit, Matt still finds a way to connect with the community. "Music is my social outlet," he says, noting he and his bandmates play venues like the Frog Pond and Fairhope Brewery.
"Self-care is important," Matt stresses. And so is a strong marriage. "Of all the reasons that a family dynamic like ours might work," he sums, "for Danielle and I, it's that we feel coequal in every way — equally valued and respected for what we contribute to each other's lives and our children's — and that's the mission we're committed to."
Kid-approved snacks: Chocolate chip and peanut butter Cliff bars, bananas, oranges and apples
French Lentils & Tomato-Cucumber Salad
"You can dress lentils differently depending on who's eating them," Matt explains of this dish, which can be served as an entree or side. "For my kids, I serve this with a scoop of sour cream instead of the tomato-cucumber salad."
Tomato-Cucumber Salad
1/2 cup plain Greek yogurt
1/2 cup cherry or grape tomatoes, cut into wedges
1/2 English cucumber, peeled, seeded and diced
1/4 cup fresh dill, finely chopped
2 tablespoons onion, finely chopped
In a bowl, combine all of the ingredients. Season with salt and pepper. Refrigerate until ready to serve.
French Lentils
1 pound (2 1/4 cups) French lentils
6 1/2 cups vegetable or chicken broth
2 tablespoons olive oil
1 large onion, chopped
4 garlic cloves, chopped
1 teaspoon salt
1 tablespoon dried herbs, such as thyme or sage
1/2 teaspoon garlic powder
1. Rinse lentils before cooking. Add the lentils and broth to a saucepan. Simmer for 20 to 25 minutes or until tender.
2. As lentils cook, use a large saute pan or skillet to heat olive oil over medium-high heat. Add the onion and garlic and cook for 4 minutes, stirring occasionally. Add the salt, dried herbs and garlic powder and cook another 4 to 5 minutes, stirring occasionally.
3. Add onions, garlic and herb mixture to the pot of lentils. Top with tomato-cucumber salad, if desired.
Tip: If cooking more lentils than suggested above, use a 3:1 ratio of liquid to lentils. Matt often cooks lentils in bulk to include in salads or other dishes throughout the week.
---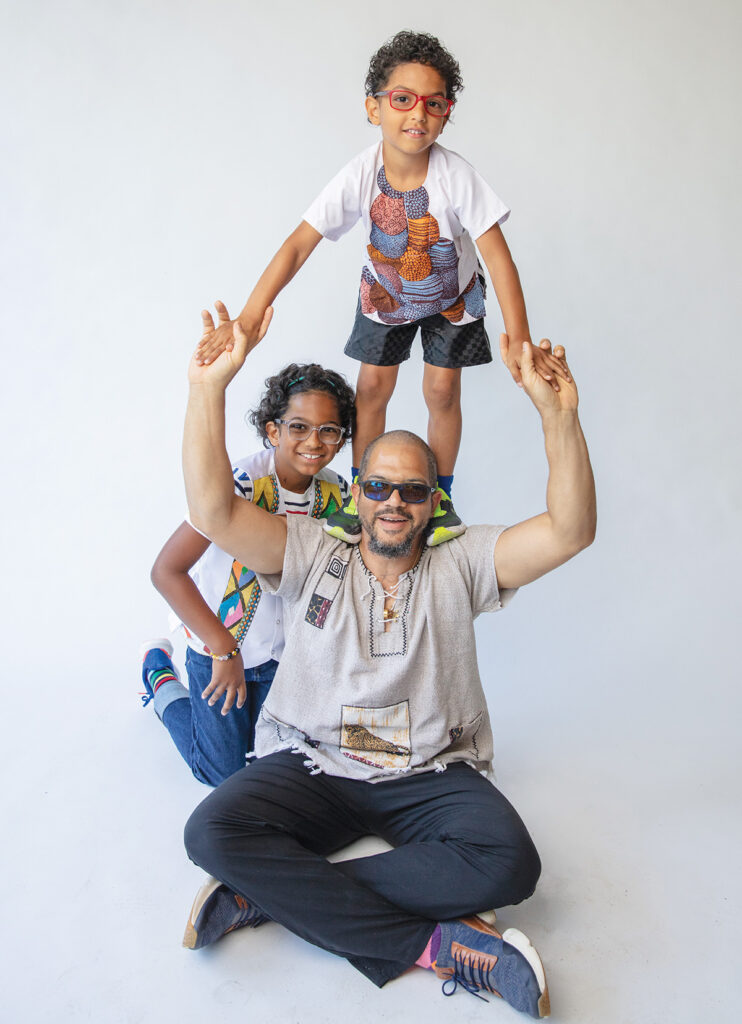 Miles Megaciph
One comment Miles Thomas hears a lot when he's out and about with his children is, "Oh, it must be daddy's day with the kids." When faced with that assumption, the mellow hip-hop artist known as Miles Megaciph says he casually replies, "Every day is daddy's day."
He and wife Hanna Alemayehu, M.D., have three children, the youngest of which, daughter Kai, was born this past May. "The boys are entranced with her," Miles says as middle child Golden climbs his back. He and brother Tafari, both in dashikis, play-wrestle with their daddy.
"I like to write and freestyle," Miles says as the boys retreat. "I'll go down to my studio and put on some jazz and I'll practice." In addition to recording, Miles teaches hot hatha yoga and volunteers with the Boys & Girls Clubs of South Alabama.
"My mantra for my boys is mindfulness. It's a moving meditation; it's how we present ourselves. We practice loving-kindness, patience and always doing our best." He watches as the boys give chase to each other. "Parenting has been the best job of my life, but it's nonstop and constantly evolving. It has also shown me my lack of patience, which is a reminder that I need to be kind to myself and my children."
Kid-approved snacks: sliced carrots, peppers, hummus, dried fruit, cheese and crackers, lunch meat, nuts
Sweet Potato Flatbread
"You can top the flatbread with your choice of salad," Miles says of this easy, three-ingredient recipe. "My kids like to dip it in hummus, too. And it can be used as pizza crust." Or sandwich wraps or tortillas, if rolled thin.
3 medium sweet potatoes
2 cups wheat flour, plus more, as needed
pinch of salt
parsley or other spices, optional, to taste
1. Preheat oven to 450 degrees. Using your preferred steaming method, steam the whole, skin-on sweet potatoes until tender when pierced with a fork. Carefully remove potatoes from steamer and briefly cool.
2. While potatoes are still hot but manageable enough to handle without burning yourself, use your fingers to skin the potatoes.
3. In a large bowl, mash the peeled potatoes. Add wheat flour, salt and other spices, if desired, to the bowl.
4. Using a fork, mix ingredients until a dough ball forms. If the dough is too sticky, add more flour, a little at a time.
5. Flatten dough into one large round or several smaller ones. Bake for 10 to 12 minutes.
6. If making pizza using the flatbread as a crust, decrease oven temperature to 350 degrees. Top the flatbread with your favorite fixings and bake for 10 minutes.
---
Jeff Frame
When asked who picked out the outfits for today, Jeff Frame doesn't hesitate to give credit to his wife, Melinda Frame, M.D., and his 7-year-old daughter. "I don't match things well," he laughs. "Melinda picked out their outfits. And Bailey picked out her bow."
There's not much that seems to ruffle Jeff's feathers as he's about as cool and casual as they come. And he carries that trait with him when fishing with his kids, too.
"I tell them, 'When you're fishing with dad, it's a 'yes' day. You wanna bring that toy on the boat? Absolutely.'"
The avid outdoorsman, who hunts 'til fishing season and fishes 'til hunting season, hugs his just-woke-from-a-nap youngest close to his hip and jokes, "It took three kids to get one to finally like me." Caleb nuzzles into his dad's shoulder.
Turning more serious, Jeff explains his decision to step away from law enforcement and step into full-time parenting. "At the end of the day, my career path wasn't going to allow me to be a great dad. If I was going to be the father I needed to be, one of us needed to be home."
Kid-approved snacks: Applesauce, blueberries, goldfish crackers, fruit, ham and cheese, Peanut butter & jelly sandwich
Chicken Noodle Soup
"My mom is a fantastic soup maker. I make a modified version of her chicken noodle soup. The sausage is unconventional, but I have a kid who will eat the sausage and noodles and two others that will eat the chicken and noodles. They all get something from the broth and added veggies."
2 cups carrots, chopped
2 cups celery, chopped
1 onion, chopped
1 pound sausage
2 tablespoons Italian seasoning
8 cups unsalted chicken stock
4 cups unsalted chicken broth
2 (14.5-ounce) cans green beans or peas
1 rotisserie chicken, shredded
1 (12-ounce) bag egg noodles, uncooked
2 tablespoons parsley
salt and pepper, to taste
1. In a large pot, add lightly salted carrots, celery and onion, allowing them to sweat over medium heat. When they appear to glisten and soften around the edges, add the sausage to the pot, cooking through. Sprinkle Italian seasoning over the mixture.
2. Add stock and broth to the pot. Bring to a boil, then add green beans (or peas) and chicken. Return to a boil, 8 to 10 minutes.
3. Remove from heat. Add noodles to the pot (the warm broth will cook them). Sprinkle with parsley. Add salt and pepper, to taste. Let rest for an hour or serve immediately.
---
Aaron Loupe
If merit badges were given to parents, Aaron Loupe would have a "Preparedness" badge sewn on his vest. And one for carpentry. And engineering. And fishing.
"I'm a preparer," the computer and electrical engineer concedes. "You have to be prepared for anything. When we were potty-training, I carried that little potty with me everywhere we went." He laughs, glad that he and wife Vyshali Reddy-Loupe, M.D., are past that stage.
To combat the rigors of full-time parenting, Aaron enjoys fishing and going to sporting events. "And I like to build," he adds. "I need to get my brain going. It decreases my stress levels." As does receiving snuggles from a giggly Asher and Rhiya who have found the perfect spot next to their dad.
"You have to be willing to get up early," Aaron discloses of being the at-home parent. "I get up before anyone else to make school lunches, breakfasts and pack the car for the day's activities." And when it comes to parenting, he admits, "We're all trying to figure it out, basically comparing ourselves to what everyone else is doing."
Kid-approved snacks: veggie straws with hummus, cheese sticks, yogurt
Mahi-Mahi Scampi
"We eat this all the time," Aaron says of this quick and easy family favorite. An avid fisherman, Aaron usually has some sort of fresh seafood on hand. He adds of the recipe, "Sometimes we use shrimp instead of mahi."
1 bunch fresh green beans
1 to 2 teaspoons avocado oil
salt and pepper, to taste
pinch of onion powder
8 ounces pasta noodles, uncooked
4 mahi-mahi fillets
Paul Prudhomme Blackened Redfish Magic seasoning blend
1/2 stick butter, plus more for greasing saute pan
1/4 cup olive oil
1 packet McCormick Garlic Butter Shrimp Scampi seasoning
1 tablespoon lemon juice
Parmigiano-Reggiano cheese, grated
1. Bring a large pot of salted water to a boil. In the meantime, toss green beans in avocado oil and sprinkle with salt, pepper and onion powder, to taste. Place seasoned green beans in an air fryer heated to 360 degrees and cook 10 to 20 minutes, depending on preferred level of crispiness.
2. When the water reaches a boil, put noodles in the pot and cook until done.
3. While noodles cook, rinse and pat dry the fish. Season both sides of the fillets with Redfish Magic and salt. Place fish in a heated, buttered saute pan over medium-high heat and cook until done, about 2 to 3 minutes per side, depending on size of fillets. Remove fish and set aside to rest.
4. In the same saute pan over medium heat, melt 1/2 stick butter. Add olive oil and sprinkle in scampi seasoning packet. Heat 3 to 4 minutes then add lemon juice.
5. Drain pasta. Pour butter sauce over pasta and sprinkle with Parmigiano-Reggiano. Plate pasta, fish and beans. Serve immediately.
Click here for more easy weeknight dinner ideas!