It's a beautiful early-spring day in Midtown as I walk from our home a few blocks away to that of Dr. Christina K. Lindeman. The hustle and bustle of Dauphin Street dies down as I turn onto Reed Avenue. Under the oak canopies, neighbors walk their dogs on their midday breaks. Toys are strewn about yards, a nod to the playtimes that are enjoyed by neighborhood kids. Each house has a front porch made for afternoons spent lingering with family and friends, and Lindeman's house is no different. I walk up the brick pathway that leads to her gracious porch.
At a street party in 2019, Lindeman, an associate professor of art history at the University of South Alabama, first spotted the home that was "coming soon" and called realtor Melanie Seymour. After several tours, she determined the house could be made perfect for her and her 11-year-old son, Wyatt. The location was ideal — Wyatt could walk or ride his bike to school, and he has friends in the neighborhood.
Through the glass pane of her front door, I spot her enjoying coffee on the sofa. When she opens the door, I am immediately greeted by Eevee, a Teddy Bear Goldendoodle who is oblivious of her size. She bolts to the yard, and Lindeman bribes her back in with biscuits, insisting she must soon attend puppy school.
As she closes the door, an original doorbell in the center of the frame catches my eye, and she shows me how it works. The interior walls echo the white and dark color scheme of the exterior, and Lindeman's contemporary, modern style is felt and seen immediately. Lindeman collaborated with Seymour, who became a redesign consultant after serving as her realtor. "She understood my aesthetic and was very helpful laying out the kitchen, downstairs bathroom and finishing details," Lindeman says. Seymour then introduced her to Matt Arensberg at Dueitt Construction, and she conveyed her ideas to him. Lindeman was already planning to work with exterior designer Catherine Arensberg on the landscaping and outdoor space.
A step inside the front door puts us in the dining room, anchored by a 1940s Danish dining table Lindeman inherited from her mother. The piece served as inspiration for the entire home. Lindeman's parents are from Germany, and she has spent her fair share of time abroad. "Holland is one of my favorite countries, and I appreciate modern Scandinavian design," says the 17th-century Dutch art professor whose research area is 18th-century German-speaking regions.
Opposite the dining area is Lindeman's office where she has worked from home, due to COVID-19, since moving in August 2020. "It's so nice to have a space of my own," she says. From behind her desk, she looks out the doors that open onto her porch, and she has a view of her front yard and quaint street. Eevee jumps up in one of a pair of club chairs that faces the desk. Lindeman confesses her affinity for prints as I glance at the displays on the mantel and above her parents' Danish modern sideboard. While working in her office, Lindeman plays her parents' old opera records on a new turntable. Luciano Pavarotti's "Hits from Lincoln Center" is currently at the top of her playlist.
Walking back through the dining room, Lindeman points out the swinging doors, a feature that, along with the fireplaces, sold her on the home. We walk through them to the living room. "This is where my love for the home stopped when I was first looking at it," Lindeman admits. A previous wall with a fireplace and wet bar made the room much smaller. What was once a dark and narrow galley-style kitchen is now a spacious bright space.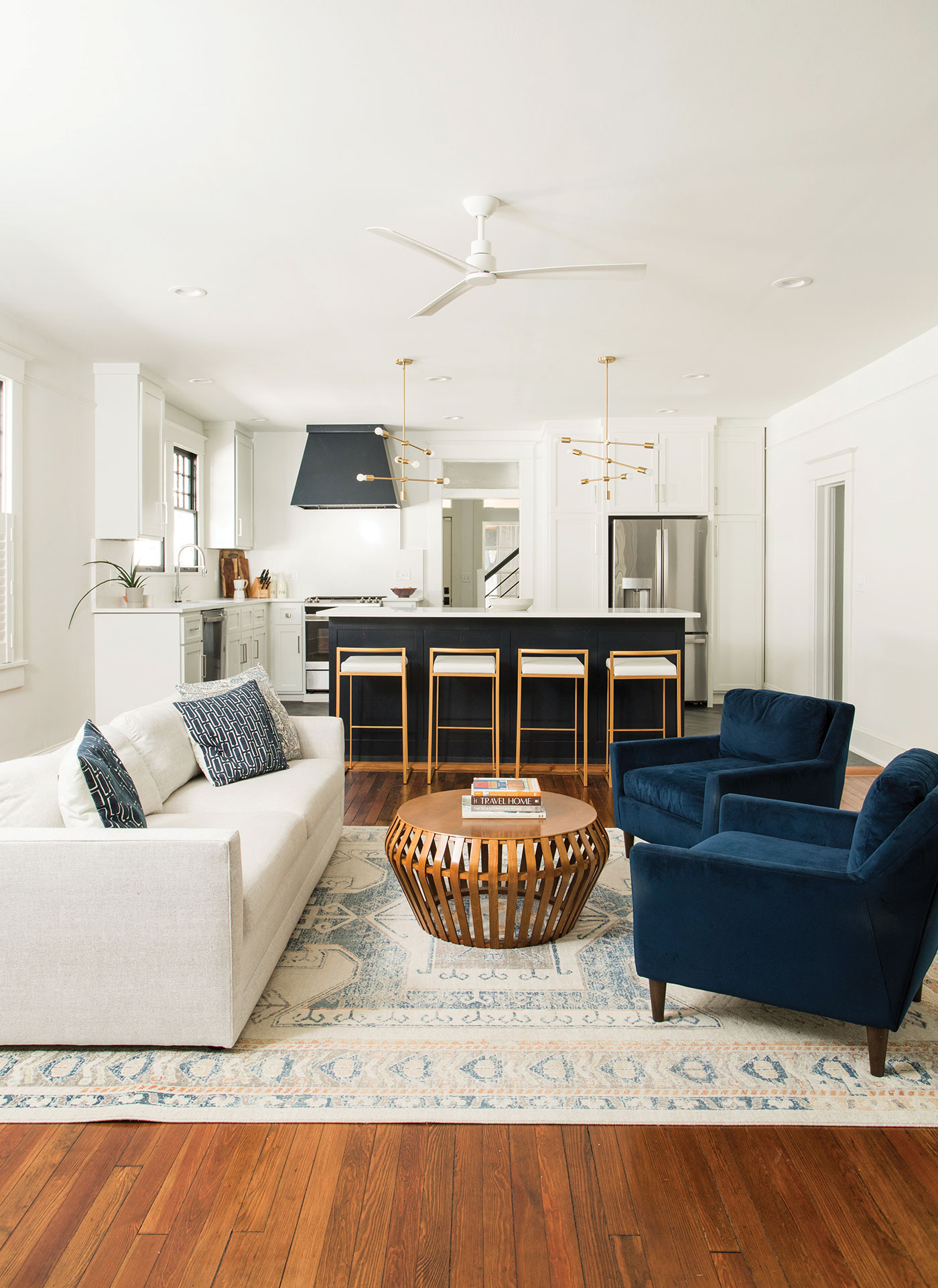 The home was completely gutted in order to be made new, and construction began right as the pandemic started. Once everything was laid out, the home was pieced back together. "Then the fun stuff started happening," Lindeman recalls. It was summertime by this point, so she was able to be very hands-on and learned a lot overseeing the project. "I study visual culture and art, and I analyze through my sight," Lindeman shares.
Stepping out the back door, she points out that the steps are made of bricks that were formerly the fireplace in the wall she had taken out. They lead to a back patio where Lindeman enjoys her morning coffee or evening wine. Since move-in day, friends have been visiting, and the patio provides the perfect safe space for visits.
Back inside, she shows me her master bedroom. She opens the drawers under her bed to reveal her new attempts at Marie Kondo folding. She decided to save the space of a dresser by having drawers under her bed.
Wyatt, a swimmer for the City of Mobile Swim Association, has an affinity for the water, as evidenced by the art and colors in his room. Upstairs is the "clubhouse." After school, Wyatt and his friends enjoy snacks and drinks while they watch TV, play Xbox, foosball and break out the LEGO bins. Lindeman likes to hear the laughter and shouts from downstairs.
Lindeman revels in how the space flows from the front porch to the back patio. The historic home has received a breath of fresh air and contains a peaceful and calm ambience. "The finished product really conveys the Scandinavian concept of hygge — comfort, happiness and contentment."