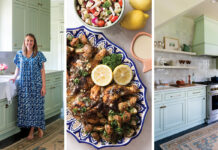 With the help of a stellar design team, new parents Kelly and Philip Ison hatched the centerpiece of their Ashland Place home — a stunning kitchen perfect for their growing family.
The line between indoor and outdoor living is fluid — by design — at the Toombs' Perdido Beach dogtrot.
Designer Ashley Gilbreath brings layers of design to a busy Mobile family in her new book of projects from across the Southeast.
Deck the halls and swag the tree with local designer Matthew Metcalfe-Bees
A collection of some of the most stylish kid rooms occupied by our littlest locals
Jenny and Richard Tremayne found more than a home when they bought a historic property on Austill Avenue — they discovered a love for entertaining.
Local designers share their go-to elements to create interiors that wow.
One local nonprofit uses the impact of interior design to bring healing to families in medical crises, one bedroom at a time.
Nationally renowned designer Matthew Metcalfe-Bees brings his impeccable knack for mixing classic antiques back home to Alabama.
A historic two-story gem in midtown Mobile gets the lavish holiday treatment with stunning traditional decoration dreamed up by an owner with a flair for design.