The Dauphin Island home of Kaye and Mike Tew is the perfect retreat for their children and grandchildren.
Christina Lindeman brings a European sensibility to her historic craftsman in Midtown.
Designer Katherine Goldman makes a dramatic statement in this Fairhope foyer with a refreshing pop of bold color, and she shows you how to achieve the look.
A minimalist white box in the heart of Spring Hill stands in proud contrast to the traditional homes for which the Port City is known.
What my clients gained when they finally ditched their water heater tank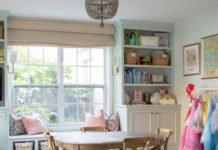 Designer Caitlyn Waite shares easy tips for creating a playroom that is big on fun and easy on the eyes.
When two hospitable hearts collide, the resulting home becomes a haven for hosting.
Amidst the natural beauty of Magnolia Springs, an estate's rustic details and comfortable furnishings create a relaxed atmosphere for a young couple and their son.