Ranging from new interpretations of the classic chocolate chip cookie to ultradecadent pecan and caramel confections, Baldwin County offers up a sweeter side of life that's altogether hard to resist. Indulge in this baker's dozen of tasty delights.
HOMEMADE FUDGE
Sometimes you just need a little pick-me-up, and these homemade fudge squares are exactly that. Choose between modern flavors, such as Heath Bar and Rocky Road, or classics like milk chocolate and English toffee. Who are we kidding? Take one of each.
ALMOND BARK
Chocolate bark is something like a grown-up candy bar. Sophisticated flavors – think dark chocolate and almond – collide in this yummy treat.
The Chocolate Corner • 200 W. Fort Morgan Road, Gulf Shores. 948-2462.
CHOCOLATE-COVERED GRAHAM CRACKERS
The geniuses over at The Chocolate Corner mix two traditional s'mores ingredients, graham crackers and chocolate, in a surprisingly simple, yet delicious way. Take your pick of dark, milk or white chocolate.
CARAMEL PECAN PAWS
The combo of nutty pecans and chewy caramel pack a one-two punch sure to knock out that salty-sweet craving. To kick things up a notch,   ample from a delicious batch of paws covered in white chocolate.
The Chocolate Corner • 200 W. Fort Morgan Road, Gulf Shores. 948-2462.
HEAVENLY HASH
These pint-sized presents are truly a gift from above via Punta Clara Kitchen. Divine, crunchy pecan clusters meld with marshmallowy, chocolaty goodness. Scrumptious!
CARAMEL CAKE
While they are best known for their pecan pralines and other nutty confections, the Punta Clara Kitchen makes one mean caramel cake. Their secret weapon? The icing is actually caramel fudge. It's like two desserts in one.
Punta Clara Kitchen • 1711 Scenic Highway 98, Point Clear. 928-8477.
FRENCH MACARONS
These petite, light-as-a-feather sandwich cookies are trés magnifique. Ganache or buttercream filling acts as the glue holding two meringue bases together. The dainty pastry instantly melts in your mouth, dispersing hints of flavors like Strawberry Rose, Almond, Neapolitan, Strawberry, Coffee and Guava.
Twist Cupcakes • Legacy Village, 9 Du Rhu Drive, Suite 310. 287-0323.
WHOOPIE PIES
Fluffy, whipped frosting is piped between two rounds of cake, ultimately creating a cupcake sandwich. With options such as Cream Cheese Pound Cake, Chocolate Buttercream, Neapolitan, Strawberry Almond Coconut and Peanut Butter Fudge, these treats will transport your taste buds back to childhood.
Twist Cupcakes
CHOCOLATE KAHLUA CHEESECAKE
Chocaholics, this is the definitive dessert for you. A crumbly cocoa-laced crust acts as the base for a chocolate cheesecake filling that is topped with chocolate shavings. As if that weren't sinful enough, it's spiked with Kahlúa.
Hope's Cheesecake • 210 E. 20th St., Gulf Shores. 968-5858.
STRAWBERRY PIZZA
There's nothing like strawberries in the summer-time. This simple combination of a pecan crust, smothered in creamy filling with a sugary strawberry topping is perfection. Even better, like most of Burris' dishes, the dessert is made using fresh Baldwin County produce.
Burris' Farm Market • 3100 Hickory St., Loxley. 964-6464.
COOKIE DOUGH CUPCAKE
For all the home bakers who love to lick the spatula, this is a must. Sweet Beach Bakery whips up an inventive take on the classic cookie: a delicate, chewy chocolate chip cupcake topped with a big ol' scoop of icing that tastes just like gooey homemade dough (sans the raw eggs).
Sweet Beach Bakery • 2200 E. Second St., Gulf Shores. 500-1090.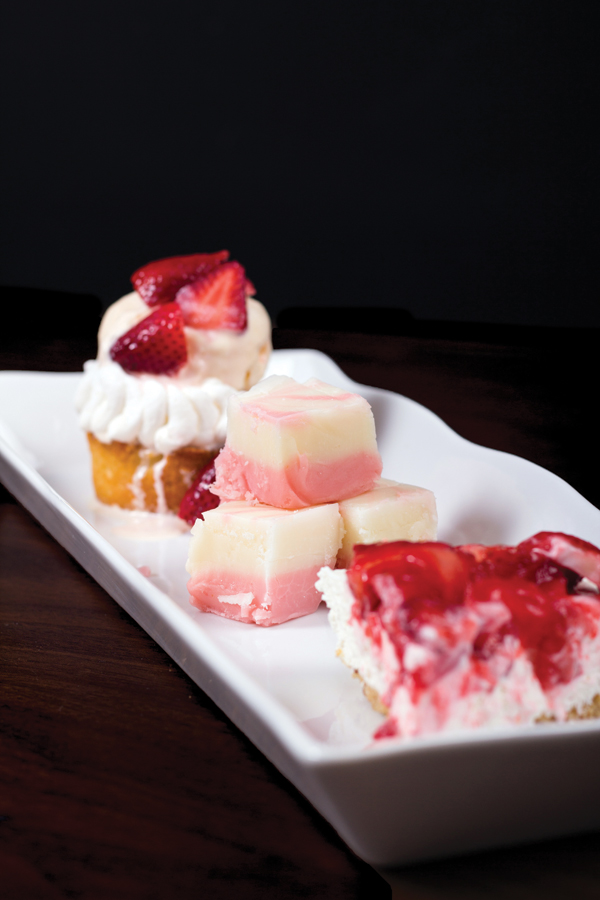 STRAWBERRY SHORTCAKE
Good things come in small packages. And at Burris', they come with all the trimmings. A muffin-sized vanilla shortcake is drizzled with ice cream, strawberry sauce topping and whipped cream. Burris' Farm Market
STRAWBERRY CHEESECAKE FUDGE
Hidden inside a souvenir shop down at the Gulf, the bakery at Yabba's Wacky Snack Shack puts a twist on two classic desserts – cheesecake and fudge. They blend strawberry and cheesecake fudges into a pretty pink-and-white swirled treat.
Yabba's Wacky Snack Shack • 301 Gulf Shores Parkway, Gulf Shores. 948-3146.
OTHER SWEET SPOTS
Connie Cazort, resident sweet tooth, shares her favorite Fairhope bites that offer a guaranteed sugar fix.
◗ Chocolate Ganache Cake "It's creamy, light, rich and smooth. The frosting is what makes it unbelievable." R Bistro
◗ Ginger Cookies "They are large and chewy with crispy edges. Just what you want in a ginger cookie." Windmill Market
◗ Almond Joy Milkshake "The shake has a great almond flavor mixed with rich chocolate ice cream and topped with whipped cream and a cherry." Latte Da in Page & Palette
◗ Thumbprint Cookies "The buttery cookies with frosting in the middle are about the size of a silver dollar and melt in your mouth." Rae's Catering
◗ Cranberry and Orange Scones "A good scone is hard to find, and these are perfect. The pastries aren't too doughy and pop with flavor." Two Sisters' Bakery 
---
text by Mallory Boykin • photos by Ashley Rowe