Mary Sullivan's desire for a beach house resulted in an annual celebration and a place where she will always be remembered.
The line between indoor and outdoor living is fluid — by design — at the Toombs' Perdido Beach dogtrot.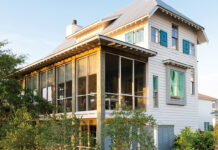 Local architect enjoys the fruit of his labor for the first time as he designs his own simplistic Orange Beach dream home.