Tag: Christmas Day Tornado
Trinity is the second oldest Episcopal church in Mobile, and the only one to have the distinction of having been consecrated twice by two different bishops. Much of its long history, however, did not take place at its present location.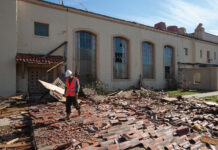 When a tornado tore through Mobile on Christmas Day 2012, the community banded together to rebuild.