Tag: They Call Me Orange Juice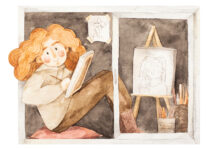 After discouraging experiences in her younger years and subsequent self-doubt, one author rediscovers her passion for visual media.
As the first day of school approaches, one local author explores the difference between scholarly and smart.
Beating the heat gets a lot easier with an idiom or two in hand.
Taking the roads less traveled has helped author Audrey McDonald Atkins appreciate the journey just as much as the destination.
The best Easter eggs are made from a PAAS dye tablet, a splash of water, a bit of vinegar and time spent with loved ones.
Classic elegance and eat-and-mingle practicality make buttermints a party staple for Audrey McDonald Atkins.
Whether being thrown from a float, caught mid-air or dropped from a building, no town does MoonPies like Mobile.
Coat or stole, fur is a seasonal luxury for any Southern woman.
What an Alabama Christmas lacks in snow it makes up for in boozy treats galore.
Pain is beauty — but Velcro rollers and mimosas may help.