School may not officially be out yet, but the warm temps are here and we are ready for some major F.U.N. It's easy to feel like a kid again with this list of the coolest ways to kick summer vacation off with a splash!
Turn back time with this photo of women in uniform at Korean War-era Brookley Army Air Field.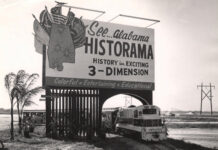 Brush up on your Mobile history with this postcard from a short-lived causeway attraction, the infamous Alabama Historama.
What is the history of the USS Drum?