Red or White, Photo by Shane Rice
Small Plates and Big Wine Selection
This Midtown Mobile wine and gourmet center has two distinct atmospheres: The bustling, energetic indoor bar area and the quieter, breezy patio that is reminiscent of a casual spot in the French countryside. Lush vines, flowers and shrubs twist together on the latticework fencing, providing a nice separation from busy Dauphin Street. Concrete tables, weathered steel chairs and string lights create the kind of setting where guests can feel comfortable in jeans and a T-shirt or a cocktail dress — absent of pretension but upscale enough for a fancy night out.
"We want people to enjoy a good bottle of wine, fresh, interesting food made with local ingredients, and a relaxed atmosphere, " says executive chef Arwen Rice.
Plan on dining small-plate style at Red or White. Various meat and cheese boards; rustic, wood-fired flatbread pizzas; and snacks such as bacon-wrapped dates stuffed with blueberry chevre or the cloud-like gougères with apple butter make the menu a dream for diners who love to mix, match, share and swap while sipping on a glass of wine … or two.
Heroes | West Mobile
Bring the Kids
With tall and secure fencing, a spacious play area with soft football turf and cornhole games, and seating that allows parents to watch their kids in addition to the big game, Heroes' outdoor dining area is one of the most family-friendly in the Port City.
The menu is sure to please every member of the family, too. Heroes' adult menu is a step above normal sports bar fare. The spinach and crawfish dip is a well-known favorite, and burger lovers can't miss the Major League Melt, a half-pound patty served on buttery Texas toast with sautéed onions and tons of American cheese. Also worth trying is the Clipper, a warm and gooey smoked turkey sandwich loaded with bacon,  sautéed mushrooms, Monterey Jack cheese and Heroes' secret sauce stuffed between two slices of grilled sourdough.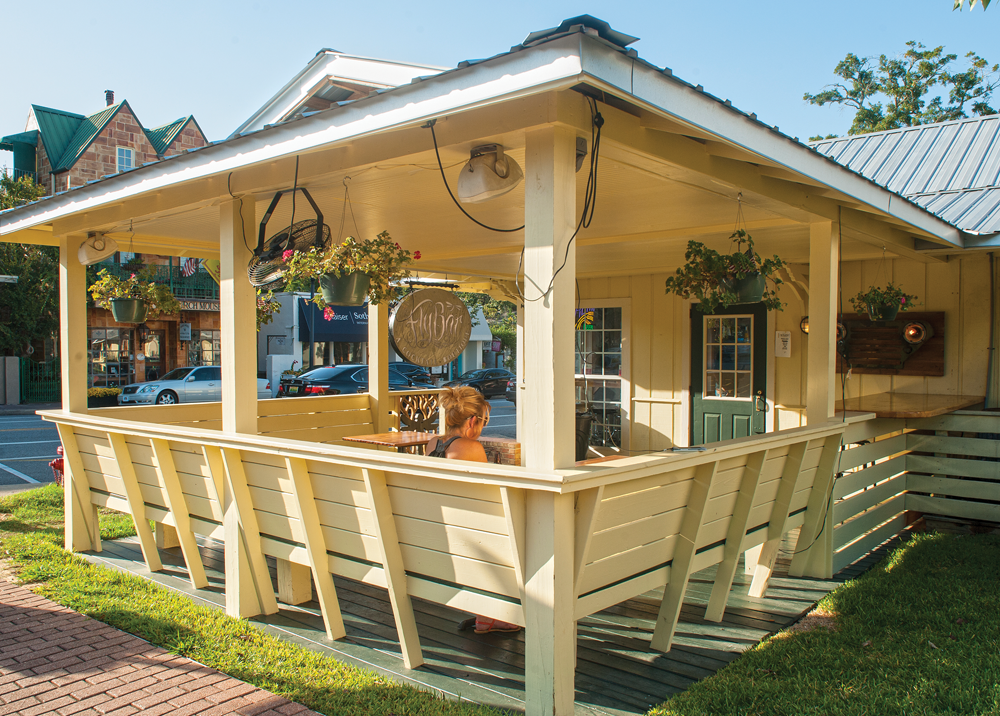 Flybar
Creative Cocktails on the Courtyard
Can it get much better than sipping an incredible cocktail in perfect fall weather in downtown Fairhope? Flybar, brought to life in 2016 by the owners of Dragonfly Foodbar, serves top-notch original drinks as well as craft beer and wine. The bar shares a courtyard with Dragonfly, and there's also a covered space in the back overlooking Church Street with fun seating that promotes conversation and mingling. Every Monday, trivia coincides with Dragonfly's nacho specials for "Nacho Average Trivia Night."
From new twists on old classics to completely new concoctions, Flybar's spirits offerings change with the seasons and evolve with the same unrelenting creativity that drives Dragonfly's popular menu. Each drink is created using high-quality niche liquors and fresh, interesting ingredients such as edible flowers, muscadine wine, basil, peppers, tamarind juice, cold brew coffee and even kombucha.
Speaking of which, "boochtails" have become a mainstay of  Flybar according to owner Brie Kerr. "People love them, and it's something unique to us, " Kerr says. "They're really refreshing." One of the most popular is the lemon ginger boochtail, which combines Wild Magnolia kombucha with ginger liqueur, vodka and rosemary.
The Place to Please Out-of-Town Guests 
When folks come to visit Mobile, they're likely to want two things: a view of the water and some delicious fried seafood. Ed's Shed manages to provide both. Their outdoor patio shows off the beauty of the Bay and the skyline of the city. If you're lucky, your visitors may even spot an alligator or two sunbathing in the shallow marshes surrounding the restaurant.
Ed's features all the Mobile food favorites: Gumbo, grits, oysters, red beans and rice, turnip greens, shrimp, scallops and crab claws.
If friends or family happen to be in town on a Monday, don't miss All-You-Can-Eat Mullet Mondays. Locally caught mullet is breaded in a cornmeal mix and fried, then served alongside French fries and garlic cheese grits for $10.95. Chow down on as much as you want!
Don't miss Yo Mama's Platter for a true family-style experience, where the entire clan can share hearty portions of just about everything on the menu, including a cup of gumbo and garlic cheese grits.
Sunset Pointe
Best View and Fresh Seafood
The name says it all — Sunset Pointe at Fly Creek Marina is the place to watch a sunset on the Bay. Every day as the sun goes down over the water, someone rings a big bell outside, glasses clink as people toast the day's end and the busyness of the popular restaurant seems to slow to a halt as everyone takes in the moment. The restaurant is designed so everyone has a sundown view, but watching it from the modern outdoor seating area is spectacular.
The food at Sunset Pointe is equally satisfying. Built around fresh, high-quality Gulf seafood and local produce, the menu beautifully showcases the bounty of South Alabama. While chef specials and sides change based on what is in season, the core of the offerings has remained the same since the restaurant opened in 2014, featuring popular items, such as snapper throats, a seared tuna BLT and the Sunset Pointe burger. Hiding in the soup and salad section of the menu is one of Sunset Pointe's best dishes — Eastern Shore Bouillabaisse. This intensely flavorful seafood soup combines Gulf shrimp, fish, mussels, leeks, fennel, tomato and fresh herbs in a white wine seafood broth that perfectly soaks into a piece of freshly baked crusty bread.
Date Night Al Fresco
An evening in the courtyard at Fairhope Inn & Restaurant is about as romantic as it gets. String lights and candles give the space a charming glow, and there's just something dreamy about a gazebo. Tables are spaced generously to provide privacy, and tall fencing and oak and palm trees surround the courtyard, insulating it from the bustle of downtown Fairhope.
The restaurant recently unveiled a new menu that's simple, understated and refreshing, with fresh steaks, local seafood and familiar side dishes. A variety of made-from-scratch sauces customize each choice. Chef Tyler Kean's creativity shines in the weekly specials and inventive small plates. A fun and satisfying option for date night dinner is the tomahawk rib-eye for two, served with veal demi-glace.
Spot of Tea
Spot on for Brunch, Lunch or Tea
Dining at one of the sidewalk tables in front of the iconic downtown restaurant is a quintessential Mobile experience. Passersby walk between the tables, families play in Cathedral Square and cars drift by on Dauphin Street. During peak times (Saturday and Sunday lunches), Spot of Tea is packed, but it's worth the wait.
The menu is varied and unlike any other in the city, offering everything from a dainty cucumber sandwich to the decadent Eggs Cathedral — a grilled English muffin topped with a crab cake, scrambled eggs and a creamy seafood sauce with grouper and crawfish.
Can't decide between breakfast and lunch? A popular choice is the sweet-and-savory Monte Cristo sandwich. Egg-battered sourdough bread sprinkled with powdered sugar is akin to French toast, while the inside of the sandwich is stuffed with a perfect blend of meats and cheeses — ham, turkey, Swiss, American and Monterey Jack — all melted together in a way that encourages one to eat the sandwich with a fork. Although this sandwich could just as easily be dipped in maple syrup, it's served with honey mustard on the side.
Hashbrowns come with most of the entrees. Make sure to order them "deadly" to add bell peppers, banana peppers, ham, cheese, onions and sauerkraut.
Typical brunch drinks are available, and for tea lovers, the restaurant is named appropriately. There's a nice selection of black, green and herbals. The brew is served in a kettle that contains enough to refill an adorable teacup about three times. Try the mint with a squeeze of lemon.
Two Sisters Bakery & Deli
A few more options for dining al fresco
Two Sisters | Fairhope
Sit and munch on traditional deli fare under the enormous oak tree that is the centerpiece of this quiet side porch.
OK Bicycle Shop | Downtown Mobile
Have your pick of two cuisines (Asian or Mexican) and enjoy the sights and sounds of Lower Dauphin at the Bike Shop.
The Bluegill | Causeway
There's room for everyone on this covered deck overlooking the marshes of the Mobile Delta.
Panini Pete's | Fairhope
Savor a plate of powdered sugar-covered beignets on the shady, secluded patio.
Pinzone's Italian Downtown | Fairhope
Ambience, galore! The narrow alley under red tile awnings make you feel like you're dining on a café patio in Italy.
Via Emilia | Mobile
The porch is just as sophisticated as the indoor dining room with iron tables and chairs covered in crisp red tablecloths.