Wine lovers in WeMo are in for a treat (and it makes a mighty fine field trip for everyone else in town, too). Pour Baby, a wine bar and bistro located directly across from Providence Hospital, offers more than 50 wines to try. The tiny triangular pocket of a place serves a variety of tasting amounts – you can order a 1-ounce sip, a 3-ounce pour or a 5-ounce glass – making it a great way to broaden your oenological horizons while also sampling from the small plates menu. Bonus: a selection of craft beers.  
The wine bar opened in August 2014. Owners Kenny Dumas and Terry Aucoin purchased The Gourmet Galley on Airport with the intent of maintaining the original business' name and status quo. Somewhere along the way, a major metamorphosis occurred. "After 14 months of hard labor, Pour Baby was born, " Dumas says. 
The small, intimate spot now has a sophisticated and chic feel – a surprise considering its strip mall location. "Our decor is retro-futuristic, pairing modern lines with vintage style and a little tongue-in-cheek humor, " Dumas says. The latter is evidenced in the restaurant's name, slogan and logo ("Pour Baby: Wine all you want!"). 
A unique Enomatic wine-dispensing system dominates one wall, complete with bottles, descriptions and pricing on display. A silvery mesh curtain divides the diminutive lounge from the dining area, and plans are underway for an expansion in late spring. 
Available eats include a classic yet inspired array of appetizers, from cheeses and charcuterie, homemade spreads and crostini to heartier choices such as beef short ribs, chicken and grits and jambalaya. There is always a fresh Gulf fish option and a vegetable plate. Chef Josh Lear, formerly at Legacy Grill, describes the cuisine as "honest and seasonally inspired." For dessert, check out the buttermilk pie or vanilla bourbon ice cream. 
"We're always planning our next wine pairing or tasting, " Dumas says. "We'll help you find the wine you love."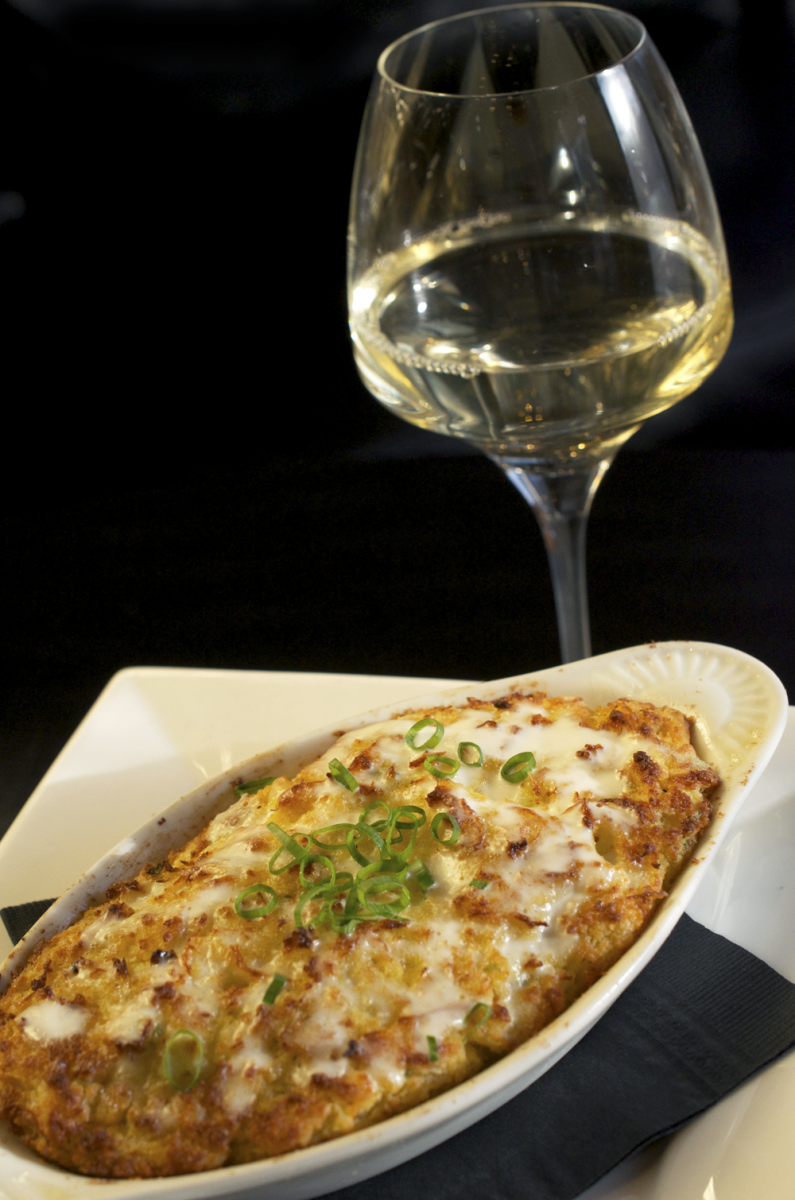 On the Menu
Crabmeat Spoonbread
Slightly sweet dressing-like spoonbread is baked to golden brown, above left. Brimming with lump crabmeat and green onions, it's garnished with a lattice of creme fraiche. $15
Chef's Charcuterie
Above right, ultra-smooth house-made pate — paired with pickled beets, sweet pickles, green and black olives and cured meats — is served with a ramekin of Baldwin County strawberry marmalade and toasted baguette rounds. $15
Cauliflower Gnocchi
Home-style cooking goes gourmet with this blend of tastes and textures. Lightly sweet, delightfully savory, tender balsamic vinegar-braised duck and pickled turnips are served over roasted cauliflower gnocchi and covered in a Parmesan cream sauce. $14
Buttermilk Pie
Creamy custard pie in a sugar cookie-like crust is capped with whipped cream and laced with orange zest. Suitably sized for sharing. $7
Pour Baby • 3 p.m. – 10 p.m. Tu – Sa • 6808 Airport Blvd., Suite H. 343-3555
 
---
text by Sallye Irvine • photos by Blair Abraham