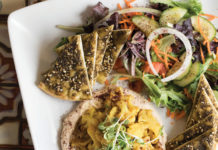 Settle in for a taste of the Mediterranean at Fairhope's Sage Lebanese Cuisine.
From the Fisher family comes a beach shack atmosphere with Caribbean flavors.
At Fairhope's TexarBama BBQ, Bradley Parmer and Casey Carrigan serve up traditional Texas barbecue with top-notch ingredients, bold flavors and simple sides that always please.
Mexican eats and drinks are no farther than a drive downtown.
A cozy artisan cheese shop opens on a revitalized St. Louis Street.
The roasting namesake serves up a new brew that's years in the making.
Fine dining meets down-home hospitality and laid-back vibes.
The long-awaited LoDa eatery brings high style to Southern cuisine.
Eugene Walter dreamed of having an open-air bar overlooking Bienville Square. Take a look inside the dream come true.
From humble roots comes a celebration of Southern flavor.