Sometimes the best culinary delights come from the humblest places — the local gas station.
Before the doors open to the Noble South, the staff gathers at the table and connects over a shared meal.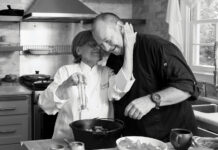 Explore the Thanksgiving recipes and story behind mother-son cooking duo Nancy and Will Hughes.
A city as old as Mobile is bound to have its share of ghost stories and tales of mysterious creatures.
As the Annual National Shrimp Festival commemorates its 50th anniversary, Gulf Shore locals look back on the early years of the festival and how it has evolved into the celebration it is today.
Mark your calendars with this month's top local events you won't want to miss.
Pete Blohme's newest outpost provides classic Gulf Coast dining at the former Lake Forest Yacht Club.
The resurgence of tiki culture in the Port City evokes nostalgic memories of an iconic Mobile bar in all its incarnations.
Gathering over a shared meal creates a sense of inclusion and camaraderie for the Bay-area's deaf community.
Pirate's Bar and Grill is serving specialty beachside fare at the old Isle Dauphine.