"It was just a quiet fishing village," recalls Lillian Bemis, reflecting on Gulf Shores in the early 70s. "There weren't a lot of condos like there are today. And there were hardly any restaurants. There was a little bit of tourism, but most people were fishermen. My daddy was a fisherman. My husband was a fisherman." Clayton Wallace, longtime volunteer and now the Shrimp Festival media chairman, agrees, saying, "I had probably a dozen families on my street who had shrimp boats. Some were smaller ones, but many were deep-sea boats that were 50 or 75 feet long. Those men would be gone for two to three months at the time." Both remember Gulf Shores during that time as a small, tight-knit community. There were no schools in Gulf Shores then. Children commuted to Foley. "I played for Gulf Shores Little League, and we were hard-pressed to find nine boys and a couple bench players for the team," laughs Wallace. 
While fishing and shrimping were the primary way that locals earned their living, there was a growing interest in increasing tourism to the town's emerald waters and white sandy beaches. The existing tourism was seasonal and, once school started, there was a large, disconcerting gap with no revenue until spring break when vacationers would return.
One day, as newlyweds in 1970, Bemis's husband Donal took her to Bayou La Batre to see the Blessing of the Fleet. "There were 20,000 people there. And I thought, 'goodness gracious, we need something like that in Gulf Shores,'" says Bemis. She returned home with a newspaper clipping and showed it to Bill Prime, the director of the Tourist Association Board. She figured there was an opportunity for the area to do something similar. "Someone said, 'Well, on the East Coast they have a clam festival.' And someone else said, 'They have a mullet festival in Florida.' And then someone said, 'Well, then we should have a shrimp festival,'" Bemis
recalls. "I went home and told my mama we were going to have a shrimp fest, and she was so excited! She asked, 'What is a shrimp
festival?' And I said, 'I have no idea.'"
They would find out the next year.
Clockwise from Top Left Awards were handed out for best recipes and best decorated boat among others. A shoreline free from buildings and condos provided the setting for vendors of all kinds. Lillian Bemis' family decorated their boat with flags and the phrase "Bemis Bunch." The beginnings of a sand sculpture. 
In October of 1971, the first
annual Shrimp Festival was held in Gulf Shores. "We had 500 people turn out that first year. We thought that was pretty good," recalls Bemis. "Our church made 50 gallons of gumbo and it sold out in two hours." In addition to the gumbo, local restaurants set up booths selling boiled shrimp, fried shrimp, hamburgers and hot dogs. There was also a recipe contest, filled with renditions of shrimp casseroles, shrimp salads and shrimp dips that would have made Bubba Gump proud.
During the first few years, the attendees were mostly locals. "In the beginning, the festival was just a day. We didn't start until one o'clock so people could get down here from Mobile," says Wallace. There was a beauty pageant, a sand sculpture contest and a street parade consisting of boats on trailers, bikes, Mardi Gras floats and anyone on foot who wanted to join the fun. Just offshore was the boat parade and blessing of the fleet, a nod to the event that inspired the festival. Friends and family would load onto fishing boats decorated with signs, flowers and festoons of colorful flags. Awards were given to the best-decorated boats. Episcopal and Methodist clergy worked in tandem to bless each ship. Wallace recalls that the day was about more than just bringing in tourism and extending the season, despite this being a worthy endeavor. "It was a way to honor all those men in the community who worked on shrimp boats. It was a way to say, 'thank you.' That wasn't an easy life." The entire day culminated with what many described as the highlight, a dance party at the intersection of 59 and Beach Boulevard, which was blocked off with hay bales. Dancers swayed in the street to the sounds of local favorite, The Alabama Dirt Band, while fireworks lit up the sky.
After that successful first year, the entire community wanted to help support the festival. Wallace was in Cub Scouts and Bemis was his den mother. "I was about 7 years old at that time. Out of all things, we sold Sylvania light bulbs to raise money," Wallace laughs. Throughout the decade, the festival continued to grow. In 1973, the winners of "The Dating Game" were even awarded a visit to the fest.
Then, Hurricane Frederick made landfall in 1979. "Frederick changed everything," says Wallace. After Frederick, families who owned beachfront property, spooked by the natural disaster, began to sell their land. Condos started popping up along the beach, and with it came tourists, often Midwesterners who discovered that they didn't have to drive all the way to Florida for beautiful beaches. The festival expanded to a multiple-day event. However, the first day before the weekend rush still mostly attracted locals, allowing them to maintain the atmosphere of the early days.
Left to Right An aerial view of the festival which lines Beach Boulevard.Steve Burrow poses next to his Sea Oat Studio sign.
It was in those early years, Dee and Steve Burrow began selling their pottery in the Fine Arts category of the festival. The Burrows were originally from Mobile and met at Camellia Lanes Bowling Alley where they both worked as teenagers. Life took them in different directions and Steve wound up in Gulf Shores where he operated a pottery studio. One day, he discovered a note on his door to the effect of, "Sorry I missed you. You snooze, you lose," signed by Dee. The note informed him that she had gone to the beach. Steve took off to find her, and, the rest, as they say, is history. Thirty-seven years of marriage later, they own Sea Oat Studio, a successful pottery business operated out of the first floor of the couple's home.
The two are long-time staples at the festival. The couple frequently travels to festivals all over to sell their handmade pottery, mostly to single-day events. Despite the long days working the shrimp festival, "It's nice to be able to come home and sleep in my own bed," Steve says. The pair even sells a limited number of Shrimp Festivalmugs, each marked with an edition number. Several longtime customers have "their edition" number that they claim each year, and some of the numbers have been passed from one generation to the next. A loyal fanbase seeks out their booth each year, and when the festival was cancelled during COVID, they ventured to the Burrows' studio to continue to support the local business. The couple is grateful that they are able to support themselves through the arts, and the National Shrimp
Festival plays a large part in this.
Today, as the 50th anniversary of the annual Shrimp Festival approaches, the gathering has ballooned to over 300,000 attendees and four days, something that Lillian Bemis could never have imagined when she took an article to the tourist association that day. Largely gone are the families of fishermen, loading onto boats for weeks out on the water. Gone are the swaths of shoreline free from development and condominiums. Gone, too, is the financial need to extend the tourist season for one more weekend. The tourists are here to stay. However, what lies at the heart of the festival, the engine that keeps it going, is a dedicated group of volunteers who bring the festival to life each year. They are locals, many of whom attended the festival in the early days, who spend the entire year, not to mention the 14-hour days during the festival itself, working to bring it to life. They gather, share memories and create amongst themselves the community that the early days of the festival provided. "I think that's part of what brings me back, year after year," says Wallace, "I found the spirit of the original festival in the people who dedicate themselves and volunteer to make the Shrimp Festival happen." mb
1971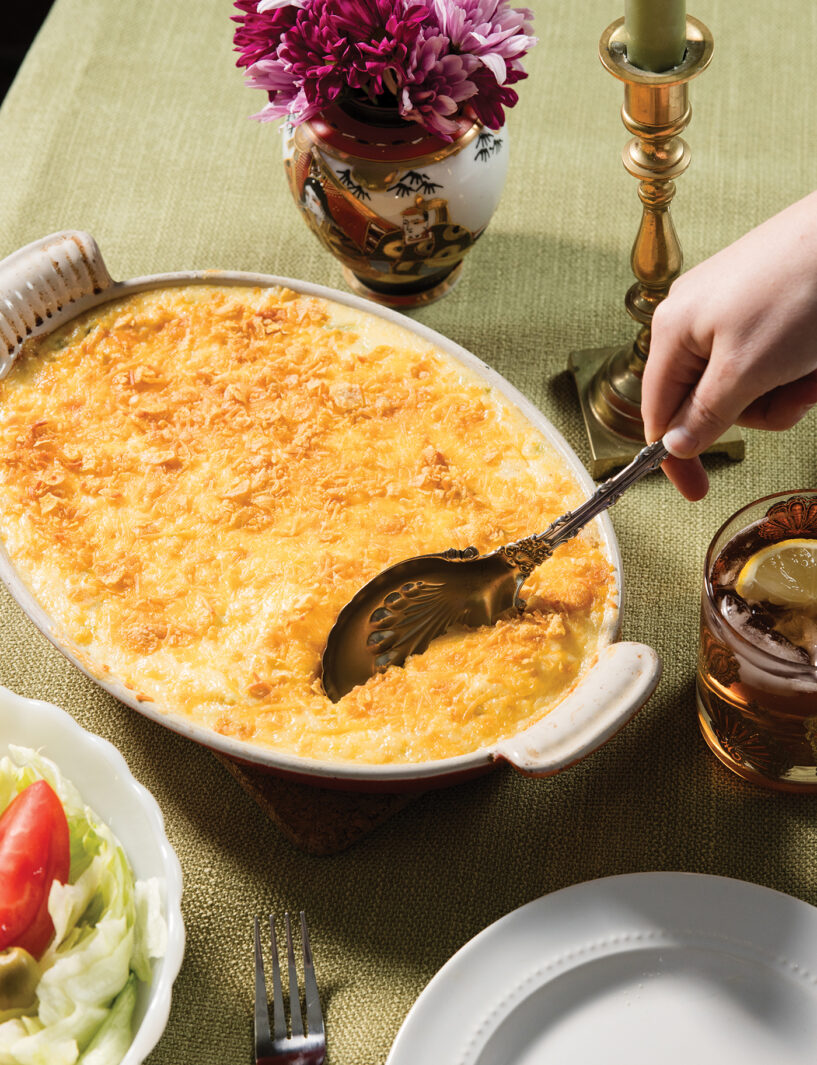 Shrimp Casserole
Inaugural National Shrimp Festival 1st Place-Winning Recipe. Recipe by Mrs. J.F. Dusenbury
Serves 8-10
2 cans condensed mushroom soup
3⁄4 cup mayonnaise
4 hard-boiled eggs, chopped
1 teaspoon pimentos, drained and chopped
1 teaspoon Worcestershire sauce
1 small garlic clove, minced
1 pound boiled shrimp, peeled & deveined
2 cups dried bread crumbs
1 tablespoon butter
1. Preheat oven to 350 degrees. In a large bowl, combine the first six ingredients until mixed well. Add the shrimp and mix again. Place in a buttered casserole. Top with bread crumbs. Dot with butter. Bake until golden brown and bubbly.
Cook's note: This is much better made the day before or placed in the refrigerator about 30 minutes before
serving time.
1976
Shrimp Dip
6th Annual National Shrimp Festival 2nd Place-Winning Recipe – hors d'oeuvre category
Recipe by Louise Dusenbury
Serves 12
1 pound boiled shrimp, peeled, deveined and chopped
1 – 8 ounce package cream cheese
1⁄3 cup mayonnaise
3 tablespoon chili sauce
2 teaspoon lemon juice
1 teaspoon onion, minced
1⁄4 teaspoon Worcestershire Sauce
Pinch of sugar
1. Mix all ingredients. If too thick, thin out with sour cream.
Jubilee Grits
6th Annual National Shrimp Festival 2nd Place-Winning Recipe – entrée category Recipe by Gail Smith
Serves 8-10
4 cups water
1 teaspoon salt
1 cup Quick Quaker Grits
1 stick of margarine, cut in large chunks
1 – 6 ounce roll Kraft Garlic Cheese, cut in large chunks*
3 slightly beaten eggs
Scant half cup milk
1⁄2 cup finely chopped green pepper
1 cup fresh, boiled crab meat
1 cup fresh, boiled shrimp, cut into bite-sized pieces
1⁄2 cup crushed Corn Flakes
1⁄2 cup shredded cheddar cheese
1. Preheat oven to 350 degrees. Bring a heavy saucepan of water and salt to a boil. Stir grits in slowly and return to boil. Reduce heat and cook 2 1⁄2 to 5 minutes, stirring occasionally.
2. Add margarine and cheese and stir until well combined. Crack eggs into a one cup measurer and add enough milk to make 1 cup. Add that to the grits and stir to combine. Carefully stir in bell pepper, crabmeat and shrimp. Pour into a lightly greased 2 quart casserole.
3. Combine corn flakes and cheese in a small separate bowl, and sprinkle over casserole. Bake for 45 to 60 minutes or until center of dish is firmly set. Use a toothpick to test for doneness.
* Kraft has discontinued this product. You can substitute 6 ounces Velveeta Cheese and 1/2 teaspoon garlic powder
for a similar result.
1991
Shrimp Puffs
21st Annual National Shrimp Festival Submitted Recipe
Serves 12
1 cup cooked shrimp
8 oz cream cheese
2 teaspoon grated onion
1⁄2 cup mayonnaise
2 tablespoons chopped chives
1⁄4 teaspoon cayenne
1⁄2 cup parmesan cheese
1 small loaf white bread
1. Preheat oven to 350 degrees. Grind shrimp in blender. Transfer to a mixing bowl and combine with all ingredients except bread. Mix well.
2. Cut bread into desired shapes and spread each with shrimp mixture. Bake for 15 minutes, longer for a crisper puff.
Cook's note – These may be made ahead of time and frozen. Bake when ready to use.
Shrimp Salad
21st Annual National Shrimp Festival Submitted Recipe
Serves 4
1 pound boiled shrimp, peeled and deveined*
3 hard-boiled eggs, chopped
2 celery hearts with tops, minced
2 tablespoons green bell pepper, minced
1⁄4 teaspoon garlic salt to taste
Tabasco to taste
1⁄2 cup mayonnaise
Juice of 1/2 lemon
1 tablespoon capers
Cracker or toasted bread crumbs, as needed
1. In a large mixing bowl, combine shrimp with eggs, celery and green pepper. Add garlic salt and Tabasco. Toss lightly with mayonnaise and lemon juice. Transfer to a serving bowl and sprinkle capers over top. If salad draws excess juice after tossing, gently add cracker or toasted bread crumbs before serving.
*If shrimp are large, cut into bite-size pieces.
The 50th Annual Shrimp Festival will take place October 12 – 15. Information on shuttle transportation, music lineups and more can be found at my shrimpfest.com.