It was the best of times, it was the worst of times. It was the '60s, the era of free love, giving peace a chance and lava lamps. As Bob Dylan sang, "The times, they are a changing." And they did.
Like most Americans, Mobilians faced the psychedelic decade head-on, and it wasn't always groovy. The Bay area dealt with social change, desegregation and a war that left Baldwin and Mobile counties with 166 names on the Vietnam Memorial.
ABOVE LEFT Gayfer's occupies a storefront Downtown before opening in Springdale Plaza.
ABOVE RIGHT United Airlines stewardesses embody the adventurous spirit of the decade.
Thigpen Photography
1960 – 1963
"This is the dawning of the Age of Aquarius" – The 5th Dimension, "Aquarius/Let the Sunshine In"
"It's a brand-new exciting adventure in shopping, " proclaimed AM radio (that's all we had) advertisements about a novel concept in retail, Springdale Plaza. It had the best assortment of Nehru jackets in town. Teenagers rocked to the Beach Boys and wore surfers' crosses and said things like "hang ten, " though many had never seen a surfboard up close.
"As a '60s teenager, I sewed most of my clothes, " Mobile business owner Annette Nolan says. "I remember we all wore jeans and tunic dresses, and I stitched many pairs of bellbottom jeans."
Life was good in the early '60s. Sports fans on both sides of the Bay marveled over a skinny Baldwin County kid's football skills. In 1962 – 63, Ken Stabler quarterbacked his Foley High School Lions to a 29 – 1 win record, before stadium audiences of thousands. Years later, in 1977, he led the Oakland Raiders to a Super Bowl Championship, before a TV audience of 81 million.
And then we lost our president.
A little more than 50 years ago, on Nov. 22, John F. Kennedy's assassination in Dallas shook the nation.
Associated Press
1963 – 1966
"Has anybody here seen my old friend John?" – Dion, "Abraham, Martin & John"
"Children, President Kennedy has been shot, " a somber, visibly shaken Mrs. Moore informed her fourth graders at Prichard's Bienville Elementary School. "Class is dismissed. Please go home to your parents."
From Dallas to coastal Alabama, news traveled slowly on the pre-Facebook afternoon in Nov. 22, 1963. "I was at the beauty parlor, having my hair done, " recalls former state Senator Ann Bedsole. "We were all shocked; I was scared and had so many questions. Who did this and why? How could someone kill our president? What will happen next?"
Local radio and TV news personality Ron Reams adds, "I was in elementary school in Georgia and a safety patrol officer who helped students cross streets. I remember standing at my post after hearing about President Kennedy, and tears were streaming down my face."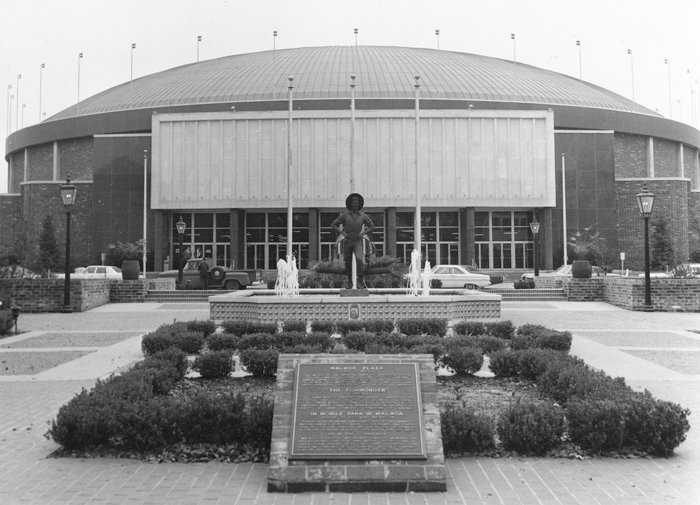 Mobile Municipal Auditorium opened in 1964, initially attracting big entertainment acts such as Elvis Presley, Tina Turner, Led Zeppelin and Guns N' Roses. More recently it has hosted artists like Katy Perry, Alicia Keys and Carrie Underwood.
Photo courtesy of the USA Publications Collection / The Doy Leale McCall Rare Book and Manuscript Library, University of South Alabama
The Monkees were one of the first acts to play the arena.
Photo by Henry Diltz / henrydiltz.com / Morrison Hotel Gallery
1964 – 1967
"She loves you, yeah, yeah, yeah" – The Beatles, "She Loves You"
Weary of JFK assassination news, we joined the nation in a brief reprieve on Feb. 9, 1964, as Ed Sullivan introduced America to a new group called The Beatles. "I don't believe I'd ever seen a live act from another country before, " Nolan says. "I watched The Beatles and knew immediately: these guys are going to be big." (Click here for more Mobilian memories of the Fab Four.)
In 1964, the Mobile Municipal Auditorium opened. Now the Mobile Civic Center Arena, the 80, 000-square-foot structure hosted Elvis Presley, Elton John, Tina Turner, Donnie and Marie Osmond, and more under a domed roof. At least once, Mobile's coliseum experienced a version of Beatlemania.
Riding the popularity from their NBC television hit, The Monkees played the Port City on Aug. 12, 1967. Author, family counselor and 1972 Vigor High School graduate Susan B. McConnell was there. "They walked on stage wearing red velour suits, " she says, about Micky, Davy, Peter and Michael. "The second The Monkees tried to sing, thousands of girls started screaming. You could not hear one note or word during the entire concert."
In reaction to the assassination of Dr. Martin Luther King Jr., blacks staged a march on Mobile streets.
Photo courtesy of the Wilbur Palmer Collection / The Doy Leale McCall Rare Book and Manuscript Library, USA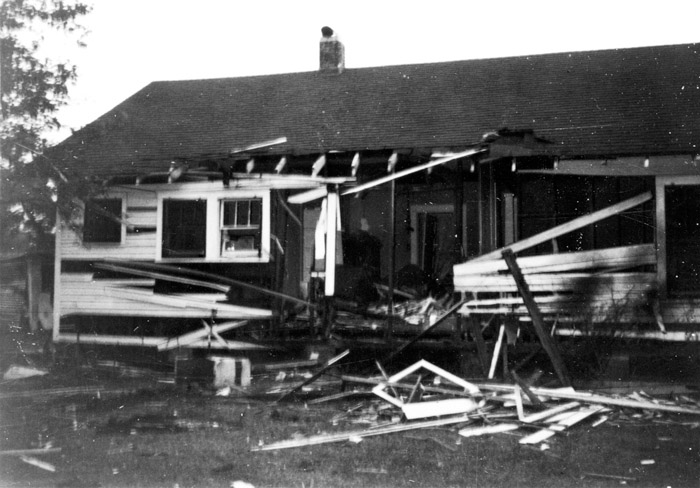 In 1967, civil rights activist John LeFlore's home was bombed. Two years later in 1969, he was arrested outside the Mobile Municipal Auditorium after a Neighborhood Organized Workers (NOW) protest of that year's election.
Photo courtesy of the John Leflore Collection / The Doy Leale McCall Rare Book and Manuscript Library, University of South Alabama
1967 – 1968
"What the world needs now is love, sweet love" – Jackie DeShannon, "What the World Needs Now"
In one of the greatest economic challenges Mobile has ever seen, in the mid-'60s, Brookley Air Force Base performed a phase out shutdown. Almost one out of every 10 Mobilians lost their jobs. "The White House always denied it, but many believe Brookley was closed by President Lyndon B. Johnson in retaliation for Mobile voting for Barry Goldwater, " noted the late, local historian Caldwell Delaney.
While many lost employment, a civil rights leader almost lost his life. Mobilian John LeFlore helped found the Non-Partisan Voters League. His work was instrumental in Mobile becoming a mayor-council form of government. He also contributed to school integration. He also had his house bombed.
His grandson Burton LeFlore remembers a fiery night in 1967. "Apparently, the explosive device was planted under my grandfather's house, " he says. "He had just gone to bed for the night." Thirty minutes later the bomb detonated, destroying the dwelling. Miraculously, John LeFlore and his wife escaped the blast without injury, but no arrests were ever made.
"John LeFlore also met with Dr. Martin Luther King Jr. in Mobile and asked him to go home, " Burton adds. "Ironically, Dr. King, who preached for peace, was always followed by trouble. My grandfather was determined to end Mobile's racial issues peacefully and not through mass protests and violence, which he felt might come with MLK."
 In 1969, University of South Alabama students staged protests to voice their opinions about the Vietnam War. Dom Soto, in the black hat, remembers it well.
Photo courtesy of the USA Public Relations Collection / The Doy Leale McCall Rare Book and Manuscript Library, University of South Alabama
1969 – 1972
"People all over the world are shouting end the war and the band played on" – The Temptations, "Ball of Confusion"
"We had several anti-war demonstrations on campus with 300 to 400 protestors, " former USA student activist, Domingo Soto says. "For 1969's University of South Alabama, that was a big deal." Soto, today a Mobile attorney, noted that students demanded action to stop the needless killing of young Americans in Vietnam. "For the most part our protests were peaceful, but occasionally we experienced pushing and shoving matches with citizens expressing opposing viewpoints. Many of our people joined the student government, and we tried to make a difference."
Meanwhile, across campus, another student was attending classes at USA. He was fresh from the very war being protested and would one day become the town's mayor. "In 1966, I joined the 173rd Airborne, " Mike Dow says. "I was an assistant manager of a Monticello, Fla., Winn-Dixie grocery store, with no money for college. I should have realized that benefiting from the G.I. Bill meant staying alive in Vietnam, " he laughs. "I spent two years and seven months there."
Dow trained as a paratrooper. "The first plane I ever flew in, I jumped out of, " he notes. "The way we trained to be paratroopers: the pilot tilted the plane sideways and we tumbled out." In Vietnam, the young soldier received a letter from his uncle, saying, "Mike, if you stay alive, come live in Mobile."
"After military service, I arrived in Mobile with $25, a '68 Firebird and a new job at the state docks, " Dow remembers. "I graduated from USA and loved Mobile from day one. I liked it so much I became mayor (1989 – 2005)."
He also remembers how he and other Vietnam vets were treated after the war. "Mobile has always admired and showed kindness to veterans, " he says. "California, however, was a different story. We were almost assaulted there."
ABOVE LEFT Student reporters Halia Gaillard, Debbie Kelly, Meg Hoagland, Julie Castle and Jane Quackenbush document the school's happenings at the Murphy Hi Times newspaper in the 1960s.
Photo courtesy of the Murphy High School Mohian staff
ABOVE RIGHT Integration created a lot of tension at Murphy High School throughout the decade and continued into the early '70s.
Photo courtesy of Mobile Press Register Collection / Photograph taken by Frank Chandler / The Doy Leale McCall Rare Book and Manuscript Library, University of South Alabama
1969 – 1972
"The color of your skin don't matter to me as long as we can live in harmony" – War, "Why Can't We Be Friends?"
Moving from war in Vietnam to battlefields in schools, Mobile faced desegregation. Murphy High School was ground zero. "It was tough, " says Paul Sousa, who served as Murphy's assistant principal from 1970 to '71. "We spent every morning devising ways to safely get the kids in the building."
In 1970, Central High School closed, sending its students to Murphy. "These kids went from being cheerleaders, class presidents, student leaders with traditions and community spirit to being uprooted and replanted to Murphy. Both sides were bitter, " Sousa says. That bitterness turned to violence.
"I think we had weeks when students did not finish an entire day of school without fighting, " Sousa remembers. "Hundreds would be fighting throughout the campus." He is convinced the great teachers and administrators during that time saved Murphy High School. "It took everything we could do to keep it operating and prevent people from being seriously injured."
Sousa also thinks things changed after one particularly violent skirmish. "Hundreds of kids were involved in a riot lasting hours, " he says. "But I think blacks and whites started to realize that if this keeps up, someone is going to get killed. The fights seemed to gradually recede. Each side declared a truce."
Ten years later, Murphy was recognized as one of the best high schools in America, to which again Sousa credits teachers, administrators and races coming together. "They truly saved this school system."
Five years after we watched Richard Nixon congratulate the Apollo 11 astronauts for walking on the moon, Dick resigned the presidency in the aftermath of Watergate. "I was working at Boston College's radio station, " Mobile TV news anchor Bob Grip says. "I was alone in the station, broadcasting and listening to the audio feed of Nixon's resignation. His voice resonating through the building was startling. Ironically, I may have been the only person in America that didn't see it on TV, " he adds.
Birdie Mae Davis lobbies for integration.
John Leflore Collection / Doy Leale McCall Rare Book and Manuscript Library, USA.
"If we had to do it all again, could we? Would we?" – Barbra Streisand,  "The Way We Were"
And that's the way we were in the 1960s. "When I walk across USA's campus today and look back at what we accomplished then, I initially think, 'not much, ' former anti-war activist, Soto says. "But then again, yes we did. Some of the advances in women's liberation, racial equality, and hesitancy to go to war, things we take for granted today, were changed in part by what we did in the '60s.
"We were a small part. We may not have affected it, we may not have changed it, but we lived it, " Soto adds. "Those were heady times back in the '60s, " and he chuckles, "I looked like Jimi Hendrix."
---
Text by Emmett Burnett