Just drive downtown, over the Causeway or along the Eastern Shore, and it's evident that our area has a bounty of great dining options. But, we want let you in on a secret: in unexpected places around the Bay, there are some killer cafés, dives and ethnic eateries that you probably haven't tried yet, but should. So on your next lunch break or night out with the family, venture off the beaten path to one of these tucked-away gems. 
Navco Pizza
Mobile has a dozen red-roofed restaurants serving pretty good pizza. There is a better one down the road, Navco Road. Behold Navco Pizza. "Our most popular is the Navco Special, " says Jim Lewis, owner of the pizzeria. "It is a huge seller because it is stacked." The special is piled high with peppers, mushrooms, onions, vegetables, ham, pepperoni, beef and sausage. If you can see over it, you ordered the small one. For carnivores, Lewis, bottom left, offers the All-Meat Pizza, basically a meaty Navco Special without pesky veggies in the way. Their pizza dough is handmade from scratch to order. Nothing sits under heat lamps. Also try the lasagna calzone. "The best way I can describe it is to think of one you've had at another restaurant and imagine it with more stuff, " Lewis says. Life is good on Navco Road. 
Navco Pizza • 1368 1⁄2 Navco Road. 479-0066.
Lighthouse Restaurant
People who live in coastal towns like Gulf Shores, Dauphin Island and Bayou la Batre know good seafood. They eat it in Irvington. That's right, a mere 2 miles from St. Elmo, Irvington is home to the Lighthouse Restaurant. Some say it has the best crab claws in Alabama, a claim Jennifer Stork doesn't take lightly. "I am thrilled we have so many from outside Irvington coming here, " says the Lighthouse Restaurant's manager and keeper of the claw. "But I believe the reason is simple. They come here for the flavor." And flavor is abundant in the eatery's signature dish: crab claws (above). "I could not begin to guess how many we sell during a day, " Jennifer notes about the crustacean craze. "We can't keep count, but it's a lot."
Co-owned by brothers, Kendall and Glen Stork, the Lighthouse Restaurant is also known for great crab cakes, shrimp and an employee favorite, gumbo. "It's my husband Kendall's recipe, " Jennifer says. "It's stuffed with shrimp and crab, and we do not skimp."
Explaining what distinguishes their gumbo from others, she adds, "Ours has a secret ingredient – love. All good gumbo is made with love." Truer words were never spoken.
Lighthouse Restaurant • 12495 Padgett Switch Road, Irvington. 824-2500. 
The Maysville Shack
While Houston is known for its barbecue, Houston Street is the site of The Maysville Shack, home of big fat chicken wings from big fat chickens. Not much bigger than a two-car garage, with menu items painted on exterior walls, The Maysville Shack is a 15-year-old community icon that houses some of the boldest and best chicken wings with an attitude. Look for the red cinder block building with bright yellow trim. You may have to wait in line, but good chicken is worth it. "Our secret is in the sauce, " manager Leigh Thompson notes. "It's mostly a secret, but I can tell you it has honey in it, " she laughs. "That's all I can say." Customers love honey sauce slathered on hand-selected, meaty, plump, Maysville chicken wings. The cluck stops here.
The Maysville Shack • 637 Houston St. 479-9788.
Taste of Thai
While visiting Irvington, with its roar of an auto speedway, foothills of Grand Bay and vistas of Theodore, you no doubt think, 'This place reminds me of Thailand.' OK, maybe not. But Taste of Thai will. "I like to think of my place as a hidden jewel, " says owner Keota Yuhas, below. A Thai native, she has lived in Irvington for 24 years and opened her restaurant around 2006. She comes from a family of chefs. "My mom was in the restaurant business in Thailand, " Yuhas explains. "When I moved here, so did the recipes."
She concedes people were apprehensive at first about Thai cooking in Irvington. "People think our food is hot and spicy." Initially, her restaurant was a mystery to locals. But that was before they sampled crab and fried rice, bottom left. Today, Irvington-Thai relations have never been better. "We have many dishes with moderate or no spice at all, " Yuhas adds. But, there are a few menu items that are spicy-hot, such as the heat challenge offering. A few brave souls participate in Taste of Thai's "Wall of Flame" eating contest. The rules are simple: Eat the specifically hot and spicy dishes in 30 minutes, and you win a prize and get your photo placed on the wall alongside other happy red-faced, eye-pupils-dilated winners. Locally, the contest is second only to Irvington's Mobile Speedway as a competitive event.
Taste of Thai • 9091 U.S. Highway 90, Irvington. 957-1414. 
Sugar Kettle Café
Many loyal customers first visit the Sugar Kettle Café for tomato pie, because it is unusual. They come back because it is wonderful. The Daphne restaurant is so proud of its tomato pie, the recipe is listed on its website. You can't make it as good as they do, but you can try. "We only use in-season tomatoes, says the Sugar Kettle's Kathi Wiggins. "Therefore, we only have a few months a year to offer our pie." The café also has delicious fried chicken, hamburger steaks, peach cobbler and more in a lunch offering that changes daily. The week's menu is updated on their website. 
Sugar Kettle Café • 1015 Daphne Ave. 626-5657. sugarkettlecafe.com
Zorba the Greek Restaurant
Hatem Azizi came to Mobile from Tunisia as a foreign exchange student and never left. Tunisia's loss is our gain. He graduated from the University of South Alabama in 2004 and in 2005, opened Zorba the Greek. But don't let the name mislead you; Azizi's dishes emphasize Tunisian cooking. "The recipes are from home, " my favorite Tunisian says. "We serve great hummus and loaded lamb gyros. It is what everyone asks for. I am pleased Mobilians like it so much." Admittedly, Mediterranean cuisine can be different, he says. "We use a lot of spices and lamb, but also beef and poultry. And just because it's spicy doesn't necessarily mean it's hot, just flavorful." And don't leave the building without trying the baklava. Opa! 
Zorba the Greek Restaurant • 1222 Hillcrest Road. 633-2202.
Something Special Deli
Maybe it's the fresh, clear, Saraland mountain air, but something makes Something Special Deli's chicken salad, well, something special. Chicken, of course, is default mode. But it has seasoning, nuts, grapes and other ingredients, earning the title "special." The only better dish is their hot potato salad. It's a version of German potato salad, with bacon and herbs mixed according to a Saraland secret recipe. "We go through about six, 50-pound cases of russet potatoes every week, " says general manager Bruce Holmes. That's a lot of spuds. While some flock here for the potato salad, others come for the chocolate extravaganza, an on-site homemade cake with three types of chocolate; or hummingbird cake with bananas, pineapple, cinnamon and peanuts all topped with cream cheese icing. Bless you, Saraland.
Something Special Deli • 128 Industrial Parkway, Saraland. 675-3023.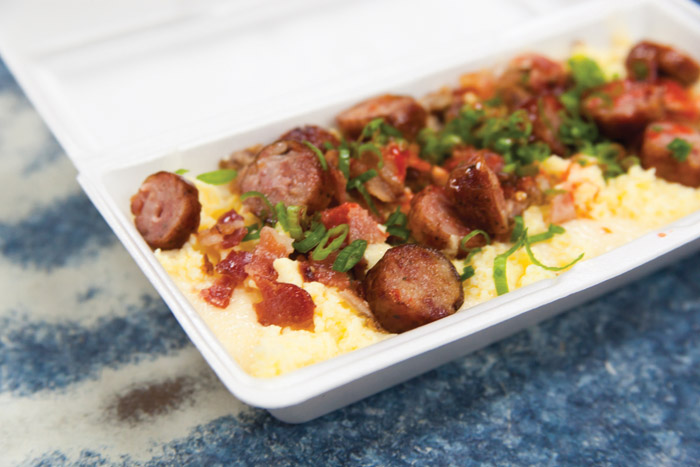 Satsuma Chevron
When it comes to Creole-Cajun cuisine, there's nothing like New Orleans cooking. It's almost as good as Satsuma's. The north Mobile County town is home to gumbo grits, a taste of Louisiana, served from a gas station. Gumbo grits is the creation of Bill Beasley, owner of Satsuma Chevron. "I'm from Lafayette, " Bill says, of his Acadian heritage. "And most of my recipes come from my Louisiana upbringing." Gumbo grits is one of his favorites. The dish consists of cheese grits piled with bacon, sausage, potatoes, bell peppers, onions and more, with a touch of Tabasco sauce. The Satsuma-Creole concoction comes in two sizes: small, for laymen, and large, with so much piled on a plate that it's the highest elevation in Satsuma. Go early. Bill and wife Kitty start cooking at 2 a.m. They start serving their gumbo grits at 4 a.m. and are sold out by 8 a.m. If you're late, New Orleans is only a two-hour drive away.
Satsuma Chevron • 6059 State Highway 43. 679-6070. 
---
text by Emmett Burnett • photos by Todd Douglas