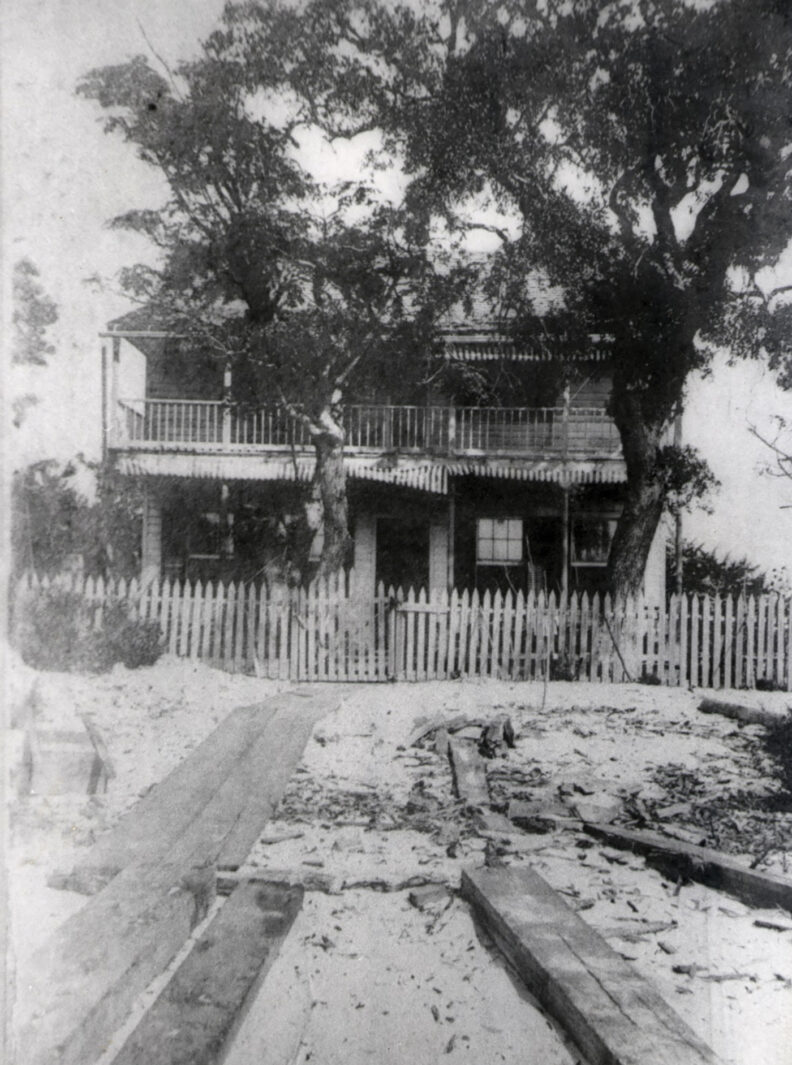 One spring morning in 1855, a British traveler named John W. Oldmixon departed Mobile on board a 300-ton schooner. He rather liked the captain, "a fast young fellow" in a "fanciful velvet cap," and entertained the hope of quickly reaching the Gulf. It was not to be. Their vessel ran aground at the river mouth before a cloudburst floated them free. Then, they spent a foggy night anchored in the lower Bay, where they fired a gun "in vain to the pilots in sight." Given the Bay mouth's complex shoals, channels, currents and tides, it was folly to attempt an exit without a bar pilot. Therefore, the next morning, Oldmixon and the captain rowed ashore to hire one directly.
Pilot Town was situated on the northern side of Fort Morgan peninsula at Navy Cove, so named because the Royal Navy had anchored there after the Battle of New Orleans. As early as the 1830s, the hardy bar pilots, never more than 15 or so in number, had utilized the site as a convenient headquarters. A string of one- and two-story frame houses hugged the shoreline, and a nearby sandy knoll, which the men called "Workbench Hill," provided a convenient lookout for incoming sail stacks. During the early years, the pilots raced one another out to ships in their small sloops, with the winner pocketing the handsome fees for safely steering vessels into the Bay. By the 1850s, however, the operation had assumed a more cooperative nature. The pilots kept watch in shifts on a large boat anchored offshore. The lower bay pilots were responsible for getting the ships into the lower Bay anchorage, and the upper bay pilots for taking lighter draft vessels the remaining distance north to the city wharves.
Pilot Town and its surroundings thoroughly charmed Oldmixon. He and the dashing captain wandered amid placid lagoons and healthy growths of myrtle, magnolia and pine, and picked up seashells along the beach. Among the village's dwellings was "a likely widow's kind of public house," where they drank rum and puffed on "real Havanas." The captain knew several of the "jolly pilots," who repaired onto his schooner that evening for more drinking, smoking and tale telling. Oldmixon fancied himself "among the buccaneers of Dampier's time."
During its roughly 75-year history, Pilot Town similarly impressed almost everyone who visited. Those lucky enough to have lived there described a warm, tightly knit community where there were no property lines, everyone knew each other, and swimming, fishing, crabbing, boating and socials with the troops at nearby Fort Morgan were routine activities. One local described a picnic with sails stretched for shade between trees and wooden tables groaning with roasted oysters. Day to day, citrus trees provided ready fruit; chicken, pigs and seafood, abundant protein; and a pair of large brick cisterns, fresh water. Another former resident recalled, "The pleasure and enjoyments of the inhabitants were as humble and sublime as could be found in any place along the coast."
There were, of course, difficulties, including foul weather, accidents and, in 1861, the Civil War. Union and Confederate forces each courted the pilots for their valuable skills, but handsome offers failed to entice them to support the former. Most famously, William Christopher O'Connor "Black Bill" Wilson refused $50,000 and a house on the Hudson to guide Admiral David Farragut into the bay. Jailed for his defiance, he remained unrepentant. His salty explanation: "I'd see the whole Yankee fleet damned and in hell before I'd betray my country." Others turned to the lucrative practice of blockade-running, taking schooners, steamers and luggers loaded with cotton down to Havana, sailing back to Mobile with war material and sundries such as coffee, sugar, clothes and candies for their families. Union patrols tried to prevent this by regularly raiding the village, stomping onto front porches and yanking open shutters to see if a pilot was home in bed where he belonged.
Postwar, 14 pilots with names like Dorgan, Norville, Ladnier and Weeks pooled $338 and purchased a 620-acre parcel at Navy Cove, legally cementing their presence. Even then, they didn't bother with individual property lines. If a neighbor lacked something, others freely shared. Soon there was a schoolhouse and a butcher, oysterman, sailor, carpenter and even a doctor.
By 1896, ocean-going ships could at last reach Mobile through a 23-foot-deep channel. This prompted a merger between the lower and upper bay pilots into the Mobile Bay Bar Pilots Association, which exists to this day. But Pilot Town's days were numbered. In late September 1906, a Caribbean hurricane smashed into Pascagoula, Mississippi and Pilot Town, on the storm's proverbial bad side, and they took a terrific beating.
Fifty-three residents endured the hurricane, among them Maude Midgette, daughter of Captain Benjamin Franklin Midgette. In a 1912 account, she described the storm's fury during the wee hours of September 26. The Gulf was then streaming across the entire peninsula. "When we came out of the house and stepped off the gallery, we were in water waist-deep," she wrote. "Oh! Shall I ever forget the roaring and howling wind as it swept past us, threatening every moment to hurl us into eternity." She linked arms with 40 others, forming a human chain, and reached safety on Workbench Hill. Here, the residents clung to trees and prayed as the surge ripped apart their houses. Dawn revealed desolation and residents learned of at least half a dozen deaths. When Midgette and her neighbors finally departed by boat for Mobile, she took a last look at the splintered ruins of her cherished home. "One in our crowd suggested we should find another Navy Cove, and [all who were there in the storm] move to the same place. That would mean something like home, but go where we will, we will never find an ideal spot like the 'Cove.'"
Despite its long-ago destruction, Pilot Town remains vivid in the local imagination, and recent efforts to preserve the site have made significant strides. On December 28, 2021, a consortium of conservation groups used BP oil-spill restoration funds to purchase 99 acres of Fort Morgan peninsula, including the old town site, for inclusion in the Bon Secour National Wildlife Refuge. This will ensure that visitors can experience the beauty of the area's delicate coastal ecology as well as learn about Pilot Town's fascinating story far into the future.
John S. Sledge's "Mobile and Havana: Sisters Across the Gulf," with coauthor Alicia García Santana and photographers Chip Cooper and Julio Larramendi, will be published March 2024.