Blue is the "New" Blush
Move over, millennial pink. Bella Bridesmaids' racks and Instagram feed are brimming with the new "it" wedding hue — something blue. The long-popular warm, pale pink tones are making way for cool, moody blues. You'll soon find options in every shade from deep, chic navy to light, ethereal dusty blue. The latter, with its hint of gray undertones, is especially "having a moment" and doesn't seem to be going anywhere any time soon. The color trend is spilling over into chiffon gowns, stationery, linens and even bouquets and floral arrangements.
Go Boho in Braids
A structured chignon is always a classic Southern choice, but for an ultra-romantic bridal hairstyle, consider effortless, cascading waves or soft curls swept off the face with a loose braid or two. (To beat the midsummer Lower Alabama heat and humidity, you can easily modify the braided look into a loose updo for maximum coolness.) To add more femininity, tuck in a few fresh blooms or a delicate floral comb. Even better, this "messy" look means that you can dance the night away without worrying about losing all your bobby pins.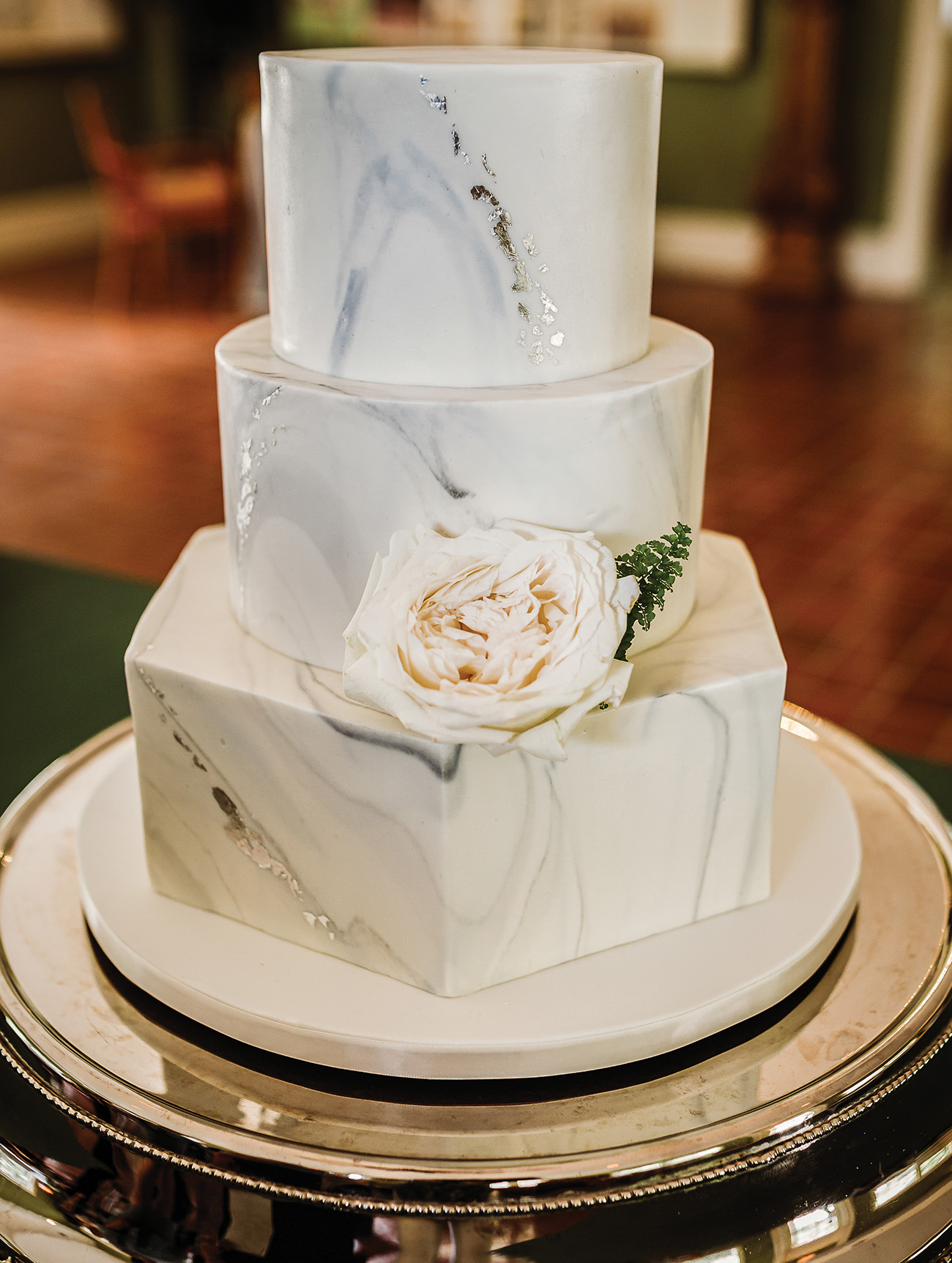 Hello, morning glory!
Good news for all you early (love) birds! Many couples are choosing to partake in a.m. nuptials followed by a brunch reception. Any photographer will tell you that morning light creates the best images, but this format is also budget-friendly since breakfast food is less expensive and guests are likely to drink less alcohol. Plus, creative culinary possibilities abound. (Think grits and grillades, chicken and waffles, Gulf seafood quiche, build-your-own biscuit bars — and did someone say milk punch?) Not to mention, the sooner you get the wedding started, the sooner you honeymoon.
Rock Out the Cake
Surely you've seen the popular "geode" cake that practically broke the Internet. In the center of a towering white confection, the artist hollowed out a "cavern" and filled it with hand-painted edible sugar rock candy and a glistening rim of nontoxic gold leaf. This technique truly creates the illusion of a realistic geode. Local baker Laura Crownover has seen a surge in demand for these contemporary "crystal" confections.  Mobile cake designers, Carol and Brian Monteith, often receive out-of-the-box requests for their sculpted confections, too. Favorites are cakes with edible textures such as marble, leather and watercolor florals. These works of art leave guests wondering, "Is that really a cake?!"
Faux Real?
Carol also adds that a new, national, cost-effective cake trend will soon be making its way to the Port City. Through the Monteiths, brides will be able to "rent" a faux cake made from stacked Styrofoam molds and hand-decorated with real sugar elements. The showstopper may easily be personalized with the bride's flowers, monogram or unique topper. A small section of real, edible cake decorated to blend with the rest of the sculpture is positioned in an open space on the back of the fake cake so the couple may cut and sample their first bites as newlyweds in front of their guests. Then, the servers whisk the towering confection to the kitchen, and out come fresh cut slices of sheet cake. The result is hours less decorating time for the baker and a lower cost passed along to the Mr. and Mrs. And guess what? Guests are none the wiser.
Word Up
Hand-drawn calligraphy scribed onto wood, metal and even acrylic has become a favorite way for couples to welcome guests and personalize the big day. The bride and groom's names, menu or favorite verses, quotes and even hashtags become artistic centerpieces. Mobile native Mady Henderson, of Be Still Handlettering, joyfully creates one-of-a-kind pieces for clients, but she also offers rentals of existing signage for couples who want to incorporate the look for less. Talk about sweet salutations.
Ale Have a Pint, Bartender
Signature cocktails have long been a festive way to personalize bar offerings. (Not to mention limiting the sipping options is a simple way to streamline and pinch a few pennies.) Brides are now offering guests a signature local craft beer on tap, brewed right in the heart of downtown Mobile or along the shores of Mobile Bay. Haint Blue Brewing Company's new Cain & Kazoola beer, a smooth American pale ale named for two of the Azalea City's most legendary characters, is now available in kegs through local retailers, such as Cottage Hill Package Store. Bottoms up.
Paper Wins!
Finally, when all the thank-you notes have been written and the honeymoon tan lines have faded, start thinking about the first anniversary present. Since the traditional gift for year one is paper, nothing could be more meaningful than a personalized watercolor made from a favorite wedding portrait or an image of your first home together. Ever the artist, Henderson, of Be Still Handlettering, also creates these unique keepsakes that are sure to pull a few heartstrings. Visit bestillhandlettering.com to request a quote and submit inspiration photos.