ABOVE Fisher's general manager Sarah Kavanaugh, Chef Bill Briand and Sarah's husband, Coleman Grau, share good food and drink on the wharf. Photos by Elizabeth Gelineau
Cooking seafood can be an intimidating venture. When you've spent a decent chunk of change on a fresh snapper or devoted a day to catching it, you don't want to screw it up! Preparing a whole fish, with the addition of fins and eyes and other strange parts, is even more daunting. But Johnny Fisher and his crew show MB just how simple it can be to serve up an impressive local catch.
Fisher, the brains and namesake behind Fisher's at Orange Beach Marina, has been sharing his love for good food at the beach for 12 years. With an illustrious career at several popular waterfront spots such as LuLu's and The Gulf, he opened his own place in 2013. He has drawn talented individuals to the kitchen, all of whom share the same passion for sourcing locally, and raised the bar on what most people thought beach dining could be. It may be work for this crew, but they have an awful lot of fun doing it.
During MB's visit, restaurant general manager Sarah Kavanaugh shucks some local Murder Point Oysters and makes sure to keep everyone's glasses full. The oysters are small and perfect, exceptionally salty, and they disappear fast. Sarah overflows with enthusiasm when talking about her job and laidback life at the beach. With the Gulf Coast still peaceful before the summer crowds descend, it is hard not to be envious of the food, the view and the company this group enjoys.
ABOVE Kavanaugh kicks up her heels with the restaurant owner, Johnny Fisher, and his wife, Beth.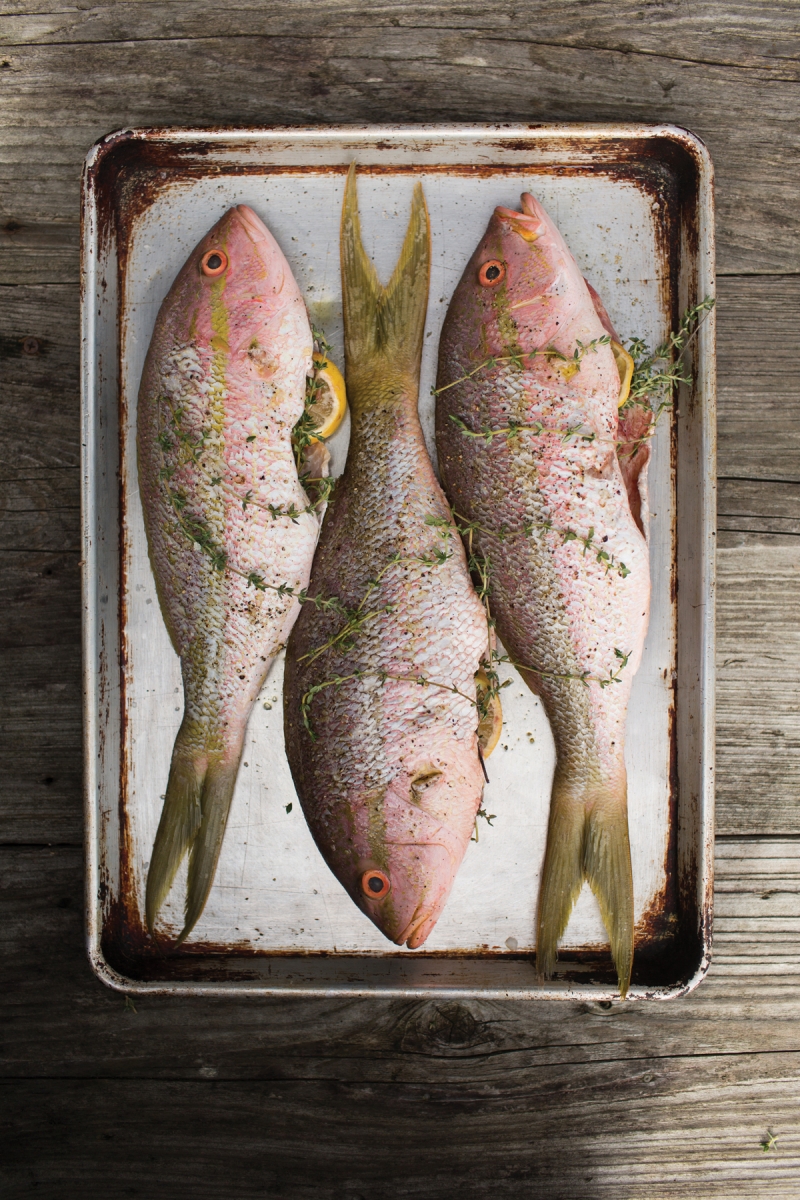 Chef Bill Briand, a semifinalist in the prestigious James Beard Foundation Awards this year, sets to work chopping fresh local vegetables, whisking together sauces, and preparing the whole pompano and yellowtail snapper for the heat of the grill. He tells us it's actually hard to overcook fish when prepared this way; the skin and bones keep moisture in and protect the delicate meat. Cooking whole fish also ensures you have the freshest product possible. Whole fish isn't often frozen, and you can tell more easily if it has been sitting around a seafood counter by the condition of the eyes and skin. (Look for fish that is shiny, bright and looks like it was swimming just a moment ago.) Buying whole also helps ensure you are getting the fish your retailer claims to be selling, something that unfortunately is more of a problem than most people realize.
Chef Bill seasons the cleaned snapper with minimal ingredients before grilling, but once plated, it is topped with a bright salad of radish, arugula and cherry tomatoes with just a drizzle of sauce. A whole fish makes an impressive platter when brought to the table and served family-style. Just slide a spatula or knife down the backbone and gently lift off the fillets. Watch for bones, as you would with any fish. The best part about having the whole fish at the table is picking the little morsels off the platter at the end of the meal. The olive oil, herbs and drippings from the grill puddle on the plate with tender chunks of fish left on the bones that are begging to be grabbed with fingers and savored. Serving platters of seafood this way invites your family and friends to linger at the table, where there is always one more bite, one more drink and one more laugh waiting to be had.
A few friendly pelicans hang close by the pier house hoping for leftovers, but unfortunately for them, every last bit is nibbled up. The sun begins to set, reminding us that all good things must come to an end. Unless you're at the beach, that is, where a good time (and a good meal) is never far down the shore.
How to prepare a whole Fish
SCALE the fish by scraping with a scaler or the back edge of a knife against the grain, moving from the tail towards the head.
TRIM the fins short with a pair of scissors.
SLICE down the belly with a sharp knife from underneath the head to the end of the abdomen where the tail begins.
SCOOP out any innards.
RINSE the cavity with water.
Johnny Fisher's Perfect Whole Grilled Fish
Serving up a whole grilled fish is sure to impress any crowd gathered seaside. It's easier than you might think and is almost foolproof. While you can grill most any type of fish, snapper and pompano, used here, work great. Chef offers two preparations: topped with a bright salad of shaved radish, arugula, and cherry tomatoes, or loaded with smoky sweet peppers, red onions and salsa verde.
1 (2 – 3 pound) pompano or red snapper, gutted and scaled
1 lemon, sliced into 3 rounds
5 sprigs of thyme
3 teaspoons extra virgin olive oil
salt and pepper, to taste
1. Stuff fish with lemon slices and thyme.
2. Rub down with olive oil, salt and pepper.
3. Grill on a medium-high fire for 7 – 10 minutes per side. Serves 4.
Arugula, Cherry Tomato and Shaved Radish Salad
with Lemon Caper Vinaigrette
Once your fish is finished on the grill, top it with this bright salad of garden-fresh veggies. It makes a colorful platter and is the perfect way to bring your whole fish to the table.
2 cups arugula
2 cups halved cherry tomatoes
1 cup shaved radish
Lemon Caper Vinaigrette (see below)
1. With a mandolin, shave radishes. Layer the arugula, halved cherry tomatoes and shaved radish over grilled fish.
2. Drizzle Lemon Caper Vinaigrette over top and serve. Serves 4.
Lemon Caper Vinaigrette
1/2 cup extra virgin olive oil
1/4 cup champagne vinegar
2 shallots finely diced
3 teaspoons finely diced capers
juice and zest of 1 lemon
1/4 teaspoon minced garlic
1/2 teaspoon Dijon mustard
2 teaspoons honey
2 teaspoons chopped parsley
1. In a large mixing bowl, combine all ingredients. Stir well and then let rest for 1 hour to allow the flavors to develop. Makes 1 cup.
Grilled Sweet Peppers and Red Onions with Salsa Verde
A second topping option for your whole grilled fish is this smoky pepper and salsa verde recipe, giving a Southwestern twist to fresh Gulf fish.
1 red onion, cut in 6 pieces
12 sweet peppers cored and seeded (bell pepper is a good substitute)
extra virgin olive oil
salt and pepper, to taste
Salsa Verde (see below)
1. Skewer red onions and sweet peppers. Drizzle with olive oil. Season with salt and pepper.
2. Grill for 3 – 5 minutes on each side until lightly charred.
3. Serve over fish, and spoon Salsa Verde on top. Serves 4.
Salsa Verde
4 anchovies, excess oil rinsed off, fillets finely diced
1 teaspoon capers, drained
1/2 cup chopped parsley
1/4 cup chopped basil
1/8 cup chopped mint
1 teaspoon minced garlic
1 1/2 shallots, diced
1 cup extra virgin olive oil
1/2 teaspoon crushed red pepper flakes
1/2 teaspoon cumin
3/4 teaspoon salt
1/2 teaspoon black pepper
1. Combine anchovies, capers, herbs, garlic and shallots.
2. Add olive oil, red pepper flakes and cumin. Salt and pepper to taste. Makes 2 cups.
Shaved Squash and Zucchini
with Creole Mustard Vinaigrette
Thin ribbons of squash make a beautiful raw salad. Zingy Creole mustard vinaigrette, crunchy pecans and creamy goat cheese crumbles are unexpected but delicious additions that balance flavor and texture in the inventive side dish.
3 squash
3 zucchini
1/2 cup shaved red onion
1/4 cup smoked (or toasted) pecans
1/4 cup goat cheese, crumbled
Creole Mustard Vinaigrette (see below)
1. With a mandolin, shave squash, zucchini and red onion into a large mixing bowl.
2. Add pecans and crumbled goat cheese.
3. Dress with vinaigrette. Mix salad until goat cheese starts to mix with the dressing, being careful not to break the vegetables. Serve immediately. Serves 4 – 6.
Creole Mustard Vinaigrette
1/2 cup Creole mustard
1/4 cup red wine vinegar
1 teaspoon hot sauce
2 teaspoons honey
1/2 cup salad oil
1. In medium mixing bowl, whisk together all ingredients except oil. Then slowly whisk oil into mixture until just emulsified. Makes 1 1/2 cups.