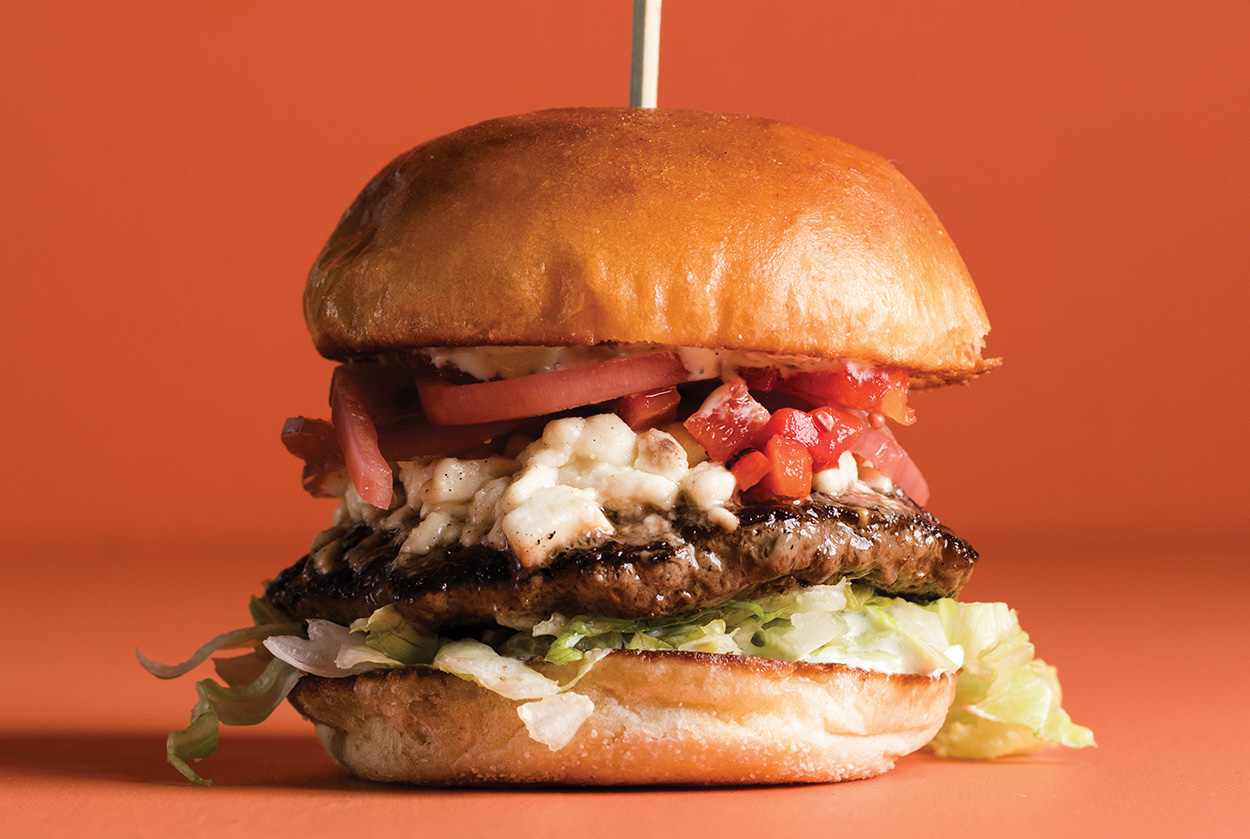 We'll never tell you to turn your back on the classics (think Callaghan's, Butch Cassidy's), but don't be afraid to break your burger routine. Prepare to meet seven of your new best friends.
1. Greek Burger
Ox Kitchen | 85 N Bancroft St., Fairhope
It's not often you come across a burger with feta cheese and tzatziki sauce, but after eating this creation of chef Bo Hamilton, you'll wonder why. With a soft brioche bun, roasted peppers and pickled onion, the Mediterranean-inspired burger has plenty of flair without being gimmicky or over the top. And like the other burgers on the menu, diners can make it a double for a few extra bucks. Say it with us now — "Opa!"
"I grew up in Birmingham, whose restaurant scene was shaped by Greek restaurateurs, so this burger is sort of a throwback to the food of my youth." – Chef Bo Hamilton
2. Sam's Original Burger (The S.O.B)
Sam's Super Burger | 8789 Grand Bay Wilmer Road, Grand Bay
This cheeseburger is definitely the heavyweight of the menu at Sam's Original Burger, which celebrates the 34th anniversary of its founding this month. If four patties are more than you bargained for, never fear; grab yourself a Super Burger Single. Owner Philip Dixon, grandson of Sam, says the restaurant makes roughly 400 patties a day by hand. Sautéed onions and jalapeños help distinguish this monster — as if it needs any help standing out from the crowd.
3. The Cisco Burger
The Good Guys Mobile Food Unit | Location varies, check Facebook page
You'll chase this food truck down for its burgers, and the Cisco Burger is the leader of the pack. Owner Tuven Helvacioglu hand-presses the beef and pork chorizo patties daily, and the smoked chipotle sauce is also made in-house ("Putting ketchup and mustard on this burger is a big no-no," he says). Purple onion, green leaf lettuce, tomato and cheddar cheese round out this standout on a brioche bun. Check here to see where the truck will be parked every week.
4. Yacht Club Cheeseburger
19th Hole, Lake Forest Yacht & Country Club | 1 Golf Terrace, Daphne
You don't need to be a golfer to enjoy this country club cheeseburger, available to the public and straight from the griddle of Chef Clint Delaney, who draws on his culinary experiences from Dauphin Island and the Grand Hotel. The 8-ounce patty is the star, a blend of certified Angus beef, ribeye, and short rib chuck and resting on a golden brioche bun. Nothing on Delaney's burger has ever seen the inside of a freezer — a veritable hole-in-one on a bun.
5. Ms. D's Famous Bacon Cheeseburger
Ms. D's Restaurant | 25757 Highway 181, Daphne
It wouldn't be a hole-in-the-wall cheeseburger without a secret ingredient, and owner Joy Davis says her lips are sealed. She will tell you, though, that her favorite thing about this burger is its fresh toppings, thanks in large part to Allegri Farm Market right across the road, which supplies all of the restaurant's produce. Tall, imposing and juicy, this backroad bacon burger has a cult following — so it's no surprise the restaurant goes through two cases of bacon a week.
"You can dress it up any way you like it, and it'll just keep getting taller and taller! We go through a lot of napkins around here." – Owner Joy Davis
6. Off the Hook Burger
Off the Hook Marina & Grill | 621 Highway 43, Chickasaw
Everything between the brioche buns on this burger is made in-house. Yes, that includes the meatloaf patty, the mac 'n' cheese and the chipotle mayo (you read that sentence correctly). Chef Kate Anderson says this burger is so popular, and accessible, that she has a regular crew of postal workers who drive the 15 minutes from Mobile on their lunch break. Open on Friday, Saturday and Sunday, the grill overlooks the kayakers and boaters on Chickasaw Creek.
"Originally, I didn't know if this burger would go over well because it's so different. Now, we really just can't imagine the menu without it." – Owner and executive chef Kate Anderson
7. The Bacon Ranch Steer Burger
Roshell's Café & Deli | 2906 Spring Hill Ave.
With origins in 1952, Roshell's Café & Deli has had 68 years to perfect its "Steer" burgers, and it shows. The Bacon Ranch Steer Burger features two 8-ounce patties, hand-formed from daily ground beef deliveries and stacked with crispy bacon and "all the trimmings." No seasoning touches these patties — not even salt and pepper — so expect a burger as classic as this diner. This option is nostalgia on a sesame seed bun; it's no wonder owner Roshell Flowers feeds third-generation clientele.
"Sometimes a customer will say they want the Ranch Steer Burger, but they don't want Ranch on it. I want to tell them that this burger has been around since before Ranch Dressing was invented!" – Owner Roshell Flowers