Pull up a chair at the Toulminville Soda Fountain
Mobilian Eugene Sledge is recognized the world over as a USMC combat veteran of World War II, but there is even more to know, and admire, about "Ugin" of Georgia Cottage.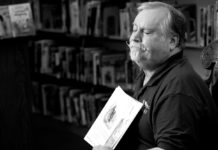 Known as much for his theatrics as his devotion to children, librarian Frank Tigner shares stories not found on shelves.
In a world of uncertainty, comfort can be found at the dinner table.
What caused a bay boat to explode at Point Clear in the summer of 1871?
MB's contributing food fanatics share the local dishes that made them hungry for more.
A moonlight encounter with a tarpon 33 years ago sent Ernest Ladd down the angler's path of frustration, elation and conservation.
Venture off the beaten path to try some of the most underrated burgers on both sides of the Bay.
Stories are waiting to be discovered in front yards along the Alabama Gulf Coast.
Sometimes the most memorable lessons happen outside the school walls.