All five Jacksons congregate inside their Spring Hill kitchen, brought in by the tantalizing aroma of the pork tenderloin resting on the stovetop. Lolling at the table, Walton Jr. asks, "Who's your favorite, Mom?" with a laugh, momentarily interrupting the chatter of conversation around the room. Ashley casts a quick smile over her shoulder, not answering her 16-year-old's question, and returns to slicing meat, her daughter, Abby looking on. 
Standing with dad Walton Sr. is oldest daughter Sarah Hunter, home from the University of Alabama since mid-spring. They're busily discussing who's bringing what to an upcoming family gathering in Fort Morgan. It's the little things like this, the meal-planning and joking with her dad and hanging out with her brother and sister, that the 21-year-old rising senior has missed. She knows being together again, although unexpectedly, is the silver lining in a cloud of uncertainty surrounding a pandemic.
"It has been fun to be able to see things rather than just hear about it on the phone," Sarah Hunter says, placing the broccoli salad on the table, a dish she helped prepare and looks forward to fixing each Christmas. "But I do miss my alone time," she laughs, nudging her sister playfully. "Yeah, it's good having her home, but I don't like it when she borrows my clothes," Abby, 17, retorts, smiling.
The large picture window in the kitchen allows the late afternoon sun to spill over onto the one-of-a-kind table from Charles Phillips Antiques, now set with family favorites, like sour cream butter biscuits and brown rice consommé. As her family digs in, Ashley looks on, a gentle smile on her face. "I like having everybody here," she says, her eyes giving way to joy. "It makes me feel settled." Sensing a sappy turn, her husband pipes, "The last time Ashley cooked, we all got food poisoning." Laughter ensues, all acknowledging Walton Sr.'s uncanny ability to turn everything into a joke. "But seriously," the attorney with Maynard Cooper & Gale continues, "we've eaten more together in the past three months than we have in the past year." Heads nod in agreement.
Conversation comes easy as do the grins and chuckles. There's a feeling of comfort in this place, the heart of the home, that's decorated in cool blues and sentimental keepsakes, both from Ashley's time as a teacher's aide at St. Paul's and from her children.
"This is the best thing," Abby says, finishing off her piece of strawberry ice cream pie. Ashley takes note to make it more often. As the family starts to disseminate, with dad returning to work and Walton Jr. heading to ball practice, Sarah Hunter watches from the banquette, taking stock of more than just the activity in front of her.
"At the end of the day, the biggest part of our family is our mom," she says out of earshot of Ashley, when asked about what family means to her. Abby agrees and adds, "Someone is always here for us, encouraging us." This Jackson family "recipe" for comfort and acceptance, cultivated over time, can't be found in Ashley's treasured box of tried-and-true keepers, but it might be the most important one that gets handed down.
Sour Cream Butter Biscuits
With only three ingredients, this Southern staple can be whipped up any night of the week.
1 cup sour cream
2 cups self-rising flour
2 sticks butter, melted
1. Preheat oven to 400 degrees. Mix all ingredients well and spoon into miniature muffin tin. Bake for 10 – 15 minutes, or until golden. Yields 3 dozen
Broccoli Salad
Raisins add a sweet tang to this easy salad. Ashley recommends soaking the raisins in water one hour before preparation — the raisins magically plump and become irresistibly juicy and flavorful.
1 large broccoli head, chopped
1 cup raisins, plumped
1 small red onion, chopped
8 ounces sunflower seeds
1 pound bacon, fried and crumbled
1/2 cup mayonnaise
1/2 cup sour cream
1/4 cup sugar
3 tablespoons cider vinegar
1. Add broccoli, raisins, red onion, sunflower seeds and bacon to a large bowl and toss.
2. For the dressing, in a smaller, separate bowl, mix remaining ingredients and pour over salad. Stir well and serve. Serves 10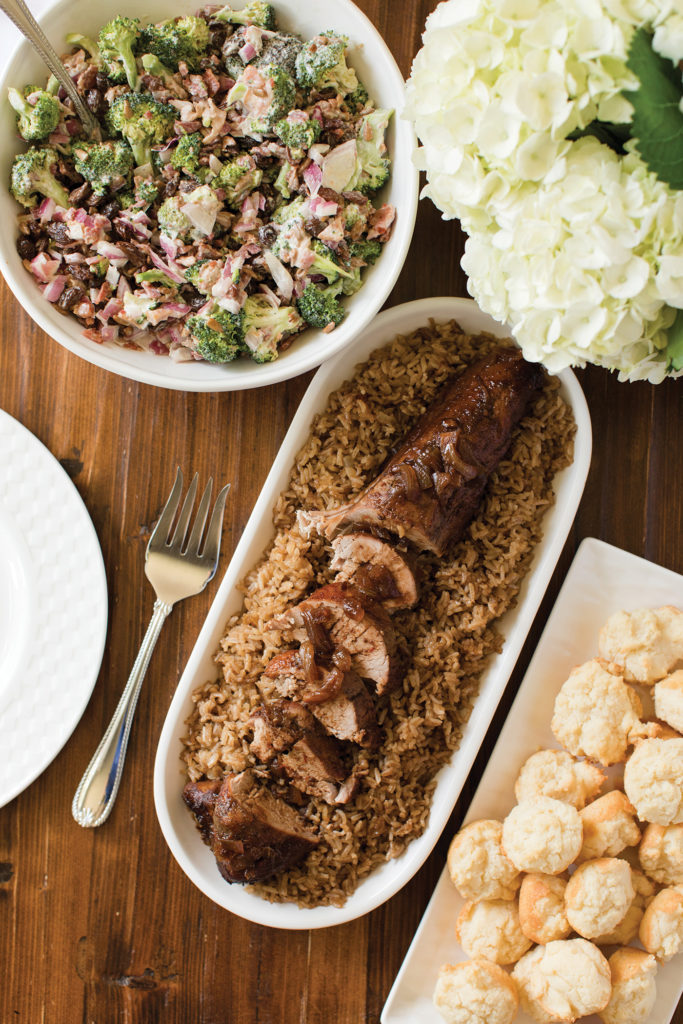 Pork Tenderloin with Red Plum Preserve Marinade
This recipe was handed down from Walton Sr.'s mother, Martha Jackson. Ashley uses Smucker's Red Plum jam, which can also be used as a spread for the biscuits.
1 (2 – 3 pound) pork tenderloin
onion powder, to taste
garlic powder, to taste
salt, to taste
2 tablespoons butter
3/4 cup onion, chopped
1 cup red plum preserves
2 cups Dr. Pepper
2 tablespoons lemon juice
1/3 cup chili sauce
1/4 cup soy sauce
2 teaspoons mustard
3 drops Tabasco sauce
1. Preheat oven to 325 degrees. Place tenderloin, fat side up, in a baking dish, and season with onion powder, garlic powder and salt.
2. For the marinade, melt butter in a saucepan and saute onion. Add remaining ingredients, and simmer for 15 minutes.
3. Baste tenderloin with prepared marinade, reserving some, and place baking dish in oven. Continue basting every 15 to 20 minutes. Bake for 35 – 45 minutes per pound, or until the internal temperature of the pork is 155 degrees.
4. Remove from heat and let rest for 10 minutes before slicing and serving. Serves 8 – 10
Brown Rice Consommé
Another recipe handed down from Martha Jackson, this easy side dish is one the Jacksons enjoy regularly.
1 stick of butter
1 small onion, diced
1 cup white rice, uncooked
2 (10.5-ounce) cans beef broth
1. Preheat oven to 375 degrees. In a saucepan, melt butter and saute onion. Mix in rice and cook on low heat for 5 minutes.
2. In an ovenproof dish, pour in beef consommé and add the rice, onion and butter mixture.
3. Bake until liquid is absorbed, about 30 minutes. Serves 6
Strawberry Ice Cream Pie with Hot Fudge Sauce
Cammie's Old Dutch strawberry ice cream makes this dish extra delicious. Ashley's friend, Elizabeth Harris, contributed the outta-this-world hot fudge sauce recipe.
25 chocolate sandwich cookies, finely crushed (Oreos work well)
1 cup butter, divided
1/2 gallon strawberry ice cream, softened
1 (8-ounce) package unsweetened chocolate baking squares
2 cups sugar
1 cup milk
1 teaspoon vanilla extract
1/8 teaspoon salt
fresh strawberries, sliced, for garnish
1. Mix crushed cookies with 1/2 cup melted butter. Pour into 9-inch pie pan, and firmly press to form crust. Spoon ice cream onto crust, smoothing out the top.
2. For the sauce, melt chocolate and remaining 1/2 cup butter in a large saucepan over low heat, stirring constantly. Add sugar and cook, stirring constantly for 30 seconds. Add milk and cook, stirring constantly for 3 minutes. Be careful not to bring to a boil. Remove from heat and stir in vanilla extract and salt. Let cool until sauce thickens but is still pourable.
3. Drizzle sauce over ice cream and garnish with strawberry slices. Serves 8 – 10