1. Caramel Bacon Popcorn
Making your own caramel may sound intimidating, but this crunchy, sweet snack is worth the extra work. Add some cayenne or hot sauce to the caramel for a caliente kick! Keep a bowl around for snacking anytime.
6 slices of bacon
3 tablespoons vegetable oil
1/2 cup popcorn kernels
3 cups sugar
3 tablespoons unsalted butter
2 teaspoons fine sea salt
1 1/2 teaspoons baking soda
cayenne pepper, optional
1. Preheat oven to 400 degrees. Line a baking sheet with parchment paper and arrange bacon slices evenly on sheet. Cook for 15 minutes, or until crispy and brown. Drain bacon on paper and dice when cool.
2. In a large pot with a lid, heat vegetable oil over medium-high heat. Add popcorn kernels and cover. Cook, shaking pot occasionally, until most of the kernels have popped, about 4 minutes. Transfer popped popcorn to an extra-large bowl sprayed with cooking spray. Stir through the popcorn and remove any unpopped kernels.
3. In a large saucepan, combine sugar, butter, salt and 1/2 cup water. Cook over high heat, without stirring, until the mixture becomes a light golden caramel, about 10 minutes. Meanwhile, coat a large rubber spatula with cooking spray and set aside. Remove caramel from heat and carefully whisk in baking soda and optional cayenne pepper. The mixture will bubble up considerably, so stir continuously. Fold in bacon pieces and immediately pour over popcorn. Toss with coated rubber spatula until all of the popcorn is evenly coated with caramel.
4. Spread popcorn in a single layer onto a large baking pan and cool to room temperature, about 15 minutes. Once cool, store in an airtight container. Serves 10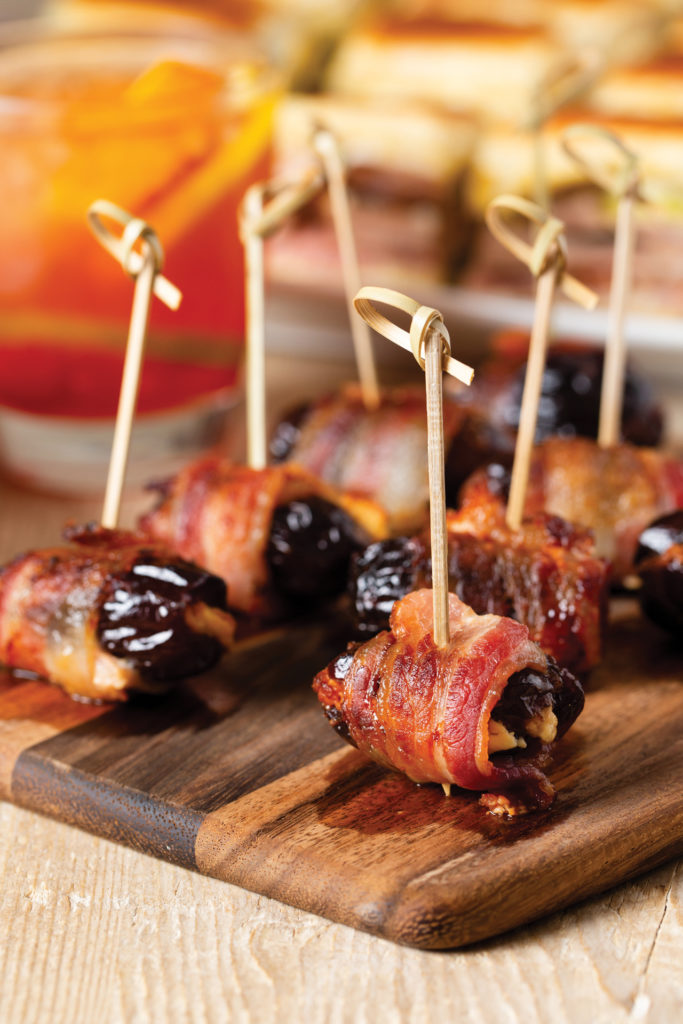 2. Bacon-Wrapped Dates
This recipe from Red or White's executive chef Arwen Rice is a crowd-pleaser. One of their menu highlights, it is slightly more sophisticated than your typical football app, but it's easy to prepare and the bacon will satisfy all the carnivores at the party.
12 jumbo pitted Medjool dates
1 4-ounce log blueberry goat cheese
6 slices thick-cut bacon, cut in half
12 toothpicks
Honey, for drizzling
Balsamic vinegar, for drizzling
Toasted chopped almonds, for garnish
1. Preheat oven to 400 degrees. Line a rimmed baking sheet with aluminum foil and set aside. Place 1 teaspoon of goat cheese inside the cavity of each date where the pit formerly was and press to close. Wrap one half-slice of bacon around each date and secure with toothpicks. Place 1 inch apart on prepared baking sheet.
2. Bake dates for 10 minutes, then flip and bake for another 10 to 15 minutes or until bacon is browned. Let cool for 5 minutes on the sheet pan, then remove toothpicks.
3. Place dates on a serving platter and drizzle with honey and balsamic vinegar. Top with chopped toasted almonds. Serve warm. Serves 6
3. Black Bean Corn Dip
Recipe courtesy of Megan Gulland Shifflet, owner of The Kiln
Bowl made by Susie Bowman
1/4 cup extra virgin olive oil
1/4 cup apple cider vinegar
1/4 cup sugar
1/4 medium onion, finely chopped
1 can black beans, rinsed
1 can corn, drained
1 4-ounce container crumbled feta cheese
1. Whisk olive oil, vinegar and sugar until sugar is completely dissolved.
2. Add remaining ingredients, stir and refrigerate. Dip is best when made the night before. Serve with scoop tortilla chips or use as a topping on tacos and salads. Serves 10
4. Curried Boiled Peanuts
This fun, sweet and savory variation on a deep South favorite is a total nod to fall, with hints of cinnamony cardamom.
3 pounds green peanuts
2 cans coconut milk
1/4 cup kosher salt
1 quart water, or enough to cover peanuts
4 tablespoons red curry paste
1 teaspoon fish sauce
1 teaspoon lime zest, grated
2 tablespoons fresh lime juice, plus more for garnish
5 green cardamom pods (optional)
1. Thoroughly rinse peanuts in a colander. Add peanuts, coconut milk and salt to slow cooker, then add enough water to cover the peanuts.
2. Combine curry paste, fish sauce, lime zest and lime juice in small bowl. Mix well.
3. Add curry mixture to slow cooker, toss in cardamom pods and stir well.
4. Cook on high for 4 to 6 hours. Squeeze lime juice over shells before serving. Serves a crowd
5. Maple Bourbon Smash
The apple butter adds pulp to the cocktail, which can be removed by straining, if you prefer.
2 ounces bourbon
1 tablespoon apple butter
1 tablespoon maple syrup
1 tablespoon fresh lemon juice
3 dashes Angostura bitters
club soda, to taste
apple wheel, for garnish
Add all ingredients except soda to a cocktail shaker along with a few cubes of ice and shake vigorously to chill. Fill a highball glass with ice and pour bourbon mixture over it. Top with soda and garnish with apple wheel. Makes 1
6. Croydon Road Log
8 ounces cream cheese, room temperature
1 tablespoon grated onion
1/2 clove garlic, minced
1/2 teaspoon chopped herb such as dill, rosemary or thyme
1/4 cup (1/2 stick) butter
1/4 cup brown sugar
1 teaspoon Worcestershire sauce
1/2 teaspoon Dijon mustard
1 cup pecans, toasted and chopped
1. Combine the first four ingredients in a stand mixer. Spread into a rectangular shape in plastic wrap and roll up into a log. Refrigerate for at least 8 hours for flavors to marry.
2. Melt butter in small saucepan with sugar, Worcestershire sauce and mustard. Once incorporated, add nuts and warm through. Allow to cool for five minutes before pouring over cheese log. Serve with crackers. Serves 8 – 10
7. Smoked Wings
Recipe courtesy Bo Hamilton of Ox Kitchen in Fairhope
5 pounds wings, cut or whole
2 tablespoons kosher salt
2 tablespoons fresh ground black pepper
2 tablespoons Cajun or Creole seasoning, no salt added
Frank's RedHot Buffalo Wings Sauce, to taste
1. Lay wings out and dry as well as possible — dry chicken equals crispy chicken skin. Toss chicken with seasonings.
2. Put wings in a smoker at 250 degrees, and smoke for 1 1/2 hours.
3. Remove wings from heat and toss with buffalo sauce.
White Sauce
1 cup mayonnaise
2 tablespoons cider vinegar
1 teaspoon Dijon mustard
1 teaspoon salt
2 tablespoons black pepper
1. Whisk all ingredients thoroughly. Serve with wings.