walter d. bellingrath

-

search results

If you're not happy with the results, please do another search
After two decades as executive director of Mobile County's natural "cathedral," Bill Barrick retires from a career of stewardship.
The Waterman Building was built in 1947 as a home for the largest privately owned shipping company in the world.
"Skull Island" or "Massacre Island" were names given to what we have long known as Dauphin Island.
The Chin Family's story spans from China to Mobile, where they became integral community members and business owners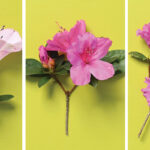 A deep dive into the origins of Mobile's famous azaleas, and the hybridizer who was devoted to their perfection.
The soil of Mobile and Baldwin counties is rich with history, lore and stories of those long departed.
Did Mobile really have a nutria rodeo?
"Remember Mobile" — a romantic, affectionate look at our past in prose and drawings — is a book still worth remembering.
Sonja Faye Bivins and Donald Orrin English were united in marriage on October 8, 2016 at Ebenezer Baptist Church of Cottage Hill, the place where they first met.
In 1914, Congress designated the second Sunday in May as Mother's Day. The idea for such a day stretched back to 1868 when...