On a brisk night in December, 40 young professionals and their guests were regaled at a festive soiree for the 10th annual Mobile Bay Magazine 40 Under 40 awards dinner. Just inside the doors of the historic downtown Mobile venue, The Steeple on St. Francis, swags of greenery and fluffy bows set the scene, while a violinist performed classical Christmas tunes. Inside the sanctuary ballroom, beneath exquisite rafters and stained glass windows, golden Chiavari chairs, elegant tables with crisp white linens from SOHO Events and Rentals and sparkling white lily-filled centerpieces designed by event planner Tricia Freeman awaited the crowd.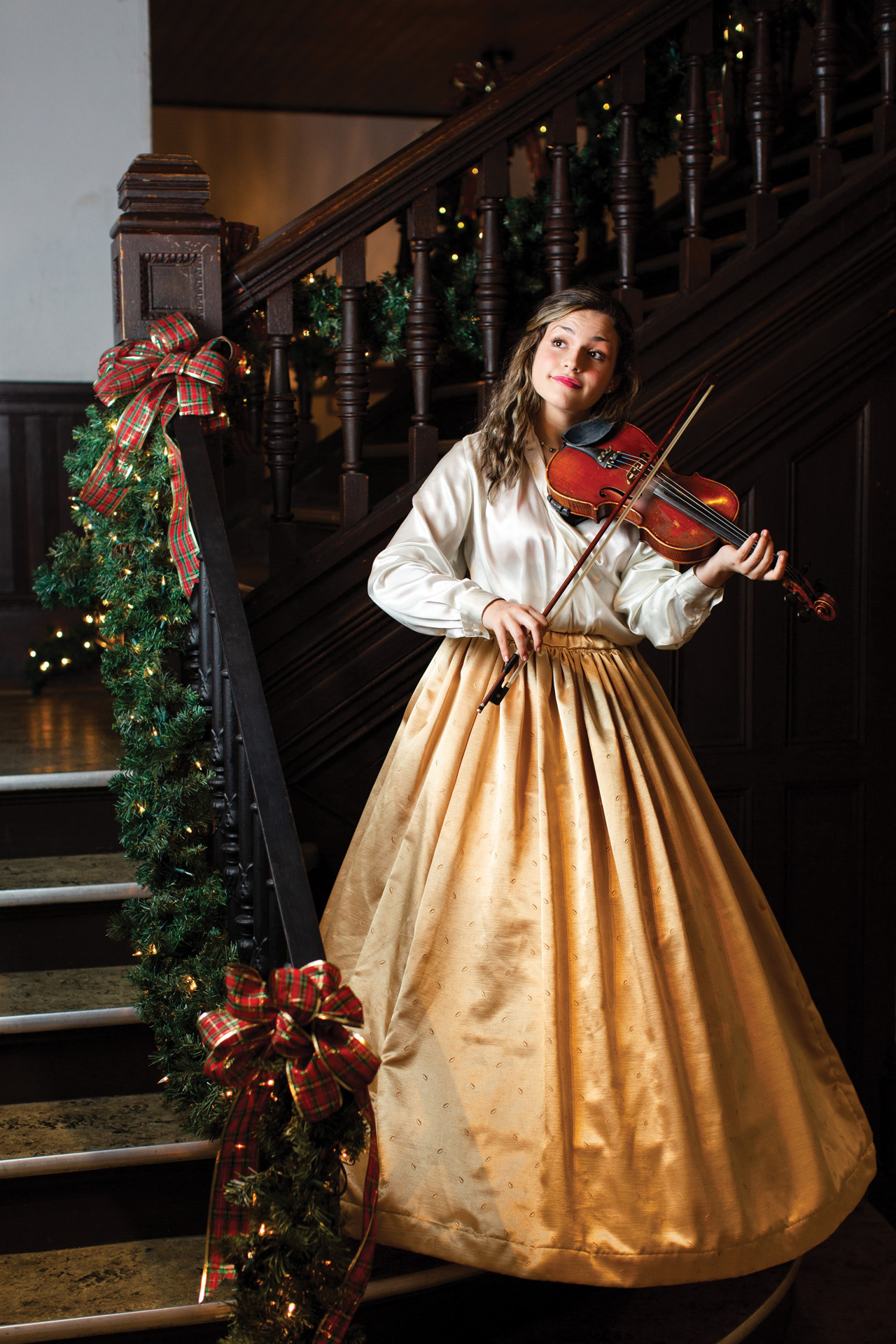 While honorees and guests delighted in a delicious meal prepared by the culinary team at The Noble South, the Eastern Shore Repertory Theatre wowed with an abbreviated version of "A Christmas Carol." Dessert was a rich celebratory sweet: chocolate chip cookie dough cake, created by ellenJAY. Alabama Power, the University of South Alabama and Southern Cancer Center generously sponsored the event.
Mobile Bay's 40 Under 40 awards are an opportunity to honor young professionals who have made a significant impact in their respective careers while also giving back to their communities through volunteer work. Year after year, MB continues to receive hundreds of nominations for worthy candidates, and the panel of judges has the difficult task of narrowing the field to the 40 honored with this prestigious award. Click here to meet this year's honorees.
Cabbage Salad with Ginger-Lime Dressing
1 large head Napa cabbage, cut into thin strips
4 strips bacon, cooked to crisp and chopped
2 radishes, thinly sliced
1/4 cup mint, leaves only
1/4 cup cilantro, leaves only
3 satsumas, segments removed
2 navel oranges, segments removed
Ginger-Lime Dressing (see below)
1. In a large bowl, combine first 7 ingredients. Add ginger-lime dressing. Gently toss to coat and serve immediately. Serves 4.
Ginger-Lime Dressing
2 limes, juiced
1 tablespoon honey
2 tablespoons peeled, grated ginger
1/2 cup canola oil
salt and pepper, to taste
1. Add all ingredients into a bowl, whisking to combine.
Grilled Wagyu Denver Steak
2-inch-thick Wagyu rib-eye
1 tablespoon kosher salt
1/2 tablespoon ground black pepper
1. Heat grill to 500 degrees. Season steak with salt and pepper. For medium rare, grill for 5 minutes on each side.
2. Remove from heat and rest 10 minutes. Slice to desired thickness. Serves 1.
Roasted Carrots with Black Garlic, Honey and Za'atar
1 pound carrots, peeled and left whole
2 tablespoons canola oil
1 cup honey
6 cloves black garlic, chopped
2 tablespoons za'atar
salt and pepper, to taste
1. Preheat oven to 425 degrees.
2. Place carrots on a baking sheet. Drizzle oil to cover.
3. Roast approximately 35 minutes or until carrots are tender and beginning to char.
4. Remove to serving platter. Drizzle with honey. Top with black garlic, then sprinkle with za'atar, salt and pepper. Serve warm. Serves 4.
Bayou Cora Grit Cakes with Braised Kale and Cherry Tomatoes
1/4 cup onion, diced
2 cloves garlic, diced
2 cups water
1 cup milk
1 cup stone-ground grits
1/2 cup Parmesan cheese
Braised Kale and Cherry Tomatoes (recipe below)
1. Saute onion and garlic until soft. Set aside.
2. In a large saucepan, heat water and milk together until boiling. Reduce heat to simmer.
3. Pour in grits in a steady stream while continuously whisking. Cook on medium, while whisking, for approximately 25 minutes.
4. Add onion and garlic mixture and Parmesan. Whisk until cheese is melted. Pour into a large baking dish and allow to cool completely. Once cool, cut into desired shape. Set aside.
5. Sear the cooked grit cakes in a hot pan with oil. When browned and crisp, remove to a paper towel-lined plate. Top grit cakes with braised kale and cherry tomatoes. Heat everything together and serve warm. Serves 4.
Braised Kale and Cherry Tomatoes
1 onion, diced
2 cloves garlic, diced
1/2 cup white wine
2 bunches kale, chopped into 1-inch pieces
2 pints cherry tomatoes
1 cup water
salt and pepper, to taste
1. In a large saute pan, cook onion and garlic until soft. Add white wine. Reduce by half.
2. Add kale. Cook until wilted. Add tomatoes, then add water. Bring to boil, then reduce to simmer.
3. Cook about 10 minutes, until tomatoes begin to break down and thicken the sauce. Season with salt and pepper to taste.